Short Title
So Many Books, So Little Time
Overwhelmed by your book pile? School librarian Annie Ruefle shares how she conquers her reading list.
As library professionals, we feel compelled to stay abreast of new publications, award-winning titles and the latest installment in a beloved series. But the reality is that keeping up with so much reading can be overwhelming.
Here are some tips to help library professionals find ways to conquer their ever-growing stack of books to read.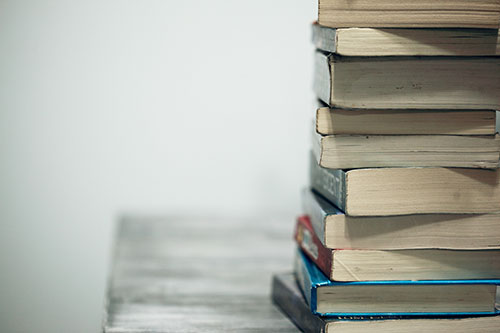 Limited time? Start with your own collection
First things first: knowing a great deal about the books in your collection is essential. When students approach you for guidance, you want to be knowledgeable. There is no way around the fact that to know your collection well, you must be reading on a regular and consistent basis.
If you display a current and thorough knowledge of your collection, your students will absolutely come to recognize and respect your recommendations.
The 30-books rule
Many years ago, an educator shared her system for reading. She suggested that I read one book a month during the school year (about 10 books). During the summer months, she recommended that I commit to reading 20 books (about two books per week). At the end of one year, I would have read 30 books. In three years, I'd have read 90 books.
Suddenly my reading list seemed manageable. Ninety books is a lot of books! Using this simple method, I no longer felt as if I was falling short. I have used this basic goal for more than 30 years, and I find that I typically read at least three times more than the suggested 30 books each year.
Also, don't count out audiobooks! They are exploding in popularity, and through platforms such as Audible, Hoopla and Overdrive, there are ample opportunities to listen to books. (Hint: Any chore is improved if you are also listening to an audiobook.)
Journal
All of that reading doesn't do much good if you forget what you've read.
To keep track, keep a journal. You don't have to write anything lengthy in a reading journal; just jot down the title and author of a book you've read, and what date you completed it. It will be a resource for you, and it will help you stick to your reading goal.   
Know when to say when
You'll have to accept the fact that you will not read everything. You simply can't. Rather than let that overwhelm you, see it as joyful thing: there's always more to read. 
In this vein, it's OK to "cheat" on a series. Don't feel obligated to read every book in a series. Reading the first book in a series gives you a sense of the characters and the general theme, which is enough to introduce the books to a student. If they love the series, they will continue to read it. 
Get inspired
Join (or create) a reading support group or book club. Ask fellow faculty members to read one YA novel a month along with you. Or find a (virtual) book club on Goodreads.
You can also always rely on the expertise of others, as there are countless resources available. ALA has recommended lists for every age group; there are dozens of literary blogs, and journals such as School Library Journal or The Horn Book provide insightful reviews. Here are just a few to get you started:
Set aside the time to read
There's no way around this — to be effective in our line of work, we have to commit to reading.
Create a routine to include more reading in your life. I like to think of the adage, "Treat yo self," made popular by the TV show "Parks and Recreation." We're all busy and we may feel guilty when we just sit and read. Give yourself the luxury of doing nothing but reading every once in a while. Unplug and indulge yourself getting lost in a book. (Feel free to add a glass of wine and/or a bowl of chocolates.)