Adding stretching and movement to storytime promotes kinetic literacy (and helps get the wiggles out).
Toddlers and preschoolers can be a challenging (and adorable!) age to teach. I highly recommend adding some yoga poses or movement exercises to your storytime programs, if only to help get those wiggles out!  
Physical literacy is an essential component of healthy development for children. It enhances coordination, social skills, gross motor skills, emotional and cognitive development, leadership abilities, imagination and helps build confidence and self-esteem. Many children this age have limited access to sports and movement programs due to lack of availability, financial hardship or caregivers not having enough time, motivation or knowledge. Yoga and physical games help build strong bones and muscles, develop good posture, improve flexibility and balance, reduce stress and anxiety and promote sleep and a healthy body weight. For more information on teaching fundamental movements that are essential to the development of children ages 0-6, please visit Canadian Sport for Life.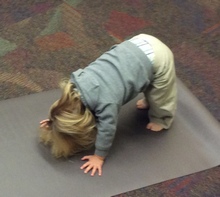 For those brave souls who are ready to tackle a whole yoga class for ages 2 to 4, these are my top tips:
• No more than 15 minutes of class time should be structured; leave 10 to 15 minutes for free play/art, for a maximum class length of 30 minutes. Any longer and you are courting disaster and not respecting the developmental stage of the child. Littles need lots of time for free play. I always add a coloring sheet or free drawing/playdough time at the end. Or a chance to throw around some beanbags.
• No wordy instructions. Short, clear, concise directions and lots of demonstrating. Kids will mirror your behavior. Instead of saying, "Let's do Butterfly pose. First you sit down with your feet touching and your knees out to the sides. Then you hold your feet. Then you take a nice deep inhale and lean over your toes ... ," try doing the pose while saying, "Let's be butterflies! Flap your wings (knees up and down) and smell the flowers (lean forward and breathe deep)!"
• Modulate your voice and energy to help keep control of theirs. If they are manic and bouncing off the walls, get their attention by clapping and singing a little song, getting softer and quieter. They'll simmer down so they can hear you and follow along. Try "I'm a Little Teapot" with the actions and when you get to the "pour me out" part, everyone collapses to the floor. If they are sluggish and you are losing them, bump up the volume of your voice and get more animated. A classic like "Twinkle, Twinkle, Little Star" while making a standing star shape and rocking back and forth from foot to foot works every time. Or you can bust out your inner ballerina like "The Wiggles." Finger plays are always attention-grabbers. Kevin MacKenzie has some great free ones you can watch on his website. I highly recommend his book.
• Remember to play and not take yourself seriously. Play is the work of childhood, and children play to learn how to exercise control over their environment and themselves. Learn from them. As Joseph Chilton Pearce says, "There are no big or little events to the two-year-old, all is breathless excitement, awe and wonder."
• Follow their lead. Think of the class as "guided play." Don't be afraid to switch gears if something isn't working. Always have a back-up plan. This might be a "follow-the-train" through the stacks in the children's department, or it might be ending early and doing a craft. Have reasonable expectations with this age group. No formal breathing exercises. No focus on alignment. Keep that inner control freak in check. If they aren't getting your swan pose, just roll around on the floor and giggle. Don't worry about the parents watching on the sidelines. Most of them are just happy their child is being entertained, and they are probably playing on their cell phones anyway. You've got this.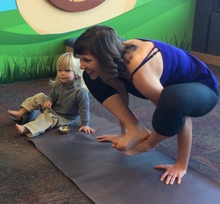 There are some really great books available outlining the best poses to use with this age group and even some class sequences and ideas to get you started. I've reviewed most of them on my
website
, including bilingual titles, to give you a heads-up. They are all available on
WorldCat
, which is helpful for those that are out of print, so start filling out those ILL forms! I'd love to hear about ways you've incorporated movement into your preschool and toddler storytimes, so please feel free to leave a comment below!