Short Title
'Street Cred' Librarianship
Sonya Durney shares her experiences in program inspiration, forging community partnerships and rebounding after an awkward start with a potential partner. 
What does it take to host community-centric programs that are also well-attended? Sonya Durney is a librarian at Portland Public Library (PPL) in Portland, Maine. As the library's business and government team leader, she plans programs covering entrepreneurship, politics, finance and career resources. Since starting at PPL, she helped organize Portland's first Startup Weekend, serves on the executive board for Maine Startup and Create Week, and works with the library team organizing the library's maker's fair, Makers@PPL.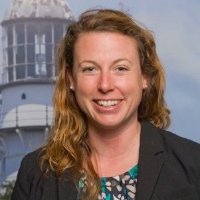 Sonya shares her experiences in program inspiration, forging community partnerships and rebounding after an awkward start with a potential partner. 
Rebecca Starr: Tell me a little about your program planning process. How far in advance do you begin planning? How do you brainstorm and choose ideas?
Sonya Durney: To be truthful, each program is a bit different. I try to react quickly to current events, but also like to be strategic with hot topics and themes in the community for the future. 
On March 8,
we hosted
two scholars from the University of Southern Maine to discuss the Supreme Court nomination process. From brainstorm to program was two weeks. I was worried about planning for this too far in advance, as it was possible a judge could be confirmed or withdrawn before we held our program. I am currently working on putting together a series of programs for around election time — starting in September — to connect voters with factual, unbiased information to help them decide how they will vote. 
Programs come about in a variety of ways. A lot of ideas come from listening to the news on the commute, reading something in the paper or from social media. We are really fortunate here at PPL to have established teams that work together to brainstorm and choose ideas. I lead our business and government team and our 
Choose Civility
 team, so I meet regularly with a group of engaged librarians working together on planning programs in these realms. It is also wonderful to be able to work with the library's other teams to create cross-team programming. So many interesting ideas come to fruition when we work together.
It's also always nice when we are approached by community members with ideas. Even better, sometimes we're approached by community members with expertise they are willing to share!  
RS: I noticed that PPL often partners with other organizations — like UP Global (now Techstars) for Startup Weekend — for business programs. How do you forge your partnerships? 
SD: Portland is a fabulous place to forge partnerships. We are lucky to be in an urban city with so much happening and so many organizations doing good work to partner with. We also are a city of only 70,000, so it's possible to get to know people and be introduced via word of mouth.
The Startup Weekend partnership formed organically. The owner of a local co-working space reached out to see if we might like to partner. We said yes! Startup Weekends are a great place for librarians to get out in the community and dig in with our librarian powers. I acted as a team coach during the event, connecting participants with demographics, market research, industry analysis and other information they needed to move their project forward. Working with the team planning the event and with the participants were great steps in getting "street cred" with the local business community. These relationships have resulted in partnering on other programs and creating new library advocates.            
Partnerships also form naturally when you approach others who are working with one of your target demographics. People are often surprised to learn how diverse Portland is: roughly 13 percent of our city's population is foreign-born. There are lots of immigrants and refugees in our city starting cool businesses. There are a handful of organizations working to support these entrepreneurs. It's great when we can join forces and not duplicate each other's work! 
As a librarian, my role is not to counsel, but to connect folks with information. I've partnered with our local SCORE office to hold programs on finding business data using library resources. SCORE is now one of our most solid community partners, but I'll share a funny story about a first meeting. When I first started my position, I made an appointment to visit SCORE and learn more about their services. In our meeting the director asked me, kindly but honestly, why SCORE counselors should use the library. Since I was new, I didn't have my elevator speech quite ready to promote our awesome business resources. I fumbled around a bit and gave a passable answer, but I could tell the director was not quite sold. We made a plan to meet again once I was a bit more settled in. She came to the library a few weeks later with a few other local business counselors. By the end of the meeting, PPL had three new cardholders, and a month later I was invited to their offices for a train-the-trainer session. After our lukewarm start, I now receive at least three referrals from SCORE per week and host a quarterly SCORE program on finding data. 
Another amazing partnership we have formed is with the other Choose Civility (CC) chapters. Here in Portland, most of our CC programs are conversations on topics of importance to our community, bringing in experts to educate folks on these topics with hopes of increasing civic engagement. Many of the programs I am most proud of — from a community conversation on the heroin epidemic to a world cafe on what it means to be a welcoming community — have been a direct result of becoming a Choose Civility chapter.
RS: What marketing methods do you prefer for your programs?
I am very fortunate to work in a library where we have a great marketing team in place. I generally work with the speakers and my team to put together the boilerplate language for the press release, calendar entries and website highlight. We use a combination of good ol' fashioned marketing (fliers, display screens around the library and emailing community partners) and more recent tools such as social media and online community calendars.
With a few of my programs, I have used grant money to purchase ads via local media. It's fantastic to get local media on board with your programs. We have had great luck working with local media to plan programs and connect us with local experts. We've even had reporters who are experts on particular topics facilitate panels for us. There is a marked increase in attendance when we partner with the media. Yesterday, I met with a local paper and they agreed to work with our Choose Civility team on our upcoming elections series. I am psyched!
RS: Is there a program you've put together of which you've been particularly proud?
Back in December, I heard a story on the radio about the backlash against Muslims here in the U.S. after the Paris attacks. I was feeling very angry at the way Muslims were being treated in the press and about the non-factual statements that were being bandied about by some politicians. I was wondering what could be done. As our library's mission is to educate, we decided that we really needed to organize a community conversation. We were thankful to be able to host a local scholar who talked about his religion and shared his personal experience of being a Muslim in Maine. We planned this program a week before hosting it, and we convened a strong crowd through the library's marketing — especially social media — and word of mouth.
I'll admit: as the facilitator, I was a bit nervous heading into the program. When you open up the microphone to anyone in the community, you never know what might happen. However, there were no high-heat moments that day; we had an engaged crowd asking thoughtful questions during our Q&A session.
I was extremely proud our community on this day for coming together to show support for our Muslim neighbors, and I was glad to work at a library where we can react so quickly to things happening in our neighborhoods and in the larger world. 
Job Functions
Resources and Program Starters
Collaborations