Short Title
Summer Reading at a Small Tribal Library
How does a small tribe support children's literacy when patrons live far away and the library is out of shelf space?
When you're a tribal librarian, working with limited resources and space is often just part of the job. At the Tolowa Dee-ni' Nation's Tribal Family Resource Library, I have a small pot of funds and zero shelf space to increase our collection.
These limits — plus the fact that our patrons are scattered across two rural counties — pose a unique challenge for our summer reading program. But our summer programming is crucial; in our area, school is out from mid-June to September, and local children have limited options for organized activities. So I am trying something new this summer.
The books are for keeps
In preparation for summer, I purchased a variety of 30 books appropriate for children in three age groups: 6 to 11, 12 to 15, and 16 to 18. The books have been organized into totes and stored until the program begins. Depending upon the availability of funding, more books may be purchased if we run out. 
I am advertising our summer reading program as "free books," running two separate ad campaigns through our newspaper and social media — one designed for children, the other for parents.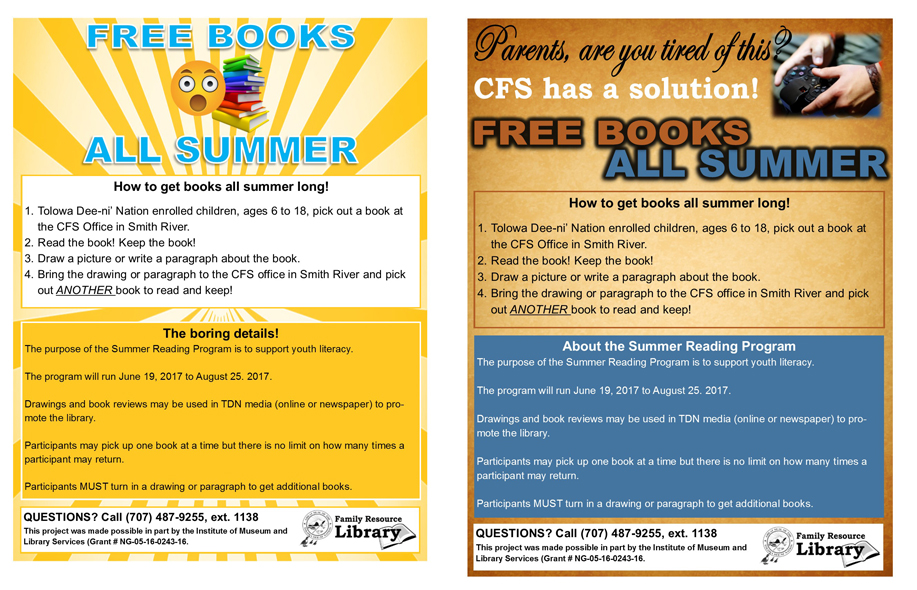 Download the ad for kids and the ad for adults/parents.
After minimal advertising, community support is high, and I have already received donations of additional books to distribute. 
Kids trade "reviews" for more books
When children come to the library and select a book to keep, they will also receive a blank drawing/writing sheet for their "book review" and a library bookmark.
This is how we create a cycle of library visits: When kids bring back either a drawing or paragraph about the book they selected, they may select another book. The submitted drawings and reviews/summaries from participants might be used in future library-related media. 
Incentives are important
One of the challenges for patrons of our library is our location; most of our patrons live 20 to 30 minutes away, spread over two counties. So I'm including an extra tactic to get repeat visitors: an incentive. Each parent that brings their child(ren) to the library more than once for the summer reading/free books program will receive a canvas tote bag.
The summer reading program will run until the books are gone. If I'm purchasing more books halfway through the summer, I may budget the program to run year-round. 
While this approach is anything but traditional, I hope that it is effective in maintaining readers in our community. I look forward to seeing families participate!
Popular Topics
Books and Authors
Passive Programming
Audience
Children / Family
Rural
Tweens and Teens
Young Adult