Short Title
Tacony Library Celebrates Community Through Their Events
Through community partnerships, a Philadelphia branch library put on a Halloween celebration attended by thousands. 
Blog post author Allison Wysong is a children's librarian at Tacony Library and a participant in Cohort 6 of the Skills for Community-Centered Libraries trainings.
Although we're headlong into the winter holidays, today we want to discuss a different community celebration that took place this autumn.
In 2018, the Tacony Community Development Corporation received a grant from the Philadelphia Department of Commerce to host the first Tacony Halloween Celebration. As a regular partner, the Tacony Library helped plan and run the event.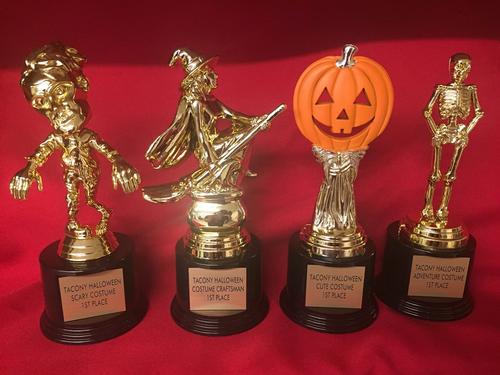 In 2019, Tacony CDC received an expanded grant for the celebration and the Tacony Library, along with our partners, looked to expand upon the event. The second Tacony Halloween Celebration was bigger and more successful than we could have guessed! It was a great example of Tacony Library's community-centered approach.
As discussed often in the Skills for Community-Centered Libraries training, you never know who will be your next partnership and what skills they bring to the table. By reaching out to so many community groups, we were able to plan and organize much more! This year the Halloween Celebration included a trunk-or-treat, Halloween crafts provided by the Tacony Library and Tacony LAB, a local ghoul band and spirit dancers, a haunted basement in the library, the Fall Festival in front of CityReach Church, and an expanded children's costume contest.
The previous year, 100 children signed up for the costume contest and squished inside the library to walk in front of our judges. With this year's expanded budget, we were able to move the costume contest outside to the block beside the library and up onto an actual stage! Tacony CDC already had a backdrop for the stage and a red carpet for the children to walk down, making it a fun performance. In my organization of the expanded contest, I wanted to really draw on the community to make it an event they would enjoy. Having spoken to participants from the last year, as well as the judges, I had plenty of information to work with and distill into improvements. Feedback is always vital for a library that wants to be connected to its community, as is using those connections to spread the word about such an event.
For our judging panel, I reached out to two local schools: Hamilton Disston Elementary School and Keystone Academy Charter School. Since so many of our regular children are students at these schools, I wanted the judging panel to include people they knew. Both principals were kind enough to volunteer their time as judges, and I saw many of the children stop by to say hello before and after the contest. Our two other judges were also community members: the president of the board of the Tacony CDC and the lieutenant of our local police district. Having them all able to attend and volunteer their time to judge the contest is a sign of our strong relationships with these members of our community. We value these partnerships, and they allow us to do things that would not be possible on our own.
The seating for the contest was full, with plenty of families standing around to watch as our contestants took their turns. The reaction was wonderful, with cheers and applause for every child that braved the stage. While trophies were ordered for our winners, it seemed that most were happy just to have a chance on stage. Parents and guardians took time after the contest to get extra pictures with the stage and backdrop; something I expected after the space issues last year prevented easy picture taking. We heard many good things about the contest and the Halloween Celebration as a whole, despite those bumps in the road that always come with a big event. Overall, an estimated 4,000 people attended the event! 
Personally, it was wonderful to interact with the children on stage and as they lined up for the costume contest. I worked as the announcer for the duration of the contest and, of course, I wore a costume too! (I enjoy any chance to dress up for work.) Meeting more of our community children and talking to those who recognized me from previous school visits offered an opportunity to show that the library is more than just a room for books. We are truly meant to be community-centered, in all the different shapes that can take on. Such large events would not be possible without the corporation and support of our community partners.
All things willing, we look forward to continuing to hold this event annually to bring a true family celebration to the neighborhood every year!
This project was made possible in part by the Institute of Museum and Library Services [Grant #RE-95-17-0089-17].
Job Functions
Resources and Program Starters
Collaborations
Audience
Children / Family
Community Members