Short Title
Tapping the Knowledge of Retiring Professionals
Don't overlook retiring or transitioning professionals as potential presenters for your library programs.
Every day, people with years of experience and loads of knowledge and creativity leave their jobs in our communities as they retire or transition to new careers. All of those folks have the potential to develop and present excellent programs at your library.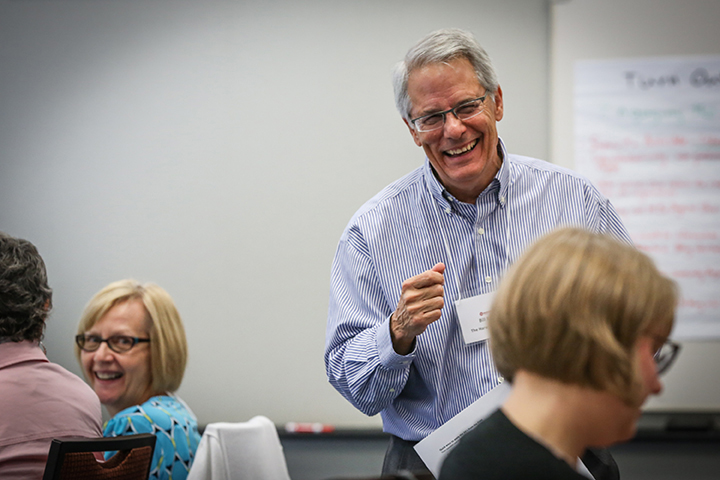 At Mid-Continent Public Library, we've tapped our share of retiring and transitioning professionals — mostly journalists — who have created interesting and innovative programs based on both their former and emerging careers.
"Journalists are, by definition, great communicators, oftentimes with areas of interest that correspond with public library interests," said Paul Smith, community programming manager at MCPL. "Working with former reporters as programming presenters is an effective means of offering their expertise to local audiences, which are oftentimes the readers who have followed them for years."
Here's the scoop on four of them.
Former entertainment reporter leads film screenings
Movie blogger and enthusiast Robert Butler spent more than 40 years as an entertainment reporter at the Kansas City Star reviewing movies and theater. At MCPL, Butler has become our go-to movie and entertainment guy. Every Sunday, Butler hosts a film series at our North Independence Branch. He picks a theme for each month and then shares his encyclopedic cinema knowledge when he introduces each film and again during an audience discussion after each film. This month's series explores the films of Sidney Poitier. In August, the series will feature films with outstanding performances by child actors.
Along with his film series, Butler leads film screenings for our annual Winter Reading Challenge. He has also created a program looking at Walt Disney's Missouri connection called Homegrown Genius: Walt Disney in Missouri.
Pitching practice with retired editor
Former government, health care and education reporter and columnist David Chartrand is a journalism instructor at Benedictine College  in Atchison, Kan., as well as a writing coach.
At the library, Chartrand offers a writing seminar titled, Pitch Perfect: Cover Letters and Story Synopses That Sell. In the program, Chartrand spells out how a concise pitch letter and an engaging synopsis can be the difference between writers selling their work or having it languish in an editor's rejected pile. Chartrand uses his experience as a writer and editor to offer individualized critiques of patrons' current pitch letters and synopses.
Retired TV critic offers programs for travelers, writers
Aaron Barnhart left his job as the Kansas City Star's television critic to join his wife in opening Quindaro Press, an on-demand publisher specializing in historic young adult fiction and historic travel guides.
As a library presenter, Barnhart has offered several programs based on information in one of Quindaro's travel guides, titled History Road Trips for the Whole Family and Road Trips That Travel Civil War History. He has also developed a series of programs for writers on designing, formatting, and marketing their work as print-on-demand.
Elementary arts teacher leads children's program
Not all of our retiring and transitioning presenters come from the newspaper ranks. For nearly the same reasons as journalists, retiring educators are also naturals as library presenters.
Soon-to-retire elementary art instructor Sarah Poff is developing a program that offers kids the chance to learn about Chinese culture by sculpting a dragon from Model Magic. Poff, a published photographer and award-winning sculptor, has created a similar program called Cotton, Rag Dolls, and the Underground Railroad that has children make rag dolls while learning about Kansas City's connection to the path that took escaping slaves to freedom.
Now, not every retiring and transitioning professional has a library program in them, but it's worth it to ask. Potential presenters with knowledge, experience and creativity are something we as library programmers are always looking for. As they walk out of one door, wouldn't it be great if they walked into the doors of your library?
 
Audience
Adult
Children / Family
Community Members
Older Adults / Seniors