Teen Tech Week is March 4-10, 2018. Here are some low-cost ideas to get your creative juices flowing.
This year's Teen Tech Week (TTW) theme is Libraries are for Creating, with events taking place March 4 to 10, 2018. Teen Tech Week was created by the Young Adult Library Services Association (YALSA), and this year's theme is aimed at encouraging teens to take advantage of "digital tools offered through the library to become content creators, and to leverage library resources to share out their creations."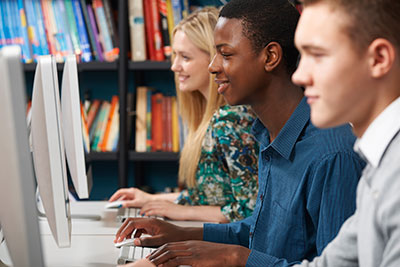 Falling down the Pinterest hole may lead you to believe that you need a well-stocked makerspace and all the latest tech — but don't believe everything you see! While some of the imaginative technology available today is truly incredible, there's plenty any library can do to support YALSA's TTW initiatives and have fun in the process.
Here are some budget-friendly Teen Tech Week ideas (this list is NOT comprehensive). And don't forget to register online to receive free access to downloadable TTW graphics and promotional materials!
Use what you have
Even if your library doesn't have a makerspace or high-tech toys, you probably have computers. Hour of Code is free, and computers are optional. If you don't have enough devices, Hour of Code supports paired programming and tutorials feature popular characters in pop culture.
Another idea for computer use is to take advantage of Adobe Spark's free software for graphics, video and webpages. If you have an especially large and active teen group, or member branches, TTW activities could be published via a teen-managed Spark Page! A project like this can really support the *sharing* aspect of the #TTW18 mission.
For a completely unplugged TTW activity, consider hosting a Tech Take Apart. This class would be great for an IT person to lead (especially if they let you raid their old equipment).  Here's an example by Teen Librarian Toolkit workshop where teens used broken tech and a hot glue to make little robots. This example features a cute upcycled bracelet.
Similar to Tech Take Apart, DIY tech hacks can deliver a lot of bang for your buck — especially since teens can bring in their own broken or otherwise upgradeable tech. The library can essentially provide basics like safety glasses, electrical tape, pliers and maybe a few snacks.
Crafts count too! Non-tech tech-related crafts like tablet cases, iPad stands, and even a USB locket are a lot of fun for all ages to make, and often just use materials every library already has laying around. Check out more examples here. Consider recycled or upcycled projects to support a sustainability effort that you can tout on social media.
If your library has iPads, try a stop motion animation event. Be sure to check out author René Battelle's awesome examples of historic stop motion animation — cool stuff! YALSA's official Teen Tech Week page offers a list of free web apps for stop motion, coding, green screens, app creation, 3D design and others.
Go on a field trip
Many of us are encouraged to find new ways to create community partnerships and take advantage of other community resources. There are several ways to do this, whether you go the more formal route or the fly-by-the-seat-of-your-pants route. Use the contacts you already have as far in advance as possible. If you already know the archivist at the local science museum, ask if he or she could take your teen group on a special behind-the-scenes tour of how the museum keeps its exhibits running.
If you only have a week to make arrangements, try the local science museum or center anyway. Often, a brief explanation of your purpose can land you a free tour, and you'll make a new contact in the process! Ask your teens to tag the museum in a group photo and share online for a quick thank you.
For another low-cost option, consider putting teens and retirees together for a technology-coaching event. Whether in an assisted-living facility or the library lobby, much good can come out of this intergenerational tech assistance program.
Lastly, try contacting a fabrication lab or community makerspace. These businesses are often eager to make community members more aware of the services they offer.
Freebies
Raid your children's department and I guarantee you'll find an assortment of fun costumes, accessories and even backdrops to create a #TTW18 photo booth. Teens can use their own phones, so no equipment is needed. Ask kids to share on the library's social media; just make sure to get permission. If you can/do want to spend a little green, TTW would be a great time to invest in a portable photo printer for events like a photo booth.

While not the newest, hippest idea on the planet, scavenger ideas are evolving into really cool physical and mental activities that can introduce teens and kids (and adults!) to parts of the library, services offered, and their community at large that they may never have known of otherwise. Don't discount this relatively easy, FREE and very fun activity. I liked this one from the Roselle Public Library District.
Use the Free TTW downloads! YALSA already created some great graphics, so there's no need to reinvent the wheel or waste time on web-based graphic design tool sites. Digital downloads available here; you'll need to register at https://teentechweek.ning.com/ to gain access.
Tag SHAMELESSLY
The Teen Tech Week hashtag is #TTW18. Tag the heck out of it, or ask your marketing people to. There's no time for shame in the tag game.
If you're low on programming that week, your library can still play a part on social media by repurposing other online content (with permission) and sharing it on your sites with the #TTW18 hashtag. Professional content marketers do this constantly, and it's an easy way to play.
Lastly, in case anyone is interested — I've planned two open 3d printing events, console gaming night, teen take apart, breakout.edu game night and a tech scavenger hunt for my library's #TTW18. 
Happy Teching!
More resources
Audience
Tweens and Teens
Young Adult