Short Title
Things Fall Apart: When Everything Goes Wrong
Sometimes, despite our best intentions, things fall apart. Here are ways to cope at work when life gets hard.
Sometimes, despite our best intentions, things fall apart. Or rather, it feels like we are falling apart, tearing at the seams. We scramble, gather the loose threads, look around desperately for someone to stitch us back together, but some life events are just too powerful. The emotions that come with these events bowl us over and yet we must carry on: children must be read to, timesheets must be submitted, reference questions must be answered, cameras flash and we smile and pretend everything is all right. 
But it isn't always all right. Life — in all its comedy and tragedy — happens, and we still have to go to work. Our dog dies unexpectedly, we find out that pain in our chest is cancer, our husband walks out after 32 years of marriage, we got into a car accident two years ago and still have panic attacks every day on the way to work. Our daughter said "I hate you" at the breakfast table, our best friend at work is retiring and we feel lost without them, someone submitted a harassment claim to the union and we have to deal with it today. We find our glass of wine with dinner has turned into a bottle or two and a ritual morning hangover. Our get-up-and-go has gotten-up-and-gone and we don't know where it went.
These things are hard. 
And for so many of us who are used to being "yes people," used to being the shoulder someone else cries on, the ones who have it all together, who take care of others, who always have the answers or know where to find them, it can be especially hard to admit, if not defeat, then difficulty. To ask for help, or say the words out loud: "I am not coping very well right now." Or to know that it's OK that we're not OK right now.
As someone who has been in those trenches and earned that street cred (a husband that turned up at work crying to confess he was fired for terrible reasons, a painful court custody hearing in the middle of the workday, an assault while out of town at a conference, post-partum obsessive compulsive disorder that lasted for years, and many more of the tiny little paper cuts that tear into our lives), I know full well what it is like to have a mile-long to-do list and a heart and mind that are serving a different master. Here are some things I've learned along the way that help. 
Find your allies
Find the people at work you can trust and be your whole self with. If you are lucky, you have a workmate who can tell just by looking at your eyes across the coffeepot that things are "not OK" today. If you are even luckier, you have a boss that can do that. Maybe one of the reasons you feel so terrible at work is that you don't feel like there is space enough to be your true self. Resolve, when you feel better, that you will look for a job where you will feel wanted.
If you've been late for work, running behind on assignments, or generally performing under your best, tell your boss what's up. You don't need to go into full gut-wrenching details; I get the need for privacy. But you can say, "Hey, I know I haven't been pulling my weight around here lately, and I'm sorry, but I'm having a lot of personal problems right now." Or, "I know you want us to be at work by ___ but due to my health issues I'm having trouble getting ready in the morning. I'm seeking care and I'm doing my best. I just wanted you to know. I feel really bad about it, I wish it wasn't this way." More than likely your boss or colleagues have already noticed something is up. Filling them in — as much as you are comfortable — spares the rumor mill from inventing something that's way off the mark. 
I highly recommend this excellent article by Courtney Martin, in which she says, "All of us, at one time or another, will contend with an unpredictable balance of the work we do and the people we care about, or the miraculous but imperfect bodies we inhabit. And most of us, I would venture a guess, don't feel like we can be real about that with the people we work with or for." This article is a great place to start when looking for the right words for that conversation with your colleagues.
Listen to music
If you have the ability to play music or wear headphones while you work, I highly recommend ambient music to help you focus when your mind is distracted by everything going on at home. Right now I'm listening to Moby's "Long Ambients1: Calm. Sleep." while I type. He's released it for free download. 
You can also find loads of free music on YouTube by typing in "meditation music." This is not the time to listen to anything that really stirs the emotions (nothing rage-, sob- or fear-inducing — save that for home). Just find something you can tolerate in the background so your limbic system can feel soothed and distracted while you get your work done.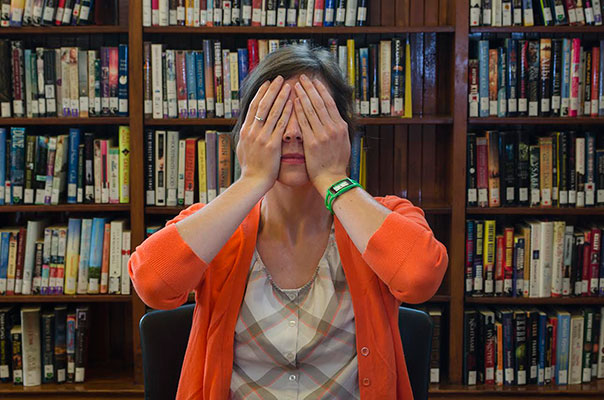 Take some time off
This should be obvious, but for many of us (especially those in the workaholic camp), it isn't. Does your employer offer stress leave, paid sick leave, time off for medical appointments or family leave? How about some vacation? Your idea of a vacation might be sipping a piña colada on the beach, and instead you'll spend most of a week (or more) wallowing around the house in your pajamas and eating cereal out of the box, but maybe that's just the kind of vacation you need this year. 
To help you "justify" taking some vacation time, write a big ol' list of all the "reasons" you can't take time off ("Everything will fall apart without me here at the helm!" is usually my first — and wrong — response). Then look at the list, and ask yourself: What on this list is solvable? Do those things and then book the time off. Or, even better, rip up the list and just go as soon as you can. Yes, you are amazing. Just think about how much more everyone will appreciate you when you get back. If someone you love is sick, possibly even dying, take the time now to be with them. I promise you, the spreadsheets can wait. Unless the only way you can cope is by going to work — figure out what works best for you.
Ask for help at home
Ask for help at home from your kids, spouse, friends, neighbors, parents or someone you hire, if you can afford it. Give them the opportunity to show you love. It's not so bad, I promise. You can go back to being superwoman/man later. 
Get some sleep
Sleep makes everything more manageable.  I hate everything and everything makes me cry when I am sleep deprived. If you can't sleep, get thee to a doctor, or naturopath or massage therapist, or someone that can help you set up a routine of good sleep hygiene. 

Practice self-care
Take care of yourself in as many ways as you can. Read my previous blog post about some other ways you can practice self-care. Watch my webinar for some things you can do at your desk right this minute. And if this isn't enough, check out these awesome infographics to print and post around your workspace.
Move your body
Preferably in nature. Take a break, right now if you can, to go outside and breathe. 
I used to be a pack-a-day smoker. Yes, me. Physical-literacy-advocate-and-yoga-teacher-to-the-max me. I closet-smoked for years. It was making me sick — like, throwing up in the morning sick. That's when I realized what I really loved about smoking was the time-out it gave me. My smoke break gave me a moment to breathe really, really deeply (albeit with carcinogens burning my lungs). Once I started taking deep breaths and sometimes a little walk whenever I wanted to smoke, I gave up cold turkey. 
Not convinced outside is the place for you?  Then sit in your polyester-upholstered cubicle and read this.
Find ways to be grateful
Look for the moment you can say "thank you." Maybe it seems like everything is terrible, and probably most of it is. But there might be one little thing that was OK today.  Maybe it was someone letting you take a parking spot they got to first, or the color red on a stranger's bicycle, or even just that you managed to eat today. Anne Lamott reminds us that the only three prayers we need (even, or especially, if we aren't the praying type in the first place) are: Help, Thanks and Wow.
Let go
Accept that we don't know how long this will last. I'm sorry. This is the hardest one, the letting go. Pema Chodron says it better than I can: "We think that the point is to pass the test or overcome the problem, but the truth is that things don't really get solved. They come together and they fall apart. Then they come together again and fall apart again. It's just like that. The healing comes from letting there be room for all of this to happen: room for grief, for relief, for misery, for joy." 
These ideas and thoughts won't save you from tragedy — no one is spared that, I'm sorry to say. But when the only way out is through, they can get you through to the next moment, and the one after that, until things get done and the seams get mended, and you are stitched back together the best you can be. Until one day, you realize you are OK.
Library Type
Academic / College
Public
School (K-12)
Special
Job Functions
Professional Development/Training