Short Title
Thinking Outside the Makerspace
Kansas City's Mid-Continent Public Library has created maker-style programming without building a dedicated makerspace.
Make. Making.  Made. There's a lot of talk about libraries being places for makers. But what happens when a library system wants to support creativity and innovation but can't commit to a traditional makerspace?
With 31 branches spread across three counties and 1,300 square miles in the Kansas City area, it would be nearly impossible for Mid-Continent Public Library (MCPL) to find one spot to locate a makerspace that would be easily accessible to the 760,000 residents we serve. Along with the size of the library's service area, there's also the diversity of our communities, which include urban neighborhoods near the city's urban core and rural communities where residents drive 20 minutes to shop at the nearest full-service supermarket.
So what's the solution? MCPL is taking the makerspace to the branch libraries by developing quality maker-style programs and delivering the equipment, instructors and materials needed to support patrons' creativity no matter where they live.
Like many library systems around the country, each programming season Mid-Continent branches offer programs with a maker bent. In any given season, our programs can range from quilting and garden sculpture to stop-motion animation and web design. Some programs are developed and presented by staff members, while others are presented by artists and craftsman from the community. All of the programs are designed to help patrons explore and, in some cases, enhance their maker skills.
On the first Monday of each month, our branch in Kearney opens up to quilters. In the true spirit of makerspace, participants share their projects, troubleshoot problems and teach each other new techniques. The branch's programming space is turned into a sewing room for the morning with library-provided sewing machines, tables, irons and ironing boards. The machines come from Mid-Continent's Booking Module, an extension of the cataloguing department that serves as an equipment library allowing branches to check out equipment that will be delivered the day before the program.
Along with sewing machines, the Booking Module supports programs by providing everything from knitting needles and watercolor brushes to soldering irons and 3-D printer pens. Last year, MCPL's Booking Module sent out more than 3,700 items to support programs, many of which included equipment for maker-style programs.
A more high-tech example is Mid-Continent's Creation Station program. Made possible through an Institute for Museum and Library Services Technology Ladder Grant , Creation Stations is designed to introduce teens to the Adobe Creative Cloud in hopes of sparking an interest in computer technology and design. The program delivers a mobile computer lab of 10 laptops to branch libraries. As part of the mobile lab, a graphic design professional teaches classes on a number of Creative Cloud programs, including Adobe Photoshop, Dreamweaver , Illustrator and CSS. Teens then have an opportunity to attend an open lab to experiment and create projects with what they learned during the classes. By bringing the computer lab and the program to the branches, there's the potential for teens from our urban branches, as well as some our smallest and most remote branches, to explore their creativity close to home.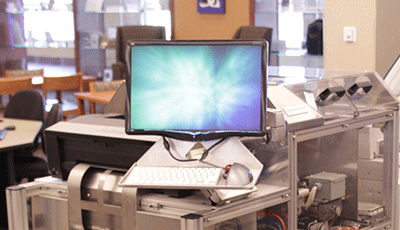 That's not to say all of MCPL's making opportunities are mobile. At our Woodneath Library Center in suburban Kansas City patrons can self-publish their creative writing projects on our Woodneath Press Espresso Book Machine. The machine prints, binds and trims a paperback book in minutes. Last year, more than 75 individuals from throughout Kansas City came to the branch to transform their manuscripts into physical books. But as anyone who has ever published a book can tell you, printing and binding are the last steps in the process. In keeping with our goal to take making to the people, the library offers programs throughout the system to teach patrons how to format their book for the Espresso machine before they travel across the metro area to have it printed. Other classes offer expert instruction in story crafting, book cover design, page layout and book marketing.
There's no doubt that making is and will be continue to be an important part of library programming, but designating a permanent space isn't always possible or practical. That's when flexibility and mobility can make things happen.