Short Title
Three Workshops, Many Histories: History Programs on Campus
University of Dayton students connect to local, campus and personal histories in these popular programs.
The University of Dayton Libraries' exploration of program models continued during the fall 2016 semester with a trio of new history-focused workshops. In support of University of Dayton's Housing and Residence Life curriculum (see The Swipe is Right for more details), these workshops identified and addressed connecting students to personal and local histories as an important learning outcome.
Each workshop used a feedback form with the prompts "I liked," "I learned" and "I suggest," which showed positive reactions and multiple requests for similar events. Read on for ways to indulge curiosity and passion through librarian and archivist expertise while highlighting your unique collections.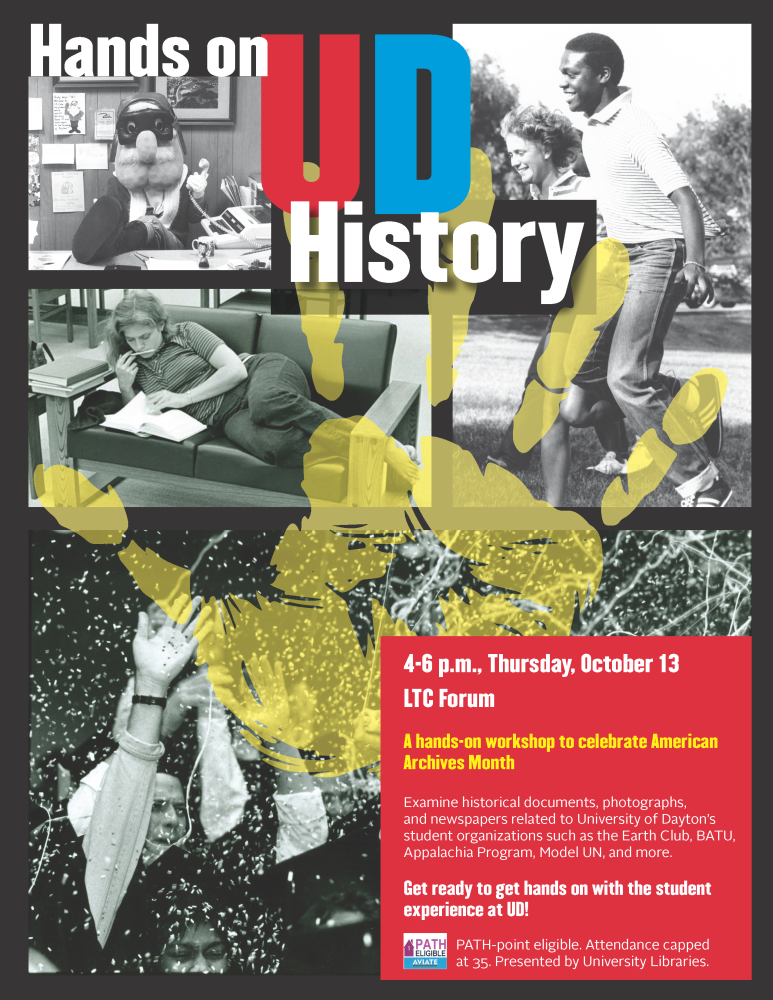 Hands-on UD History
Coordinated by Jennifer Brancato, university archivist, Kristina Schulz, assistant university archivist and Stephanie Shreffler, collections librarian/archivist
To celebrate American Archives Month, University Archives presented a hands-on workshop where students examined historical documents, photographs and newspapers related to University of Dayton student organizations such as the Earth Club, Appalachia service programs, Model UN and more.
Students worked in groups. Each table had select artifacts from one student organization. For example, one table was assigned the Earth Club and included the student organization's newsletters from the late 1980s and early 1990s. To facilitate the workshop, Brancato and Schulz used the Library of Congress Primary Source Analysis Tool, which prompts learners to observe, reflect and question an object(s).
They also introduced students to how archives and special collections work and invited them to provide their student organization materials to preserve university history. According to the student feedback, they enjoyed "exploring in groups" and learning about the important social issues from the 1960s through the 1990s.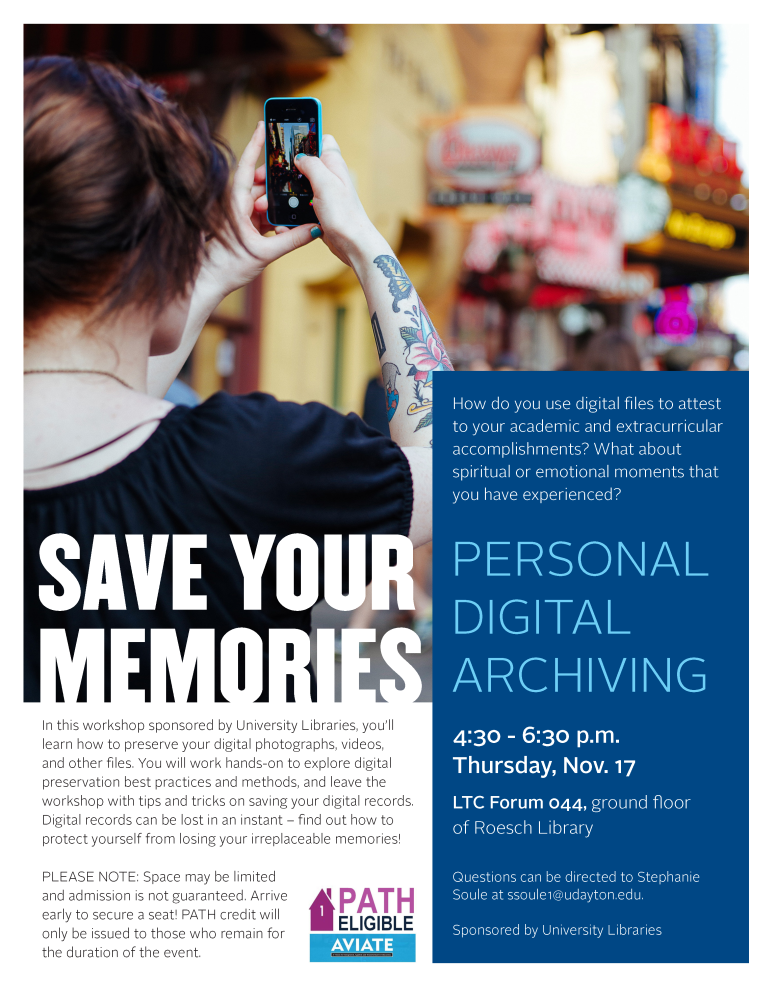 Save Your Memories: Personal Digital Archiving
Coordinated by Stephanie Shreffler, collections librarian/archivist and Jennifer Brancato, university archivist
This workshop was originally offered as an internal staff professional development opportunity. After positive feedback from staff, Shreffler and Brancato creatively redesigned it for students. The session for students focused on how digital records reflect their perspective and voice. It also showed how digital records can attest to academic and extracurricular accomplishments, and spiritual or emotional moments.
In order to show attendees how to preserve digital photographs, videos and other files, groups worked hands-on to explore digital preservation best practices and methods. Each group used a laptop and USB drive with digital records.
With guidance, the students identified problems with the records that would make preservation difficult, including file names, sizes and organization. The hands-on exploration showed some tips and tricks for students to begin preserving their own digital files. Twelve students attended, and their feedback showed that they appreciated learning the different cloud-based options (Amazon, Apple, etc.) and how to back up and store files.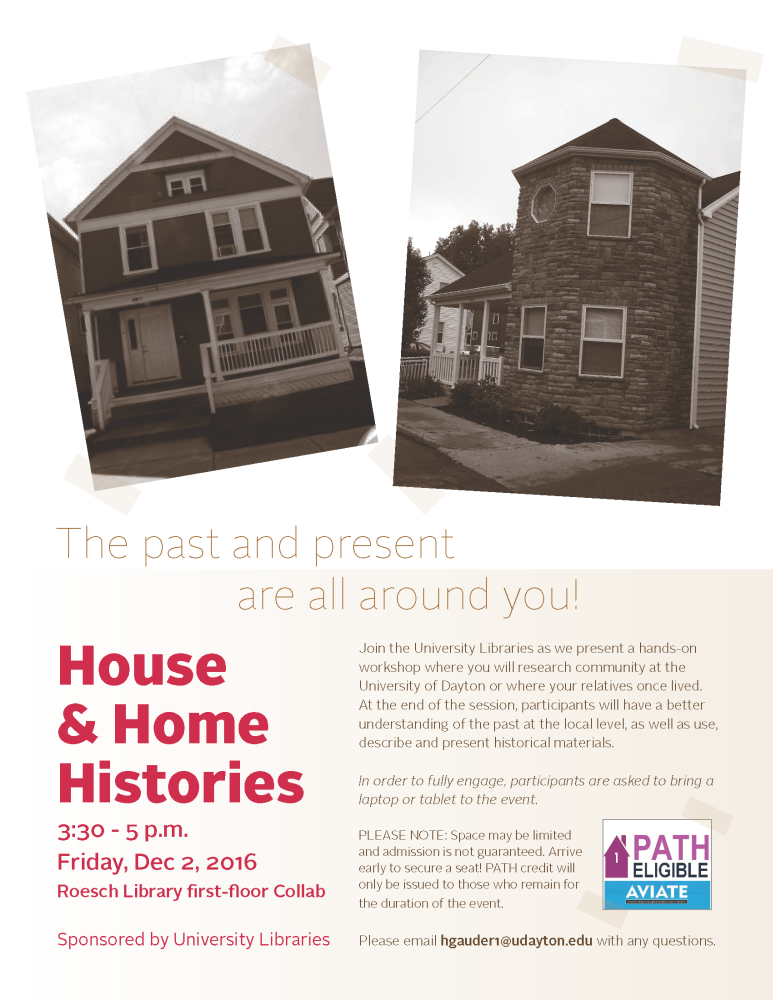 House and Home Histories
Coordinated by Heidi Gauder, coordinator of research and instruction
Since these workshops connect to the Housing and Residence Life curriculum, it was a perfect fit to show students how to research community, whether at the University of Dayton or where their relatives once lived.
At this workshop, students were encouraged to bring their own laptops and tablets to participate. They were shown how to research their backgrounds using Ancestry.com. Students could then search for their current living situation at the University of Dayton, such as university-owned housing, or explore their familial backgrounds. Attendees also conducted research for historical context and were invited to share what they found with the group.
In addition to Ancestry.com, students used other primary source material like Sears catalogs and Sanborn Fire Insurance maps to help with context.
Student feedback showed an appreciation for knowing about the library's subscription to Ancestry.com, as well as the university's connections to Dayton history. Even though this was hosted on a Friday afternoon, 43 students attended!
More to Come
The Housing and Residence Life point-based program has encouraged librarians and archivists to organize workshops because programs are well-attended. Not only do the workshops address university learning outcomes, they also market library resources and expertise in co-curricular settings. This semester, this group of workshop coordinators and others are thinking of developing a series of events that tie together. What are some other ways to incorporate primary sources into hands-on programming opportunities?
Job Functions
Resources and Program Starters
Marketing