This easy, low-budget and intergenerational program uses ceramic tiles and markers to make freeform pieces of art.
The L.P. Fisher Public Library in Woodstock, New Brunswick, likes to periodically hold Family Art Nights. It is a process-oriented, intergenerational program that allows people of all ages, whether they think of themselves as "artistic" or not, to try their hand at something creative. There is no defined outcome, so people can experiment and enjoy the process of play, something that is very good for relieving stress.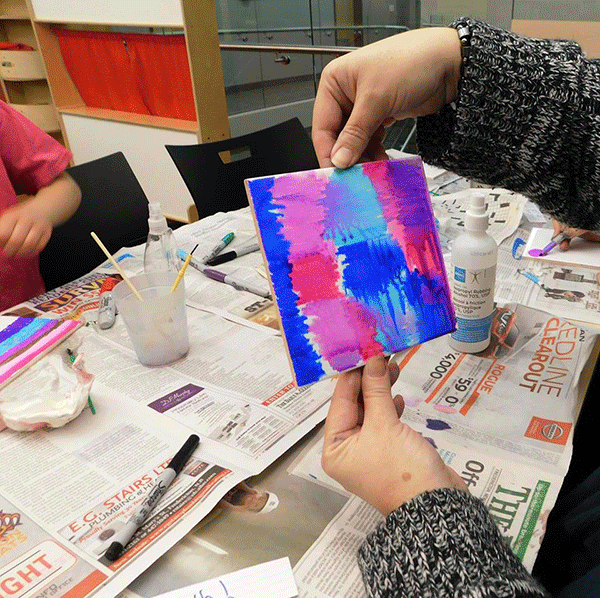 We recently held a Family Art Night that featured Tile Art, a simple decorating project that is suitable for all ages. Our youngest participant was 4 years old, and our eldest were seniors.
Materials needed
Tile Art requires the following materials:
4- or 6-inch glossy subway tiles
Permanent Sharpie markers (various colors)
Spraybottles filled with rubbing alcohol
Clean paintbrushes
Cotton swabs
Clear coat spraypaint
Baby wipes for easy clean-up
Program description
Library Clerk Kate Waller, who led our program, describes how Tile Art is made.
"Tile Art was a fun and simple project that was great for the whole family. People were asked to draw and color a very simple design [with markers on their tile]. Abstract or geometric designs worked really well.
"Once they were finished drawing, people were encouraged to spray the rubbing alcohol over their image, and as the ink from the Sharpie markers liquefied and became malleable, the participants could manipulate it using paintbrushes, [cotton swabs], or even simply tilting their tiles back and forth and letting gravity take over.
"If a participant was unhappy with the way their tile looked, they simply sprayed on more rubbing alcohol, wiped the design off and started over. The alcohol also helped the colors become very vibrant. After drying for a few hours, the tiles were sprayed with a clear coat to protect the design. Participants were able to pick them up the following day."
Check out the video below to see how it works.
Tips and budget
We recommend spraying the tiles with the clear coat spraypaint outdoors or in a well-ventilated space, and while wearing a protective face mask. Do this after the participants leave. Also, before the participant gets started on their tile, have them write their name and phone number on the back of their tile, so if they don't come pick it up the next day you can call to remind them.
The whole program for 30 people cost $40 CAN (~$30 USD), which worked out to approximately $1.35 per patron (~$1.00/patron USD).
Library Type
Academic / College
Public
Popular Topics
Coloring, Crafts & Hands-on
Audience
Adult
Children / Family
College Students
Community Members
Older Adults / Seniors
Rural
Tweens and Teens
Urban