Short Title
Top 10 Ways to Encourage Nature Play
For a successful kids' program, you just need simple activities, curiosity and a willingness to get dirty.
Once a week in summer months, we have a program for kids in the small courtyard just outside of our youth department. The program, called Nature Play, is extremely popular with young children between the ages of 2 and 5 and their caregivers. It's all about letting kids get outside with supplies and providing activities for exploring natural elements (like sand, water and dirt) — and, of course, getting a bit dirty in the process.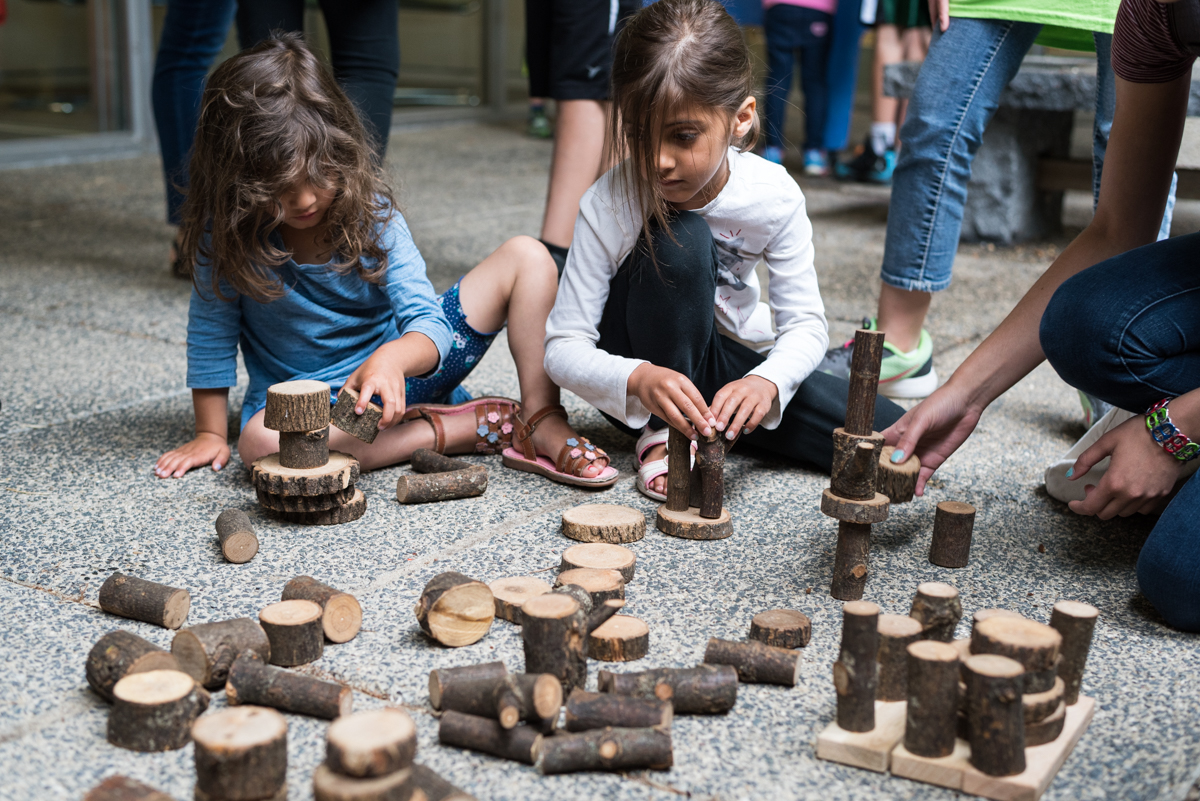 Location
I came up with this program idea to make use of some underutilized space during the summer months. The space that we use for Nature Play is not ideal (it's on the small side), but it does have features that are great for this learning experience.
First, heavy doors to the inner courtyard make it difficult for any little ones to escape. Parents who bring more than one child to the program really appreciate this. Often one child is doing one activity, and the other is busy with something else; knowing that the kids will stay in the area offers parents peace of mind. Second, there is a large eave that surrounds the whole outer edge of the courtyard. The eave provides welcome relief and shade when it is very hot or cover when it is raining. This means we can still have Nature Play in comfort regardless of the hot or drizzly weather.
Preparation
For each session, I have a couple teen volunteers who help set up the program, watch the kids (so there isn't any sand throwing, etc.) and clean up and put things away after the program is over.
As for equipment, two large portable water and sand tables are key to this program. I typically fill one of the tables with water and the other with sand. We hide little shells in the sand and give the kids magnifying glasses and 1-inch brushes to brush the sand away from their discoveries, pretending that they are on a dig. I have coconut shell halves for the water table, and we make little boats from wine corks, paper, toothpicks and rubber bands to float. We collect seeds, leaves and other plant things, and encourage kids to see if they float or not.
How to encourage nature play for kids
Both the water and sand are the main attractions for play, but we get up to other activities as well. Here are my top 10 ways to encourage nature play for preschoolers.
1. Look under logs. I have a few old logs on the soil that I got from our public works department for free. We roll the logs over every week to see what kind of bugs are underneath. This usually brings a lot of excitement for the kids as we look at the bugs and identify them. 
2. Identify insects. I have some insect guides for the kids and try to give every child a magnifying glass to get a close-up look at bugs and other creatures. If you have a quiet, calm group, you can even scoop up a few roly-polies and put them on a willing child to let them crawl on them.
3. Break out the Tree Blocks. We don't have an area for building big interactive spaces, but I did purchase a couple bags of Tree Blocks that I have on the ground for the kids the play with.
4. Talk about green. I have paint sample cards with different shades of green from the local hardware store that I put on a ring. We pull out the ring to have a discussion of what is the color green.
5. Tic-tac-toe, outdoor-style. Sometimes I lay sticks down like a tic-tac-toe board and have natural things like stones, leaves, pinecones and acorns for the kids to sort into the areas.
6. Bring in your finds. One day I was walking my dog after a big rainstorm, and we discovered an empty bird's nest on the sidewalk. I brought the nest in to Nature Play to show the kids, and they loved it. This year I'm going to contact our city's animal control department to see if they have anything of interest for the kids to see. I'm hoping for a big, vacant hornet's nest.
7. Naming trees. We have a few field guides to name the trees we see. There are also handheld magnifiers for the kids to examine things and old picture frames to lay on the dirt and look at specific areas of the ground.
8. Kiddie Bingo. We made a nature Bingo game that the kids can play, with the kids looking for something green, listening for a bird and so on.
9. Mystery cans. I've taken socks, put them over cans, and then put a rock or a leaf in the can. The kids stick their hands into the cans and guess what it is without looking. This game took some encouragement for kids to put their hands inside, but after a while the regulars looked forward to guessing what was in the can each week. This, in particular, was a great activity for the children who do not speak English.
10. "Paint" the walls. On hot days I give the kids buckets with water and paint brushes, and they "paint" the cement walls or floor with water.
Get inspired
All of these are really simple activities, but kids at Nature Play love them. My Nature Play is not a pristine environment, but children certainly learn to see nature everywhere and that we need to appreciate it.
If you're looking for more nature activity ideas, there are a lot on Pinterest, on blogs and in books. You can read about literacy and the connection to nature play. And don't forget to contact your local public garden — I'm sure they'll have tons of ideas to get you started with a Nature Play of your own.
Sue Teller is a youth services librarian and staff artist, allowing her to connect communities through making and experiential learning. She's been doing this since long before it was cool.