Short Title
Trivia Night at a Tiny Library: It Can Be Done!
Library Director Chelsea Price struggled to get adults to programs — until "The Office" trivia night.
Adult patrons can be a tough crowd. At my library, parents will come along to kids' events, and a few might show up to our Coloring & Coffee program, but in general, it has been difficult to find a program that is truly a hit with adults. Until trivia night, that is!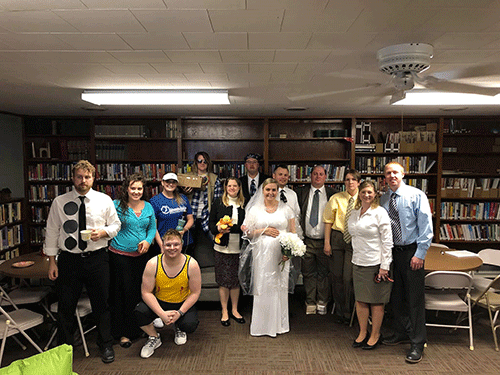 I fall asleep every night to the relaxing sounds of the "The Office," and even though I've been through the series about 17 times now, it never gets old.  (If you haven't watched the TV show — available to stream on Netflix — what are you even doing with your life?! Go watch it!) I knew I wasn't alone; a woman on our library board also loves the show, as well as a few patrons. When bars in bigger towns nearby hosted "The Office" trivia, it seemed to be hugely popular. 
So even though we had never hosted an event like this, I decided to go for it. Here are a few things that helped make the event a success.
It's all in the details
I had a very good time decorating and putting little references to the show all over the building. There was a nod to the show around every corner, and I loved seeing the attendees' excitement when they stumbled upon another Easter egg specific to "The Office."
The decorations and props were simple: some pictures and labels, homemade photobooth props and a few balloons — and cost next to nothing. For background music before the trivia started, I created a playlist featuring songs from the show. I also had asked the attendees to dress up in costume as characters from the show, and some of them really went for it! 
The first 20 minutes of the program were used to have snacks, socialize and take photos, which really worked well as we always have a few latecomers.
Always provide food
Free food is key for a successful program, at least from my own experience. In "The Office," one of the characters lives for Pretzel Day, when a cart serving soft pretzels visits their workplace. I used that reference to make a small menu for the event.
I contacted a small local bakery that made, among other things, soft pretzels in many flavors. By just asking (always ask!), I received a generous discount and ended up with a great deal on two different flavors of mini soft pretzels. I also provided the guests with different drinks and snacks, all of which were tied to the show in some way. 
PowerPoint isn't just for presentations
I made a slideshow that had each question on a slide, along with some fun graphics and gifs, and used our Smart TV to have the slideshow on the big screen. This made it easy for attendees to see each question, and I didn't have to keep repeating myself. 
Small whiteboards and a marker were given to each team so they could simply raise their board when asked for the answer, so there was no shouting or rushing to talk over another team. I kept score on a big whiteboard at the front of the room, and the winning team received small trophies. Between rounds of trivia questions, I drew names for prizes and gave away some fun gifts referencing the show.
Don't forget that donation bucket!
At each adult event we have, we always put out our free-will donation bucket. The events themselves are free, but I've found that many adults want to donate anyway, especially if they really enjoyed the program. Sometimes adults come up to me at programs and ask what they owe me, and they're always surprised to hear that our events don't cost anything. I counted the money at the end of the night and we had $120 in donations in that bucket — a sure sign of a successful program!
If you love it, they will too
I think the main reason this event was so much fun is because of my obsession with "The Office." When you have a lot of enthusiasm and excitement about something, your attendees pick up on that and become more excited themselves. Fandom, whether it's for a TV series, a movie or a video game, is a very strong thing.
We ended up with 36 very happy attendees. It may not seem like much, but for our tiny library, it's impressive! Our Office trivia night was my favorite program (so far) to plan, and I look forward to trying another trivia night in the future. If you're interested in doing an Office-themed trivia program yourself and would like me to send you my PowerPoint of all the questions, feel free to contact me. 
Job Functions
Resources and Program Starters