Short Title
Virtual Book Clubs for School Libraries
Being a school librarian in 2020 is full of new challenges. How can you get your students interested in a book club virtually?
In our 2019 blog post "Reel 'Em In! Get Secondary Students Hooked on Self-Selected Titles," we shared how classroom book clubs were taking off and how the culture of reading we were developing within our school.
Even with 2020 turning everything upside-down and our high schools learning in a virtual environment, we needed to figure out a way to keep the momentum going. So we did what librarians do well: we reimagined our book clubs and we adapted. Our middle and high schools created virtual book speed-dating and virtual book-tasking activities while ensuring that our students knew how to access the district's digital resources. 
Last year, our pilot program had some librarians working with English language arts (ELA) teachers to host classroom book clubs. This year, our district has encouraged all secondary schools to participate in the book club model. Classroom book clubs look a little different for each school.
Reimagining your school book club
With our middle and high school virtual schedule, teachers see half of their classes on Monday and Wednesday and the other half on Tuesday and Thursdays. Friday is a day for planning and for students to learn asynchronously. This means that teachers are only seeing their classes twice a week.
Because of our time constraints, classroom book club kickoff happened quickly, and it happened on a large scale. We met with multiple classes and grade levels at a time and met over only two days! That is a lot of students for each period.
We managed this by having the school librarian create a Teams (our virtual platform) invite. The classroom ELA teachers got their classes started, took attendance and then joined the school librarian's Teams meeting, bringing several classes and several teachers into the same virtual space. Thankfully, this process worked out well. It only took about 10 minutes to get all the teachers and students logged into the Teams meeting and for the librarians to begin sharing the book club information.
Online library resources are more important than ever
Our fast-paced virtual class started with a library orientation. As you know, it is important that students know about the amazing library resources available to them and how to access them.
In a typical year, students would have participated in our Amazing Race orientation or another fun library orientation and would have been running all over the library locating and accessing resources both physically and online. However, this was not a normal year! Instead, our orientations focused on navigating the school library website, finding the resources including databases and eBooks, and learning how to access those resources.
We consider ourselves fortunate to have a strong partnership with our public library. All of our students have public library cards, which allows them access to Hoopla and Overdrive. Additionally, our district has Sora and has built an eBook and audiobook collection as well.
As we mentioned above, our student schedules are shortened, making every moment of instruction count — and not only did we manage to cover library orientation in our virtual orientation meeting, but we also introduced our book clubs. Our 90 minutes moved from learning to find resources to speed dating to get the book clubs started. Librarians collaborate really well, and this was evident in our process.
Book speed dating
For the first round of speed dating, we partnered with our ELA teachers to select a diverse range of titles of which we had multiple print copies and that were also available on Hoopla and other virtual platforms. Using resources from the school and county library and TeachingBooks.net, we created a nine square choice board for the students.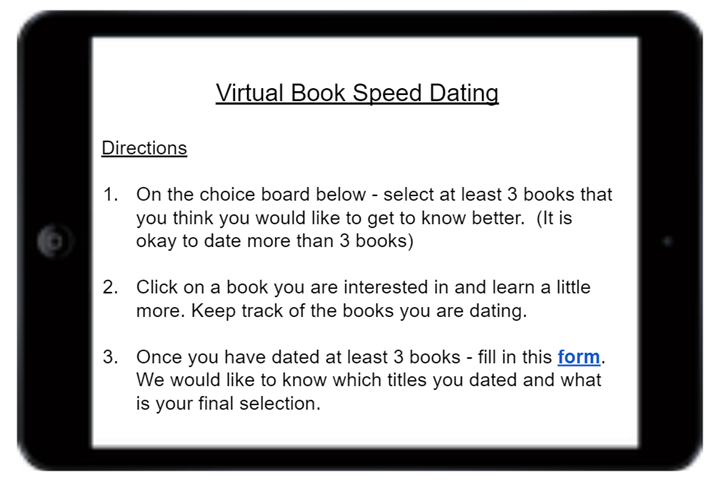 As always, we reviewed with the students how to evaluate/date a book. Students could choose all manner of books: a book from the public library collection, from our Sora collection, or choose a curbside pickup option as well. Collaboration with the teacher was key to making this happen and ensuring that students were able to get the book they were most interested in and get started on their first round of book club reading.
Once the rounds for speed dating were completed students were asked to fill in a form that let us know which books they "dated" and to share their final selection. We recommend this step. The form allowed teachers to filter down to their students, easily identify what their students were planning to read and also be aware of those students that had not selected a book so that we could follow up with the students.
School and school libraries look very differently than in years past. However, we are finding that our students are enjoying their virtual book tastings, book clubs and discussions!
We know that there are many book club programs that are happening virtually. Please share and let us know what you are doing.
Popular Topics
Social-distancing programs
Virtual
Audience
Children / Family
Tweens and Teens