Short Title
Winter Festival of Gifts: A Season of Giving
This food drive (with a twist) is a beloved way for staff to creatively give back to the community.
A food drive with a twist, Winter Festival of Gifts (WFoG) has become a beloved annual tradition at Mount Prospect Public Library (MPPL) as a means to creatively give back to the community, while at the same time highlighting staff talent. The giveaway takes place at a special December luncheon during work hours. The prizes are handed out to the winners at the luncheon, or placed by their desk if they are unable to attend. Diane Davis, pioneer of the program, took time to share the ins and outs of this celebration of giving.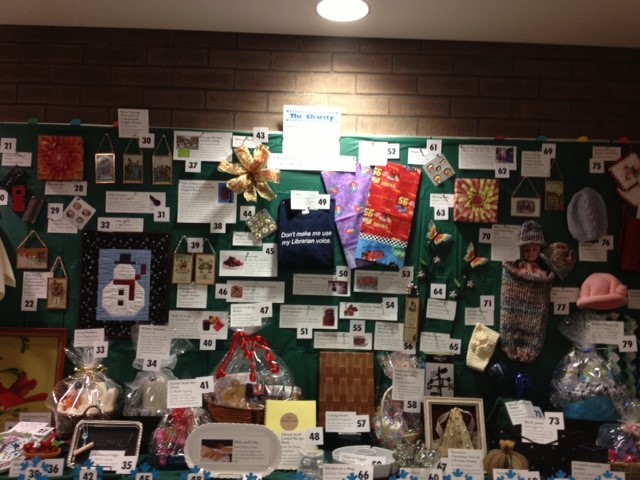 Jennifer Massa: Could you tell us a little bit about WFoG? What is it? What is the purpose?
Diane Davis: It is a food-for-crafts exchange to collect canned and boxed food items for local people in need around the holidays. Staff members trade a canned or boxed food item for a ticket to be used in a giveaway for various arts and crafts items. It is set right after Thanksgiving and runs through the second week of December, but isn't a Christmas program.
JM: Could you give us some examples of the donated gifts?
DD: Lots of baked goods, which we learned the hard way needed to be made for the winner at a time agreed on by both the donor and winning ticket holder. No perishable items on the display! Lots of knit and crochet scarves and hats, paintings, handmade holiday greeting cards and baskets of jams. A few years back we added re-gifted items so that more people could participate. We received donations of yards of 40-year-old unused silk fabric; jewelry (both handmade and mass-produced); unused cell phone covers and chargers; sets of beautiful old china; a warm winter basket of soup made to order containing a soup mug and crocheted scarf; mosaic glass; crochet animals; and more than I can list!
JM: How did WFoG originate?
DD: The WFoG started at MPPL in 2010. My talented colleagues had gifted me with so many lovely knit and baked goods and fun little items that I joked about all of us starting a business. The idea for the giveaway began with admiration for their crafting abilities and wondering how we could use those skills to raise money for local people in need. The plans grew quickly once I started asking my friends to help organize and more staff members got involved, and voila!
JM: How have you tried to encourage donations of gifts and goods?
DD: The WFoG committee has members from most of the departments at MPPL, and committee members are responsible for giving staff tickets for their canned and boxed items. For the fifth year, we decided to expand a bit and decorated the staff room bulletin board, added a large paper thermometer to reflect the number of items received during the two-week period the program was live, and on opening day left mini Take Five candy bars in the mailbox of each staff member. We broke records that year with the number of donated items and the amount of food sent to the local food bank. Over 1,300 canned and boxed food items, I believe.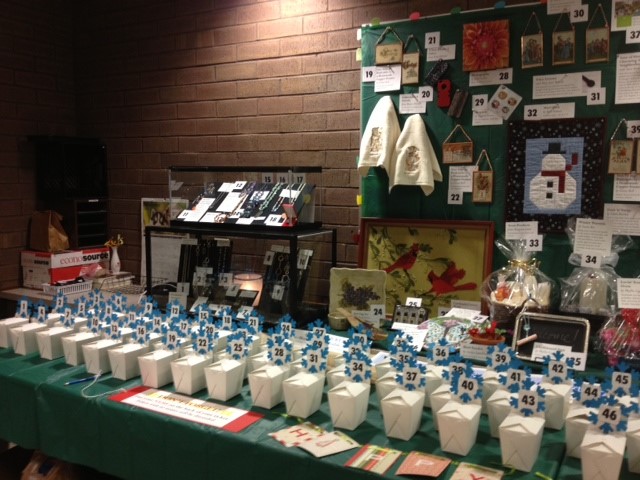 JM: How has WFoG grown throughout the years?
DD: We went from around 40 craft items the first year to receiving 100 donations yearly. After opening up the donations to items that aren't handmade (re-gifting) it really exploded.
JM: What have been the challenges in running WFoG?
DD: It takes a dedicated and creative group of people to make it work. I've been lucky enough to work with some of the best! Amy Haffner, Julie Collins and Elaine Ball were amazing, and so many others have been instrumental in putting on the WFoG program each year. By year seven, the last year I chaired the committee, we had the timing down for everything that needed to be done and people in place to do what was needed. Special thanks to MPPL's webmaster Chris Amling and IT specialist Linda Gadja for putting up donation submission forms and keeping the staff up to date.
JM: Most unique gift given?
DD: The tours! Chicago neighborhood walking tours; a tour of Chicago train depots; a walking tour of a famous Chicago graveyard; golf outings; and a yearly resale shopping tour with two new winners each year joining all the previous winners on a thrift shopping adventure.
JM: Any advice for someone on how to start their own Winter Festival of Gifts?
DD: Do it! It's a morale booster during a stressful time of the year, everyone is excited to see what their coworkers dream up to donate, the winners are thrilled with their handmade gifts and, most of all, you're helping to feed your neighbors in need. The only thing I'd change about the program is the name. Winter Festival of Giving seems to describe it best. I think you'll find that your staff is generous with their talent, time and eagerness to help others.
***
What's next?
2017 will bring a twist to WFoG by adding more festival elements. According to current committee chair, Sam Chiappone, "We have several staff activities planned throughout the two weeks that staff can participate in. Some of the events include making snowflakes, coloring and an Ugly Sweater Day!"
This year the committee will be taking photos of the donations and the display will be done digitally, as a way to reduce staff set up time. According to Chiappone, "There will also be several binders with the photos as well as descriptions of each item (separated by category: decorations, wearables, food) for staff to browse." Another key component is an encouragement to donate paper goods as well as food goods.
There are so many different ways this program focused on giving can be modified to fit your own community, whether it is put on for staff, patrons or all of the above. Who knows what difference you can make?
Library Type
Academic / College
Public
Rural
School (K-12)
Special
Popular Topics
Coloring, Crafts & Hands-on
Community Engagement
Audience
Adult
Homeless Populations