This monthly writing club is for all types — from hard-core, disciplined (kid) writers to those who just want to have fun.
During fall 2013, I organized a half-day writing workshop for kids in fourth through eighth grade. This program was both well-attended and well-received, so in 2014 the Youth Services Department officially started a monthly writing club for this age group — a program I've wanted to coordinate and lead for a long time!
WRITE Stuff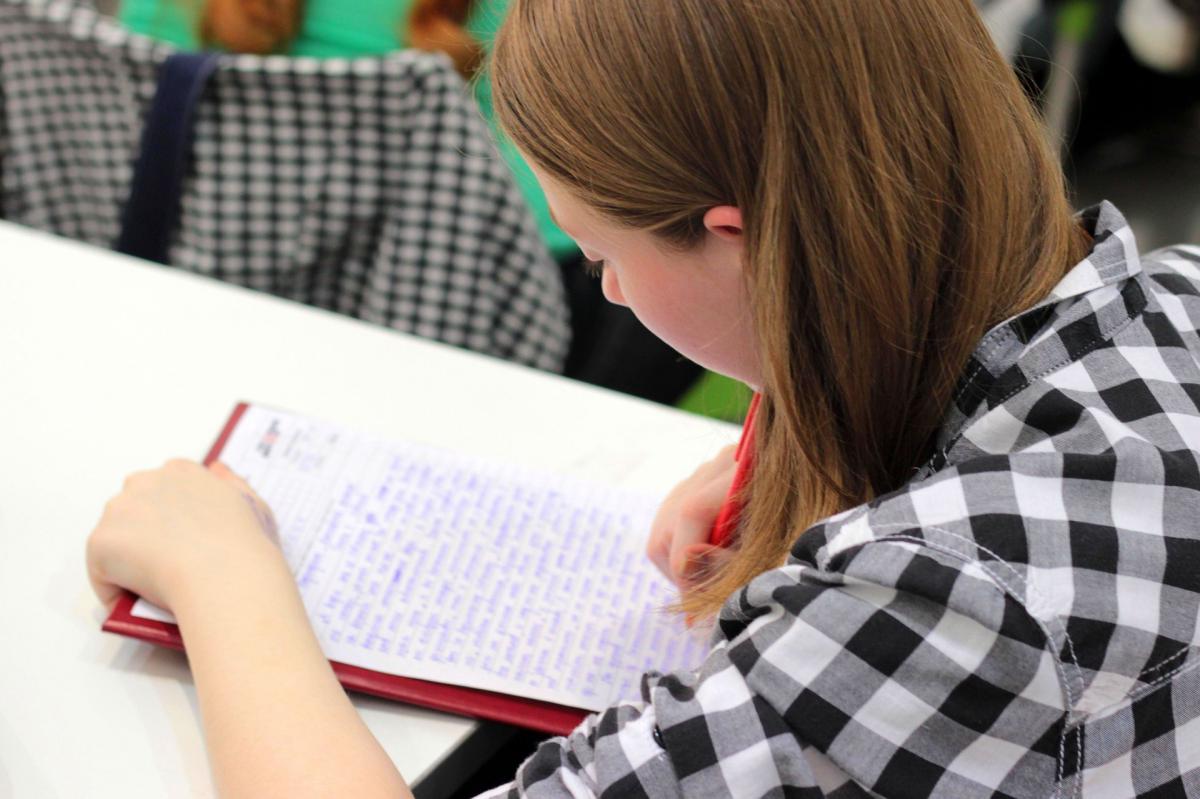 The club, WRITE Stuff, offers an informal and casual writing experience for young aspiring writers, some of whom are already working independently on novels or collections of short stories and poetry. The aim is not to make this program like school, but rather a club where kids can meet up, work on fun writing exercises, discuss what they're writing (and reading), and be inspired to make writing a daily habit.
Initially, the group met from 7 to 8 p.m. one Wednesday each month during the school year. Starting last fall, however, the grades were divided into two age groups. Now, fourth- and fifth-graders meet for 45 minutes; we have a 15-minute overlap with the older writers (featuring cookies, games and conversation); and then the sixth-, seventh- and eighth-graders meet for their 45 minutes. The new format spans from 6:30 to 8:15 p.m., still one Wednesday per month during the school year.
Aspiring Authors and More
Participants in WRITE Stuff are an even mix of boys and girls of all abilities. Some are hard-core, disciplined writers, determined to one day get their stories on library shelves, while others just see it as a fun opportunity to do something different with some old and new friends. We have a dozen "regulars" who attend about five or six of the nine school-year sessions, and each month, at least one new kid joins us. Both groups average about three to six kids each month, and the intimate nature of the program allows even the most shy kid to open up and share (though it's not mandatory).
A fourth-grade boy who started coming regularly this year admitted, "I'm really good at math and science. I don't normally like to write, but I like this club." A teen boy with some special needs (who has since aged out of the program) once explained, "I like that there are ground rules, but not school rules, and everyone can do their own thing!" (NOT SCHOOL! My goal is realized!) Two pairs of regular attendees (one boys and the other girls) are actually collaborating on novels together. The girls started their project before joining the club, but the boys were inspired (or "challenged") by the girls, and now they're making a go of it.
Even with the assortment of kids participating, I'm always amazed at the respect and camaraderie they have with their peers, many of whom never knew each other before joining the club.
Ground Rules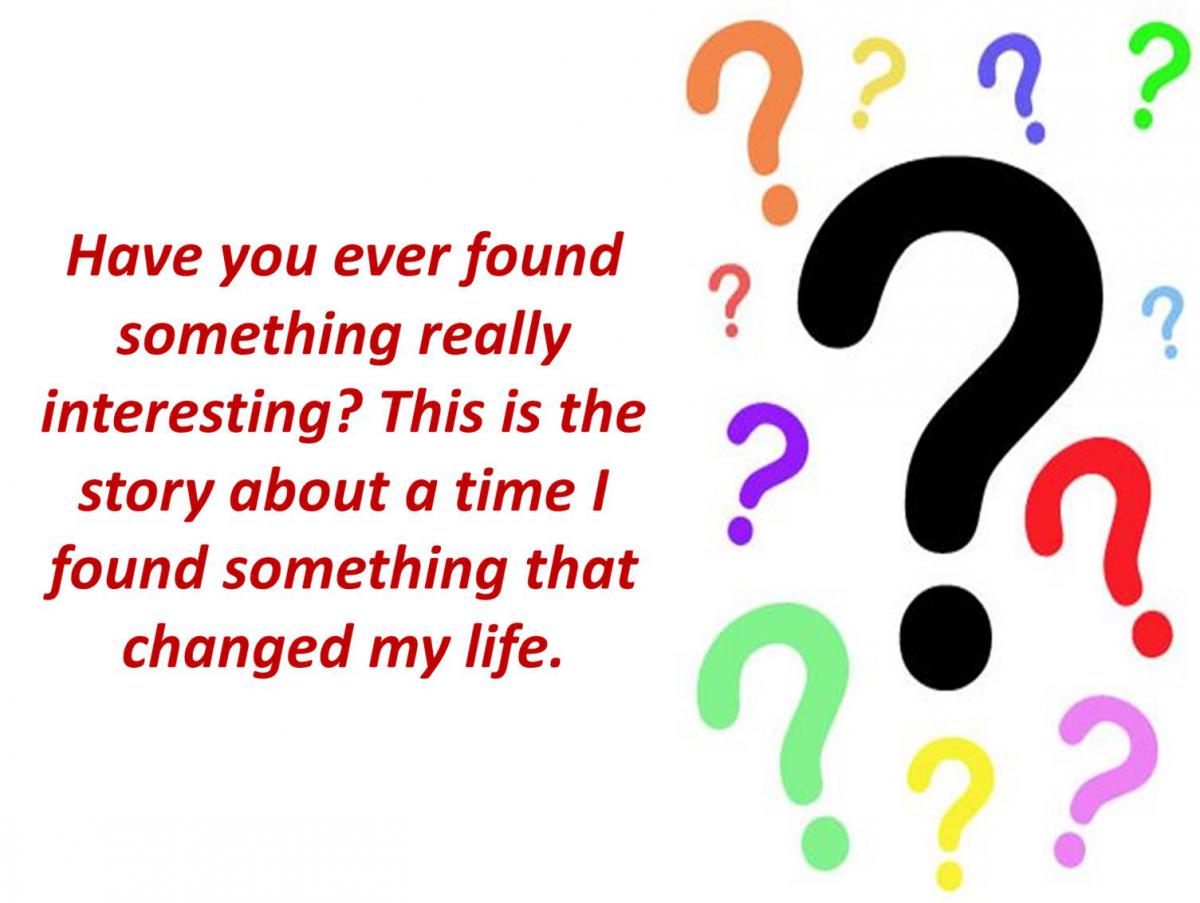 The point of the program is to foster writing, and while I focus on story elements and (sometimes) bring up grammar and editing techniques, I don't focus on a lot of "rule rules." Instead, I always emphasize the following:
When it comes to what's written, kids can share as little or as much (time permitting) of their stuff as they'd like. Their words are their own, and they may not be ready to put them out there. That's OK! I'm always available to read their work aloud if they'd prefer, or they can show me their writing one-on-one after the program.
This is not school! (I'm starting to sound like I have an issue with school … I don't.) Kids will not be graded on their work nor judged by others. We're here to have fun and strengthen our skills.
Listen to each other. Not only is it basic respect, but kids may learn something or be inspired by something someone else has written. Everyone has an opportunity to share — even me, when I occasionally write along with the kids.
Themes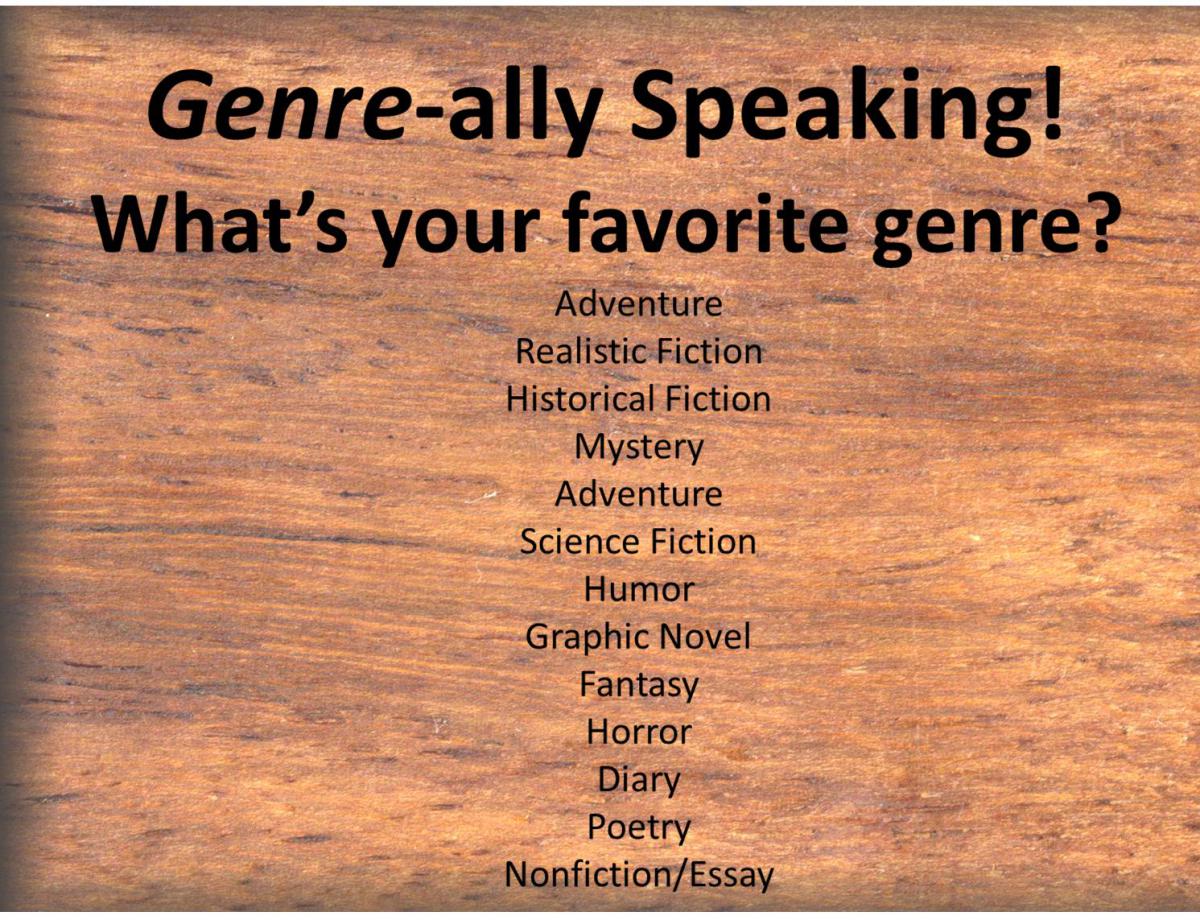 When I was in the early stages of offering WRITE Stuff, I did initially wonder if I was in over my head. How could I possibly come up with unique themes and prompts every month? There are some wonderful resources available (see below), but I still have to develop something new — keeping it different but with some consistency — so kids will keep coming back. Now that I've got the hang of it, I constantly have new ideas.
Genres: Humor, fantasy, mystery and sci-fi have been the most popular, but really anything works as long as you keep it general and leave room for the kids to explore. Some kids "hate" a particular genre, but I try to tie it into things they do like. "So you can't stand dystopian fiction? How about exploring a world where the tables are turned in another way?" And, as the leader, if I don't like a particular genre, I have to be honest with the kids by showing them how I've spun this dislike into something fun. After all, it's part of my job to have a basic grasp of ALL genres (including sport stories, eek!). Another example was a girl who only liked to write graphic novels because she hated descriptive writing. When we focused on playwriting, she really found a niche, as she already wrote a lot of dialogue in her comic stories.
Story elements: I try to reinforce the basic story elements into all the sessions, but I don't want to cram them down kids' throats. I've done individual programs on different elements and had a lot of fun keeping it creative. When I focused on characterization, the game was "Would You Rather?" (e.g., "Would you rather eat a plateful of slugs or monkey brains?"), and, in a reversal, kids actually had to develop a character who would rather do the thing they personally didn't want to do.
Other themes have included poetry, puns, nonfiction/essays, dialogue, songwriting, fractured fairy tales, self-editing and even writer's block (and techniques for busting it).
Game On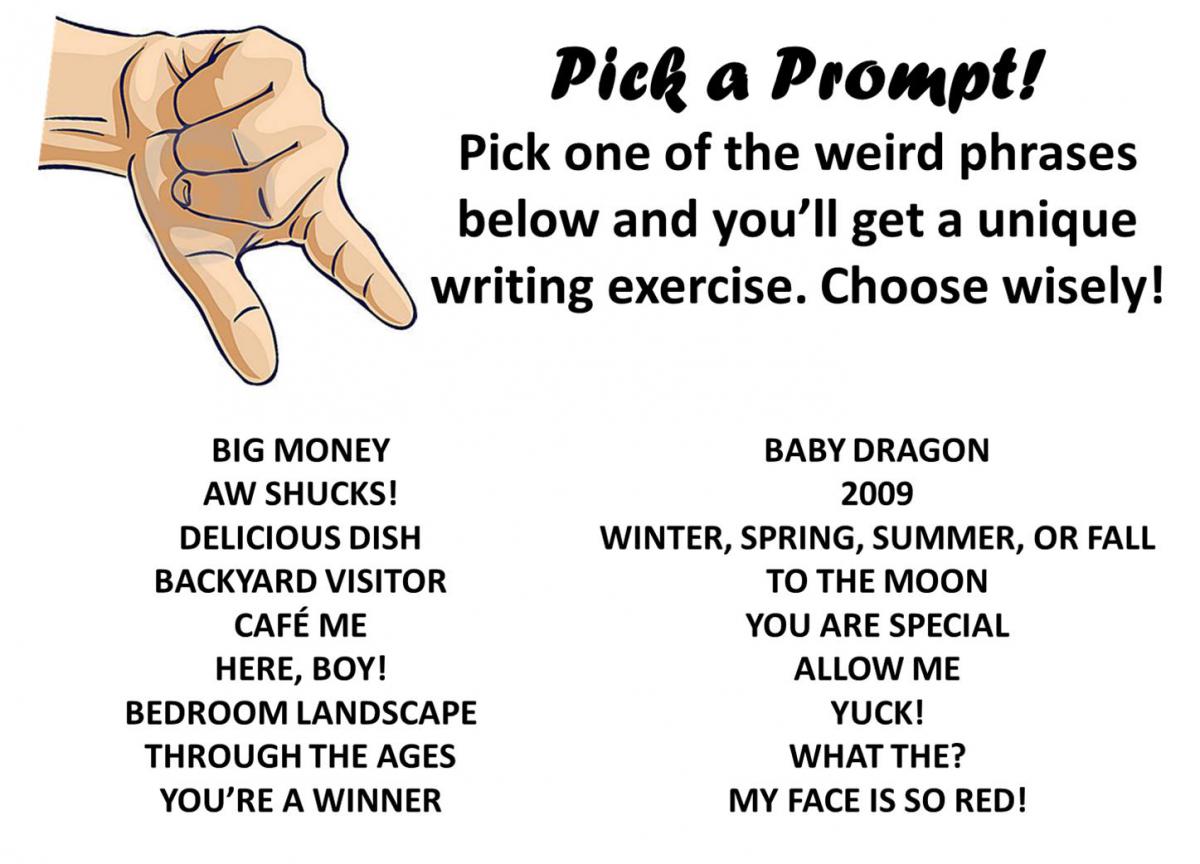 Recent studies now talk about the importance of play on young minds, and it's still important for older kids! When it comes to writing, I focus on imagination, and what better way to get the proverbial ball rolling than through games? About 15 minutes of each 45-minute session involves a game — board game, party game, icebreaking game, word puzzles, you name it. I just have to find a way to tie it back to the theme. 
I already mentioned Would You Rather?, but other popular games have included Word on the Street, Scattergories, Apples to Apples, Mad Libs, Rory's Story Cubes, trivia, scavenger hunts and even puzzles. Back to our characterization session, I challenged the kids to name all of Disney's Seven Dwarfs (one did!), then we looked at a few dozen of the many dwarf names rejected by Walt (all adjectives except Snurfles ... just had to include that one). Kids had to pick two or three names, and then I revealed that they had to use these traits for the protagonist they were creating. Again, some kids loved it and others didn't like how the prompt shaped their character, but it challenged them to look at other ways to bring their writing to life.
Resources
Books are most definitely the best resource (sorry, not sorry, Internet) because they serve as a nice literary tie-in to connect with the art of writing. I've gotten some great ideas just from reading writing books like John Hamilton's "You Write It!" series, "So You Want to Be a Writer" by Vicki Hambleton and Cathleen Greenwood, and "My Weird Writing Tips" by Dan Gutman. I've also used books as part of our writing prompts, such as Shel Silverstein's "Runny Babbit," Marilyn Singer's "Mirror, Mirror," and even the ultimate book series, "Harry Potter."
Back to the Internet. I can Google just about anything and come up with some great prompts and games, and Pinterest boards are also helpful. Sometimes, I'll find a writing project for young elementary students that I can adapt to an older crowd. Likewise, I've found high school and adult prompts that I can make less mature. I also registered as an educator for the NaNoWriMo Young Writers program, which offers me access to classroom kits and other resources. National Novel Writing Month is every November, and even kids can accept the challenge to write a full book in one month. This time of the year is a little harder for most kids (SCHOOL AGAIN!), but the resources and incentives are great.
Can YOU Do It?
The answer is YES! I was heavily involved in a writing club as a child, which helped stir this passion to start one at my library almost 30 years later, but you don't have to be a writer to lead one. You just need passion, enthusiasm, some creativity, and engaged and eager kids (who will undoubtedly impress and inspire you). Their imaginations and great stories have reignited some of my own fiction writing potential.  I'll never be the next J.K. Rowling, but one of these kids may be. They truly have the WRITE Stuff!
This program was developed and led by Mandy O'Brien, a youth services advisory specialist at Skokie Public Library, where she also leads the two-year-old storytimes and coordinates Booking with a Buddy, the library's summer reading enrichment program.
Audience
Children / Family
Young Adult