Short Title
Yoga Baby Steps: Creating Yoga Programs for Your Littlest Patrons
Creating yoga programs for your littlest patrons and their caregivers.
Welcome to another installment of Kinesthetic Library Programming!  This time we're going to learn about bringing yoga to your littlest patrons and their caregivers.
Yoga baby steps...
Last month I talked about introducing yoga programs in your library and some questions that may arise from the public, staff, board members or volunteers. For those of us who are lucky enough to work in libraries that have already jumped on the yoga bandwagon, we may tend to forget that some libraries — such as small-town branches, academic libraries, special collections or certain geographic regions — may not have considered offering yoga or movement programs for a variety of reasons. These issues may include budget constraints, concerns about religiosity, space limitations, staff reticence, lack of public engagement and more.  I addressed some of those issues in my first installment. The bottom line is, yoga isn't appropriate for every library or audience, and that's OK — but if you are reading this blog, chances are you are more than a little curious about starting some stretching in a library near you.  
Over the next few months, I'm going to be giving you my best suggestions for introducing yoga or other movement programs in your library, with everything from specialized classes for seniors to couch-to-5K programs to simple suggestions for spicing up your collection with well-loved yoga titles for all ages.  
But first, let's start at the beginning
Let's do our baby steps with the babies.
If you work at a public library, chances are you are already running parent-baby programming. This is the perfect opportunity to add some mum-(or dad)-n'-baby moves into your existing curriculum. Parents will appreciate the opportunity to move their bodies and calm their minds. They will also enjoy the soothing effect yoga can have on their infants. Start small. Make sure new mums have gotten the all-clear from their doctors before doing any exercises, even gentle ones. I always get everyone to sign a participation waiver, just in case. Here are two easy exercises that don't require any special equipment or training.
Wide-Leg Squats: After a few rounds of finger plays or sing-a-longs, give everyone a chance to stretch by standing up to do some wide-leg squats. Parents can cuddle baby to their chests or hold older babies facing outward. Parents stand with their feet farther than hip-width apart and their toes turned outward. Then they slowly lower into a squat and come back up. Do a few while breathing out as they lower, and in as they come back up. You can even have them repeat a simple mantra to focus (which can be surprisingly challenging in a room full of squirmy babies and chatty parents): "Breathing in, I hold my baby. Breathing out, I sit. Breathing in, I stand. Breathing out, my baby holds me." Simple, but effective. This great little exercise tones quads, arms and tightens up the abdomen and pelvic floor. Once again, remind new mums to be gentle with their recovering bodies and not push themselves too hard.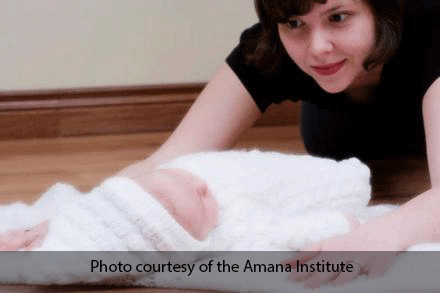 Child's pose: Once parents/caregivers are back on the floor, have them sit on their knees briefly and place their babies on the floor in front of them on a soft blanket. Have them sit toward their heels with the tops of their feet flat on the floor and their arms stretched out in front of them with palms flat. Their baby is between their arms, such as in this photo with me and little Molly at Amana Institute. This will give nursing mums a nice stretch in their sore shoulders and pecs, and is great for anyone carrying around a little bundle of joy at all hours. Babies that are old enough can have a little belly time on the floor while their caregiver stretches. Hold the pose for a few deep in-breaths and out-breaths. Give them the option to focus their eyes on their squirming babe or else close them for a much-needed sensory time-out. For exhausted new parents, this few moments of relaxation in a supportive and nurturing environment might be just the thing they need to get through the rest of their day.
Let your audience be your guide — even the droolers
After introducing those first two poses, let your audience guide how much or how little yoga to add to your programs. They won't be shy about telling you — trust me. If they like it, they will ask for more, they will want extra classes, they will come every week. In that case you may look at hiring someone with specialized training in children's yoga (CCYT certification) or experience teaching parents and babies. If they don't like it you will know that too, because they won't participate, they'll complain and your numbers will dwindle.  
A word of caution: don't take talking during the class to mean they aren't interested. Remember, for a lot of new parents, this might be their only opportunity that day to have another adult to chat with, and they relish the chance for connection. A quick two- or three-question survey at the end of the class would also be a great way to measure their engagement, but don't take it personally if they rush out and don't complete it; they have a mini-person who needs their immediate attention or appointments they can't miss. Take nothing personally.
Still nervous? Want more?
For those of you who have to strictly adhere to a standard curriculum during baby programming, or who aren't sure if you have an audience for kinetic work, try making a display or bibliography of post-partum yoga and movement materials and see what the response is. There are many great books and videos available, such as Yoga for Pregnancy, Birth and Beyond by Francoise Barbira Freedman and Bountiful, Beautiful, Blissful: Experience the Natural Power of Pregnancy and Birth with Kundalini Yoga and Meditation by Gurmukh Kaur Khalsa, both of which I used extensively during my own pregnancies and post-partum, and which I rely on heavily when teaching other mothers. The first book will appeal to a more general audience and has great photographs and clear instructions. The second book really speaks to parents looking for a more meditative or spiritual manual that ties the emotional into the physical. If you are an experienced yoga teacher and would like to teach a full class at your library, I highly recommend the post-partum sequence by Mark Stephens in his book Yoga Sequencing, which I reviewed on my website.
Movin' on up!
As babies get older and start to explore, we can incorporate sequences that allow them to do some poses on their own. Next month we'll look at programs and materials that introduce kinetic literacy to our wildest movers and shakers: toddlers and preschoolers! If you'd like to share your experience teaching yoga programs to babies and their caregivers, please tell us about it in the comments section below. I'd love to hear from you!
Job Functions
Resources and Program Starters