Short Title
Is Your Library 'Ready Player One' Ready?
Connect with "Ready Player One" fans in time for the movie release in March 2018.
Released in 2011, "Ready Player One" by Ernest Cline took the literary world by storm with its multiple gateways of accessibility.
The science fiction novel follows 18-year-old Wade as he tries to find an Easter egg of riches hidden by a billionare in OASIS, a virtual reality game. On his journey, Wade makes friends, falls in love, plays Pac-Man and listens to Rush. Between the '80s references and the major plot point surrounding a scavenger hunt, readers of all genres were drawn to this futuristic book.
The film adaptation will come out March 29, and fans are buzzing with excitement. Here are a few program ideas to bring the adventure to life for its fans.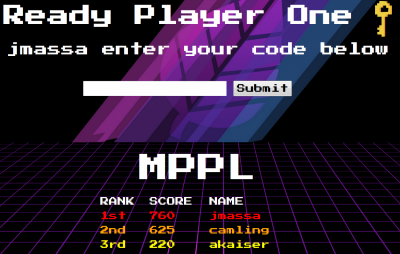 Host a scavenger hunt (online or in-person)
Since the book is driven by a scavenger hunt, host your own!
You can lead participants to a range of things: specific items in your collections referenced in the book, services you provide, and unique things in your library, such as art or furniture. Just make sure the clues are attached to something that is permanent rather than something that can be moved, like a book. You can also use your newsletter — or even pages on your website you would like extra attention on — to hide clues.
At Mount Prospect Public Library (MPPL), we will be doing portions of the hunt online and in-person. For each step accomplished, participants will get a code that they can enter on a scoreboard modeled after the one in the book. Drawing from open source codes and his own designs, website designer Chris Amling also created minigames for participants to play and beat modeled after favorites such as Pac-Man, Space Invaders, Frogger and more.
Throw a "Ready Player One" party
The book is bursting with references, which makes it easier to host a themed party that will interest your community.
Are your patrons obsessed with the '80s? Host an '80s throwback party with themed dress, snacks and trivia. Do you have a lot of gamers? Host a retro gaming night or a gaming competition. Have a Playstation 4, Oculus Rift or other virtual reality technology? Host an Intro to Virtual Reality event. Have adults interested in learning about wills and estates? Use "Ready Player One"as a gateway for an informational program on how to write a will.
At MPPL, we will mix several interests together into a "Ready Player One" extravaganza that will have a mix of Pac-Man, virtual reality, chances to work on the scavenger hunt throughout the library, displays of readalikes and more. The hope is to get several members of the community interested in "Ready Player One" together in one room as a way to forge new connections.

Don't have time to plan something big?
You can still capitalize on your community's interest in "Ready Player One" with themed displays or passive activities at the desk, such as crosswords or trivia sheets. Offering even just one display will show your library's timeliness, spark converation, and help connect your patrons with something new in the library.
To help with your planning, try some of these sites:
Popular Topics
Books and Authors
Tech and Gaming
Job Functions
Resources and Program Starters
Audience
Adult
Tweens and Teens
Young Adult