Short Title
Escape This: Creating DIY Escape Rooms for Your Library
Summary
What hot trend gets people working together, solving problems, sparks creativity and rewards innovation? Escape rooms! Join us for this free one-hour webinar for ideas on how to create and implement an escape room at your library.
Description
Escape/puzzle rooms are a popular way to incorporate gamification into your library. These interactive live adventure games appeal to all ages and abilities, and provide people with a chance to be a part of a story and their community as they problem solve.
You could hire a company to run your escape room, but the cost — plus the proprietary nature of their product — means that many libraries can only offer an escape room once, if at all. It's time to DIY!
Take part in this interactive webinar, led by speakers from three library systems, to develop and adapt an escape room to fit your library. We'll discuss the importance of gamification, key components to a room, how to create a framework to incorporate it into a library's programming, and how it can help strengthen social bonds.
Participants of this session will learn how to:
Create and implement an Escape Room at your library
Incorporate gamification, STEM and team-building into library programming
Identify and work with community partners to achieve the biggest possible impact
Contribute to a list of resources and ideas that anyone can draw from to create future escape or puzzle rooms
Presenters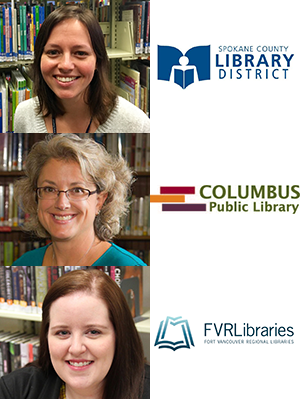 Amber Williams has been with the Spokane County (Wash.) Library District for more than 11 years. As the current community librarian, her focus is to help the library find the right ways to support the city of Deer Park. When she's not attending meetings, events, judging poetry slams and Lego contests, Amber is working with youth and implementing fun.
Librarianship is Cindy Fesemyer's second career, following 14 years in nonprofit administration, fundraising and community organizing. After struggling to really connect with the communities served by the various nonprofits for which she worked and volunteered, Cindy left it all behind for library school. Upon graduation from UW-Madison School of Library and Information Sciences in May 2012, she was pleased to accept the position of library director at the Columbus Public Library in Wisconsin. Turns out community engagement and social change are much more fun and effective as a public librarian than as a nonprofit administrator.
Kelsey Hudson is a senior public services librarian with the Fort Vancouver (Wash.) Regional Library District. She works with the youth services staff at the Vancouver Community Library to provide a fun, enriching environment for Vancouver's kids and families. In an average week she can be found teaching kids to make slime, connecting with families at local schools, and nefariously plotting new ways to challenge teams in their escape rooms.
Audience
Adult
Children / Family
College Students
Rural
Tweens and Teens
Urban
Young Adult