Short Title
Libraries Transforming Communities: World Café
Summary
Join us to learn how public libraries serving large or urban communities may utilize the World Café method to create a living network of conversation around questions that matter. 
Description

Focusing on the World Café method, this webinar will emphasize how collaborative dialogue, bringing together large groups of people in a series of small, conversational rounds, allows a larger community to engage in in-depth discussions together. Learn more about The World Café approach. 
Participants will:
Experience the World Cafe process.
Learn the structure of World Cafes.
Learn which topics and issues are best addressed using this process.
Hear about examples of outcomes from World Cafes.
This free webinar series is offered as part of Libraries Transforming Communities (LTC): Models for Change, an initiative of the American Library Association (ALA) and National Coalition for Dialogue & Deliberation (NCDD) that seeks to strengthen libraries' roles as core community leaders and agents of change. LTC: Models for Change is made possible in part by the Institute of Museum and Library Services (IMLS). 
Pre-course Work
Resources
PLEASE NOTE: This is the second in a three-part webinar series designed for public libraries that serve large or urban communities. Later series will be offered for academic libraries (fall 2017) and small, mid-sized and rural libraries (winter/spring 2018). Not sure which series is right for you? Email us.
Presenters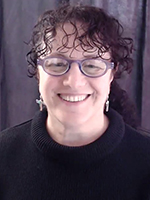 Amy Lenzo is an artist, writer, photographer, blogger and web 2.0 professional who uses social media and other online tools to foster networks of conversation around the world. Dedicated to the design of "hospitable space" in the online medium, Lenzo has been working with the World Café Community Foundation since 2003, pioneering the application of the World Café process into "real time" online World Cafés. As a World Café board member, director of online services and director of the World Café's Signature Learning Programs, Lenzo is a key community steward for their online community, which she designed and hosts. She also continues to host virtual World Cafés professionally and for the community.
Job Functions
Professional Development/Training