June 8, 2018
Every year on Pi Day, March 14, local animal shelter Pet Rescue by Judy [2] brings puppies to our library, and we set up an area in our larger meeting room where teens and adults can play with them. Because it's Pi Day, we also buy seven or eight pies from the local grocery store.
So we eat pie and play with puppies for a couple of hours. This year, the event lasted from 3:30 to 5 p.m.
Audience
Adult
College Students
Older Adults / Seniors
Tweens and Teens
Popular Topics
Coloring, Crafts & Hands-on
Marketing and Communications
Health and Wellness
Advance Planning
First, I have to contact the shelter and make sure Judy knows the date and has puppies to bring. I then need to figure out a way to protect our carpet. Right now it's in terrible shape so I just had to put down some plastic dropcloth and two ginormous white tablecloths. I also work with our Teen Advisory Board to figure out which flavors of pie we want to provide. 
This is a very low-maintenance program as long as you have a good connection in the community that will bring puppies.
Marketing
We create a flier and a digital slide in-house, and we promote the event through Facebook, Twitter and Instagram. The Teen Advisory Board is also tasked with getting the word out in communities and schools; they write public announcements and put out fliers wherever they think they'd be useful. Judy from the pet rescue also promotes the event on her end.
Budget Details
I had initially requested $50 to spend on the pies, but then The Dairy Council of Florida [3]provided us with a gift card as a part of our monthly Hungry Games program where we focus on food skills. I originally had put in money for puppy toys, too, but Judy assured me they'd be bringing little toys with the dogs. So this is a pretty cost-effective program.
Program Execution
We probably had 93 people attend the event this year. In the pictures we took, I see a lot of smiling teens. Even the surly teens were sitting there smiling while snuggling with a puppy.
We encouraged patrons with their own puppies, if they felt they were friendly, to bring them in as well, so a couple of the patrons went out to the lobby with their puppies to say hi to the kids who were too small to participate in the event. (We do not allow smaller children to come; this is a 10+ event. These are not trained service dogs and a puppy's behavior is unpredictable, so we're very wary of the safety of the children.)
The families that came and brought their own dogs had a really good time, too.
Advice
Develop a relationship with a local shelter. We originally tried to partner with the local animal control, but they said they don't bring dogs to remote sites. So it was fortunate that we had this alternative shelter we were able to partner with.
Make sure you protect your carpet because there are puppy accidents.
Dogs — even young ones — can be unpredictable, so it's important to make sure the dogs you are bringing in are easy-going and get along with one another. In our case, Judy is very experienced with dogs and can select ones whose personalities work for this event. 
About This Library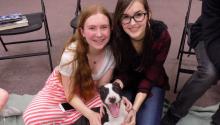 Library Name
Winter Park Public Library
Library Description
The Winter Park Public Library is a 501(c)(3) nonprofit organization providing the highest quality library materials, programs and services to those living in Winter Park and the surrounding communities. Founded in 1885 with a few dozen titles stored on the front porch of an early resident, the library has evolved based on residents' changing needs for information, education and entertainment. It now provides books, newspapers, magazines, audiobooks, music, videos, video games and software, as well as downloadable materials for use on smart devices and computers. In addition, it offers hundreds of programs each year for patrons of all ages.
Grant Funding
The Dairy Council of Florida
Collaborations
Pet Rescue by Judy and The Dairy Council of Florida