May 29, 2018
The American Library Association (ALA) and The Harwood Institute for Public Innovation announce a three-day training opportunity to help libraries strengthen their role as agents of positive change in their communities.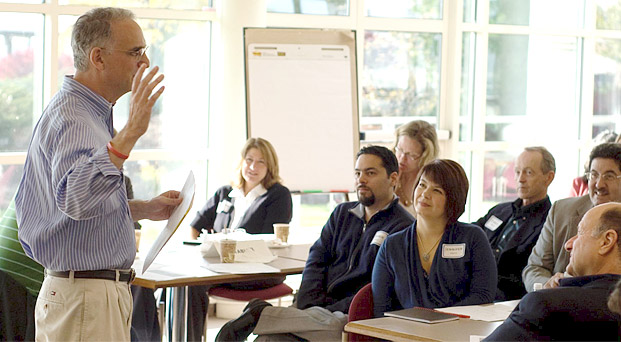 The Public Innovators Lab for Libraries will be held Oct. 9 to 11, 2018, in St. Louis, Mo. Librarians, community partners and stakeholders in libraries of all types — public, academic, school and special libraries — are invited to attend.
Participants must register online [2] by Friday, Sept. 28. The cost is $995 per person, and team participation is encouraged.
Learn more about the ALA/Harwood Institute Public Innovators Lab for Libraries. [2]
Through discussions, hands-on activities and collaborations with like-minded library professionals, participants will learn to:
tap libraries' natural values to contribute to the greater good and bring their communities together
surface people's shared aspirations for their communities and help bring them to life
convene and lead productive, insightful community conversations
become stewards of public knowledge
"The Public Innovators Lab was moving, challenging and world-rocking — in the best possible way," said Erica Freudenberger, former director of the Red Hook (N.Y.) Public Library. Read a case study about Red Hook Public Library's work with the Harwood Institute. [3]
ALA and the Harwood Institute have collaborated to offer six Public Innovators Labs, and the two organizations worked together on ALA's Libraries Transforming Communities (LTC) initiative. The collaboration is based on the idea that libraries, by virtue of their trusted position in their communities, are uniquely suited to help solve challenges of all types, from illiteracy to drug epidemics to distrust in government.
The Public Innovators Lab for Libraries is based on Harwood's Turning Outward approach, which emphasizes making the community the reference point for getting things done. This shift in orientation is achieved through practical steps: taking measures to better understand communities; being proactive about community issues; and putting community ambitions first.
Libraries and library professionals around the country are using the Harwood Institute's approach to:
lead conversations with community members to better understand their goals and concerns;
develop library strategic plans that benefit the library and the greater community;
connect with underserved segments of the library's service area;
overcome political gridlock; and
create professional development opportunities that meet the library system's needs.
Read additional success stories of libraries using the Harwood Institute's Turning Outward approach. [4]
The Public Innovators Lab for Libraries is offered as part of the ALA's Libraries Transforming Communities (LTC) initiative [5]. The initiative addresses a critical need within the library field by developing and distributing new tools, resources and support for librarians to engage with their communities in new ways.