August 16, 2018
It seemed like just yesterday that the excitement of getting out of school for the summer was upon us. And now it's over! Fall is in the air. School supplies are on the shelves, and students are getting ready to come back to the school libraries.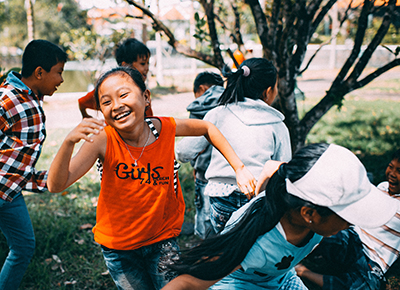 Of course, nothing says "fall" like ninth-grade orientation. We've found a creative, competition-based way to introduce our new students to the library, and it's a format that also works for professional development. It's all based on "The Amazing Race."
The Amazing Library Race 
You know "The Amazing Race" as the fast-paced reality television show where contestants jet around the world completing tasks and trying to beat the clock. You can take that fun competitive spirit and bring it to your library.
For the last few years, our ninth-grade orientation has been in the form of an Amazing Race — an idea that we borrowed from another high school librarian in our school district. Here's how it works.
What do you want to share?
First, we need to consider what we want the participants to learn about the library. What do you want to share about your library space? What services do you want to make your new patrons aware of? What are the "must know" resources? The answers to these questions will inform the tasks that you give your students.
Plan your tasks
For the ninth graders, we direct them to multiple resources and locations in the library. We have them answer questions about the databases; collect a bookmark with the database passwords; look up a book; check out our print and online magazines; and more.
Game supplies
Now begins the hands-on prep. For our orientation, we assemble the following.
15 "starter cards": These cards give groups instructions about their tasks. (See below for samples.)
15 stations: This is basically 15 envelopes, spread around the room, labeled with numbers 1 through 15. Each envelope will have a different "task card" inside it, describing the challenge to be completed at that station. Place multiple copies of the task cards in each envelope.
Answer sheet for students to record what they have found out about the library. 
Small prizes: These are fun incentives for the finishers and the first to finish.
Starting the game
To begin your game, have your students pair off in small groups. Groups of two or three work best.
Give each group a starter card. The starter card will direct each group to their first station/task. Direct each group to a different station in order to prevent 30 students all clustering around the same station. For example, Group 1, with starter card 1, will begin with station 1 and end with station 15; Group 2, with starter card 2, will begin with station 2 and end with station 1; and so forth.
Below are examples of sample starter and task cards.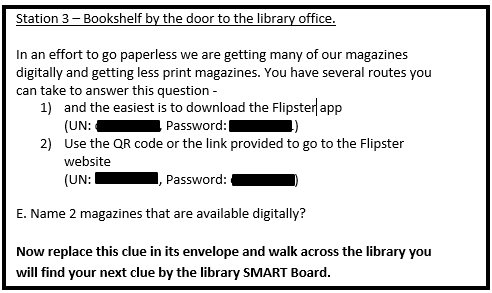 After completing this task, students will know how to access our online magazines and what online magazines we have. On the answer sheet students will find "Station 3, Letter E" and record their answers.
Students enjoy moving through the library completing each task as they learn all about the library in their new high school.
But wait, there's more!
This game-based approach also works well for professional development. This past spring, librarians in our district "competed" Amazing Race-style while unpacking the new AASL Standards. (Shout out to the amazing Shannon Torres for the inspiration for this one.)
More time is allotted for staff development (vs. a 45-minute class period), and we were able to include some fun roadblocks on the way. Below are a sample task and road block from our professional development.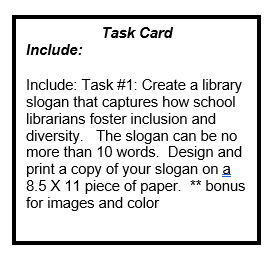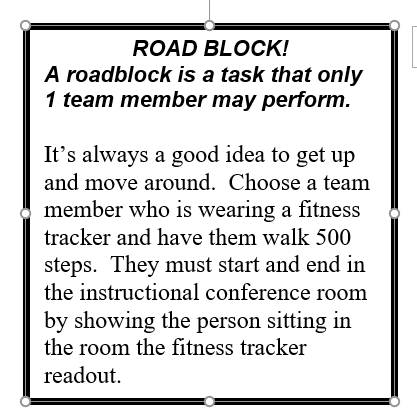 Audience
Tweens and Teens
Young Adult