February 11, 2019
"We are the leaders we have been waiting for."  -Grace Lee Boggs, philosopher and activist
The Free Library of Philadelphia is full of leaders, and so are the neighborhoods in which we are located. To foster collaboration with community members and organizations, we are building staff capacity in two ways: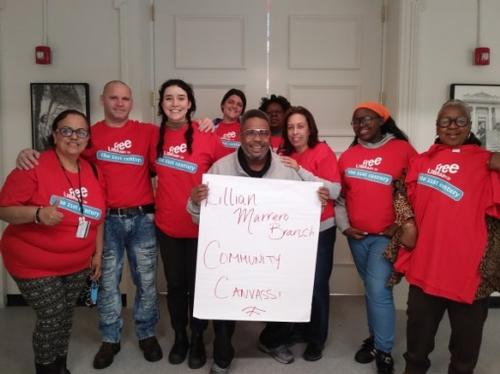 In October, thanks to a recent grant from the Institute of Museum and Library Services (IMLS), we launched our upcoming Skills for Community-Centered Libraries

[2]

training series. This ambitious program highlights the skills needed to deeply engage with the unique communities we serve every day.
 
Additionally, we have hired several community organizers and three community initiative specialists. These staff members, embedded in neighborhood libraries across the city, have been instrumental in supporting the work of library staff and strengthening ties to our local communities, partnering to develop library outreach teams, assist with asset mapping, and help with programming.
It is with this training, and the additional expertise of these community organizers and specialists, that we are building a foundation of comprehensive support and empowerment for libraries, patrons and community leaders across the city.
And what have we been up to so far? Our community organizers and community initiative specialists have been building support and capacity among our Friends groups. A strong network of Friends groups can be vital in lending support to both the library and the community, but their roles are continuing to evolve as well.
"I was ready to disband it before I started to work with [our community organizer]. The initial, and huge, impact that she had was to suggest that we revisit our mission: perhaps it needed to change. It did, and was key to keeping the group going." — Ruth Brown, president, Rodriguez Library Friends
Newer and revitalized Friends groups are enthusiastically learning to do more than the occasional bake sale. They are becoming partners in community outreach and engagement.
"Library Friends groups are vital partners in extending the library's reach throughout the community, as well as ensuring that the library provides programs and services most needed. In the past couple of years, participation in our Friends group dropped rapidly, and we began to see new development in the neighborhood butting up against years' old systemic inequality and lack of resources. Our community organizer has brought the energy, expertise and enthusiasm necessary for both reinvigorating existing members and finding ways to recruit new members. In turn, this will help community members actively shape how their neighborhood changes." —  Kayla Hoskinson, children's librarian, Cecil B. Moore Neighborhood Library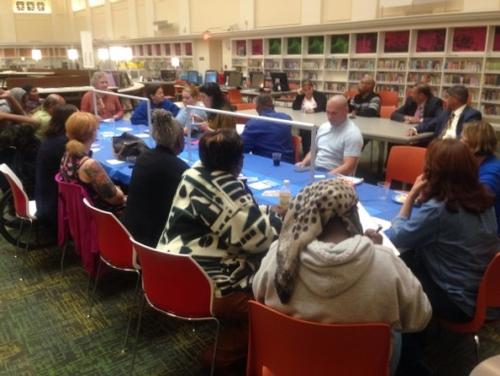 Community organizers and community initiative specialists serve as extra hands and ears to supplement the valuable outreach work that our staff are already doing.
"While we as librarians prefer to do outreach to our partnering schools, it is nearly impossible for [librarians] to visit the community centers or attend community meetings after or during library hours. Community initiative specialists have flexible schedules, which permit them to meet with community members, attend gatherings and meetings as representatives of the library. Our specialist has reported to me information she has gathered during these trips into the community, which ultimately helps us plan and anticipate community needs." — Amy Thatcher, branch manager, Richmond Neighborhood Library
Community organizers and community initiative specialists engage with staff and patrons to co-create library spaces that bring everyone together around common goals.
"I personally feel both more conscious and adept in my interactions with patrons as a direct result of my time working with [our community organizer]. There have been instances where the ability to directly engage with the public within a different framework enabled the staff to transform negative situations into beneficial opportunities for everyone involved." — Brandon Waddington, digital resource specialist, Lovett Memorial Neighborhood Library
This post mentioned engagement, capacity building and outreach. What do you see as the difference between these distinctive and necessary pieces of work? How do you enact them in your libraries? In an upcoming blog, we will explore how the Free Library of Philadelphia defines these different types of activities.
For more information about the Skills for Community-Centered Libraries Initiative, contact Project Coordinator Cameron Voss at vossc@freelibrary.org [3].