April 16, 2019
The ALA Public Programs Office is seeking contributing authors for an upcoming book, "Empowering Communities: The Library and Community Engagement" (working title), edited by Mary Davis Fournier and Sarah Ostman, to be published by ALA Editions.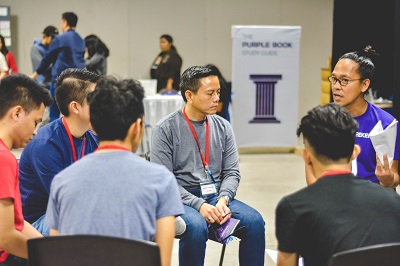 About the book
As champions of lifelong learning, libraries are a place to quench curiosity, access technology, and explore new ideas, hobbies, and careers. Increasingly, libraries also offer patrons a welcoming space to meet their neighbors to discuss and resolve important issues. Community engagement is the process of working collaboratively with community members — be they library customers, residents, faculty, students or partner organizations— to address issues for the betterment of the community.
"Empowering Communities: The Library and Community Engagement" will offer, in a single collection, a comprehensive look at community engagement work in libraries today. It will explore, in depth, examples of successful community change and dialogue and deliberation efforts; unpack the elements of a successful community engagement project; discuss the ethics and challenges of engaging often unreached segments of the community; share positive outcomes; and place community engagement in its often-overlooked historic context.
The intended audience for this book is current library practitioners and MLIS instructors/students. The book is expected to be published in spring 2020.
About the opportunity
Contributing authors should be library professionals or MLIS instructors and have experience in the field of community engagement and/or dialogue and deliberation. Authors may represent any type of library (e.g., public, college/academic, school/K-12, special). Contributors from rural communities and/or underrepresented groups are strongly encouraged to apply.
Each selected author will write one chapter of approximately 4,000 words. We are seeking authors for the following and other topics:
Bringing new voices into the conversation
Ethics and inclusion / social responsibility
Organizational change / getting the support of board and staff
Evaluating efforts / outcome measurement
Collections / archives and community engagement
Compensation
There is no monetary compensation for contributors. Selected contributors will receive byline credit on their chapter and a complimentary copy of the book.
Timeline
If accepted, you will be asked to submit a first draft of your chapter to ALA by Friday, July 5, and a second draft by Monday, Aug. 30.
To submit
To submit your proposal, please email the following to publicprograms@ala.org [2] by 11:59 p.m. CT on Friday, May 17, 2019. Incomplete submissions will not be considered.
Title of your proposed chapter
A 250-word abstract
A one-page outline describing the topics you would cover
Your resume
Questions? Contact the ALA Public Programs Office at publicprograms@ala.org [2].