July 22, 2019
This event was a large-scale (approximately 140 people), 10-mile bike ride through Chicago's South Side neighborhoods, where violence erupted during the Chicago Race Riots of July 1919.
Facilitated by Blackstone Bicycle Works, a community-based nonprofit, and in partnership with other community-based groups, the tour started at the only marker of the riots in the city — at 29th Street and the lakefront — and then moved through the neighborhoods of Bronzeville, Bridgeport, the Stockyards and back to the lake.
We made eight stops at historic points to learn some history, hear from our partners and reflect on the events of 100 years ago.
Advance Planning
We did extensive advance planning with our partners. Blackstone Bicycle Works was the critical partner; they work with youth in Chicago to train in bike maintenance and to form a riding club that competes in races. Ten youth from Blackstone served as "bike marshals" to corral 140 people during the ride, make repairs (four flat tires were fixed), and temporarily block key intersections so our group could pass.
We also did extensive pre-ride work to build a tour app [2] using a service called Vamonde, which tees up sites based on proximity to a person's phone.
We started planning roughly a year in advance. Much of the route planning fell to the historians.
Marketing
Our primary means of promoting the event was social media, including a Facebook Event page [3], co-hosted by Blackstone Bicycles. 
Publicity on Facebook, Twitter and Instagram all led people to our webpage for the event. That page includes links to a Google Map of the tour route and also to a Vamonde App "adventure" we created, which includes information about each of the stops on the tour (and other relevant places as well).
Two hundred people signed up [4], and 140 showed. Following the event, we received extensive media coverage, including a six-minute story on local NPR [5]. 
Budget Details
We received a grant from the National Endowment for the Humanities, which provided us with a large sum of money to make this work. Nearly all of it went to our community-based partners.
We paid Blackstone Bicycles $4,000 for their time, which may have been generous, but they are an outstanding organization, and there was no alternative — we had no other way to make a ride like this safe and manageable.
Most of the remainder went to modest honoraria for the community folks who spoke during the ride.
Day-of-event Activity
This was a staff-intensive event. We needed many staff members to check in riders, share information with the crowd, and tag along in a van with water and snacks and in case something went wrong. (One bike had a major failure and was put in the van; the rider switched to a bike-share mid-route). A lot of planning went into these logistics.
Program Execution
We had 140 riders and high energy on the ride. Ten miles, with eight stops, was not too long for anyone who has ridden a bike even once in the past year (it sounds like a lot, but the stops make it easy). We underestimated the time and went 30 minutes over.
We are grateful for the positive outcomes — the ride was safe, and the feedback from participants was some of the best we've ever had. We are not sure, however, that this is easily duplicated. We will need substantial resources to partner with Blackstone Bicycles again.
Advice
Bike rides are a truly enjoyable way to see a built environment. We covered a lot of ground, hit major high points, and no one felt exhausted (a two-mile walking tour would have been much more tiring, for example).
The first key to our success was having local partners. People want to hear from people in the community and not be led by non-locals. 
Our partnership with Blackstone Bicycles was also extremely important. They had extensive experience with large-scale rides. Some cities have Slow Roll organizations [6] that might be willing to do this kind of programming.
About This Library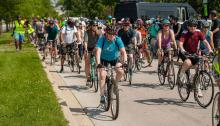 Library Description
The Newberry is a private, nonprofit, independent research library, free and open to the public, with a collection available to scholars, genealogists and lifelong learners alike. Anyone who is at least 14 years old can sign up for a reader's card. The Newberry's non-circulating collection includes 1.6 million books, 5 million manuscript pages and 600,000 maps that we continually preserve, augment and make accessible in a variety of ways.
Beyond our reading rooms, the Newberry provides learning opportunities for the intellectually curious through free exhibitions and public programs that include lectures, panel discussions, and theatrical and dance performances.
Grant Funding
National Endowment for the Humanities