November 21, 2019
ALA has announced a professional development opportunity — including funding to attend an in-person workshop at the 2020 ALA Annual Conference in Chicago — to help small and rural library workers develop the communication skills they need to thrive in the 21st-century library.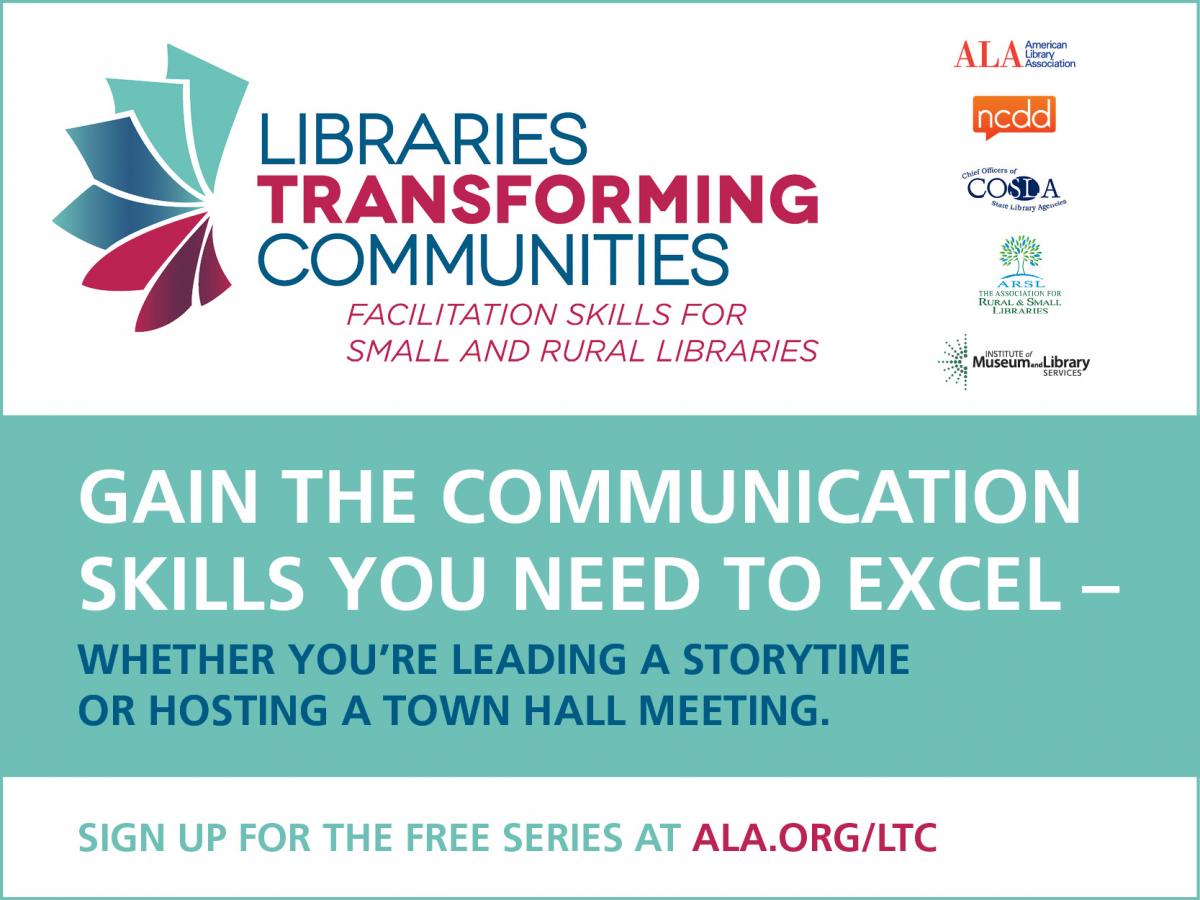 [2]Twenty-five library workers will be selected to be part of Libraries Transforming Communities: Facilitation Skills for Small and Rural Libraries [2]. Participants will complete a five-part online course, participate in virtual coaching sessions, and attend an in-person workshop — free of charge and with travel funding provided — specially designed to address the community engagement needs of small and rural libraries.
The opportunity is open to library employees who work in small or rural [3] communities with a legal service area population of 25,000 or less, in accordance with the Institute of Museum and Library Service (IMLS) definition [4]. All library types (e.g., public, college/academic, K-12) are welcome, and no facilitation or community engagement experience is necessary.
Learn more and apply online. [2]Applications are due by Jan. 20, 2020.
Participating library workers will learn:
Basic skills for facilitating a conversation
How to ask the right questions
How to move from talking to action
Strategies for discussing divisive topics
"Whether hosting a story time or leading a town hall meeting, library workers today need communication skills to fulfill their broad mission as community educators and leaders," said ALA President Wanda Brown. "Since launching ALA's Libraries Transforming Communities initiative in 2014, library employees from small and rural communities have been asking ALA for facilitation training to help them become better conveners, and we're proud to deliver with this special project."
Participants will be selected through a competitive, peer-reviewed application process. Grantees will receive free entry to the one-day workshop; travel expenses paid to Chicago; and two nights lodging at a conference hotel.
Libraries Transforming Communities: Facilitation Skills for Small and Rural Libraries is made possible in part by the Institute of Museum and Library Services grant number RE-17-19-0041-19.
The initiative is offered by ALA's Public Programs Office in collaboration with the National Coalition of Dialogue & Deliberation (NCDD), the Association of Small and Rural Libraries (ARSL), and the Chief Officers of State Library Associations (COSLA).
Since 2014, ALA's Libraries Transforming Communities initiative has reimagined the role libraries play in supporting communities. Libraries of all types, from across the country, have utilized the free dialogue and deliberation training and resources to lead community and campus forums; take part in anti-violence activities; provide a safe space for residents to come together to discuss challenging topics; and have productive conversations with library trustees and staff. Learn more and access free materials and training at www.ala.org/LTC [5].