August 26, 2020
Prior to COVID-19, we talked about creating a junior art show that would be shown in our library's community room. Unfortunately, all of our community rooms closed to the public for safety reasons and we could no longer use them for programming. 
I found that the most appropriate and safest way to display the talents of our young artists was through a virtual art show!
The kids would get recognition and get to display their art in a safe virtual environment that mimics a real gallery experience.
Popular Topics
Social-distancing programs
Virtual
Advance Planning
In-person programming at our library is typically very active. We provide weekly storytimes, LEGO clubs, homework helpers, special programming, holiday-themed events and STEAM challenges. When COVID made it so we couldn't do these programs anymore, I knew I wanted to incorporate something virtual and artistic to help reach our patrons at home.
We promoted the art show on our social media platforms and asked for community-wide submissions.
We asked our young patrons under 18 to create a piece of art and share photos with us via email. We asked for one close-up photo of their art and one of them holding their art. They submitted their pictures along with a Google Form explaining their masterpieces.
After the online premiere of the art show, each young artist received a certificate for being an "Artist Extraordinaire!"
Marketing
We advertised the opening of the show on our Facebook page [2] as well as local community pages. We got a lot of great reception and comments from patrons on the work!
Budget Details
This program came at no cost to the library. 
Day-of-event Activity
We opened the show by posting the link to the Google Slide presentation [3] on our social media sites. When you open up the slideshow, there is a photo of an art gallery. Patrons can "walk around" the gallery by clicking a paint pallete that says "next room."
I wanted to make it as realistic and participatory as possible.
Program Execution
I used Google Slides to create the virtual gallery. The opening slide welcomes patrons into the art gallery and each slide thereafter was a display of the submitted art.
I used a photograph of a real art gallery and "framed" the art so it gave it the appearance of being in a real gallery space.
The art show was primarily shown on our social media platforms. I also sent a copy of it to all participating artists.
Advice
Don't be afraid to try new things. Virtual programming can be different, but it's also a lot of fun!
About This Library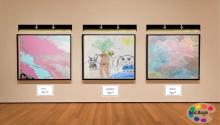 Library Description
Woodstock Public Library serves an estimated number of 170,000 visitors per year. It is one of five libraries in Cherokee County, which has an estimated population of 240,000. Cherokee County is a suburban county on the northern edge of metropolitan Atlanta, with a growing and diversifying population. Woodstock Public Library is part of the Sequoyah Regional Library System, which serves a population of 285,900 in Cherokee, Pickens and Gilmer Counties in northern Georgia.