June 1, 2021
Through this online video program, librarians fuse together the power of makeup, art and a love for books. The program requires a makeup artist (this can be a librarian with makeup skills) and a model. The two casually chat about a selected book while getting glam.
It's like a makeup tutorial and book podcast in one!
Audience
Adult
Tweens and Teens
Young Adult
Popular Topics
Virtual
Books and Authors
Advance Planning
The goals for this virtual program are to entertain viewers with a makeup look while chatting about a book. For the first video, I invited Sabrina Martin, the community engagement coordinator for the city of Baytown, to discuss a a book of her choice. We talked about "Where the Lost Wander" by Amy Harmon while I did her makeup. This series is inspired by the "makeup chats" concept executed by Bailey Sarian [2] on YouTube.
Marketing
We began promoting the premiere of this video series through our library social media and stories. We typically promote upcoming content one to two weeks before its release.
Trailers and sneak peek clips are always a great way to introduce viewers to what's coming.
Budget Details
Our library has a camera, tripod, lighting and video-editing subscription service that we use for multiple programs. If your library is looking to purchase all of these materials, this program could be high-cost. And you can't forget the cost of makeup products!
An easy ways to execute this program on a budget is to have your model bring in some of their own makeup products, use a phone camera, and use free video-editing software such as iMovie.
Day-of-event Activity
The day of the event, I brought in makeup products, prepared a space for filming, and had questions ready. It is important to brief your model on the questions that will be asked so that they will have a general idea of what to share about the book beforehand. 
It is also essential to have a "production" staff member available to keep watch of the filming as tech support.
We faced a few challenges during filming, like our camera shutting off mid-film. Because we had a backup staff member as tech support, we were able to catch this almost instantly.
Advice
This is an extremely fun and creative program that you can truly make your own! Makeup is one-size-fits-all, and reading is magic, so why not combine the two and create something wonderful?
About This Library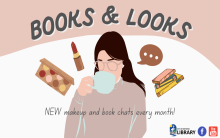 Library Name
Sterling Municipal Library
Library Description
At the Sterling Municipal Library, we serve the city of Baytown and surrounding areas. The city of Baytown population has been a growing community over the years, and we currently serve over 76,000 residents.