November 19, 2021
Fall for Fine Arts 2: African American Artists is an artist appreciation and art-making Zoom class followed by a mini art exhibit of submitted class work on our Instagram [2].
This program is based on the first Fall for Fine Arts [3]series, which was offered in October 2020 to help celebrate National Arts and Humanities Month and fall traditions.
Audience
Adult
Children / Family
Older Adults / Seniors
Tweens and Teens
Young Adult
Popular Topics
Social-distancing programs
Virtual
Coloring, Crafts & Hands-on
Advance Planning
My goals for this program were to have participants fall in love with several African American artists during the "love" month of February and to celebrate Black History Month while affirming the value of Black lives in America. The program was first offered as a weekly series, every Friday at 11 a.m. on Zoom, during February 2021.
With so many artists and projects to choose from, I settled on these only two weeks before commencement:
Week 1, February 5: Learn about Jacob Lawrence and make a still life of hand tools.
Week 2, February 12: Learn about Clementine Hunter and create a scene of something in your everyday life.
Week 3, February 19: Learn about Alma W. Thomas and paint abstract concentric circles (or heart shapes for Valentine's Day).
Week 4, February 26: Learn about Tom Feelings and draw a child's face or self-portrait.
Marketing
My target audience, besides my regular art and craft library patron attendees, were school students. Since I kept in communication with several teachers during the pandemic closures, I collaborated with one of them on selecting a day and time where I could fit this program into their classroom.
Once that was set, I submitted the details to the PR department for posting on our library's online Events Calendar [4] and other websites about two weeks before starting.
In addition, I asked Cathie Chenoweth, our school liaison librarian, to help me advertise the program event to other teachers and schools.
To further advertise the events, I created three social media posts per week for each event, which included:
T

[5]

he Flyer Posts

[6]

Submitted Works for Exhibit

[8]

Week 2: Mini IG Exhibit (not submitted)
Week 3: Mini IG Exhibit Part 1

[10]

and Part 2

[11]
Budget Details
This program can be offered for free or at a low cost to the library. I used materials already on hand, like paper, pencils, crayons and paints.
Day-of-event Activity
We started each class by listening to a song as participants logged into the Zoom room. The first part of the class included an informative and image-rich PowerPoint. The later part of class included time to start their own art project, as inspired by the artist they learned about.
Participants were encouraged to mute during the presentation but to leave cameras on during art-making.
Program Execution
Classes were booked on our library's shared Zoom account (two branches share one account).
Teachers and parents expressed gratitude and interest, even writing to request more of these types of programs in the future. We had between 100 to 300 people come to each program. As a result of this success, I was asked to create the family art/craft online programs for the 2021 Summer Reading Challenge as part of a collaborative effort for the Hollywood Regional area library branches of the Los Angeles Public Library.
Advice
Know Zoom well! With a large class, you may suddenly need to mute everyone but the speaker, or disable chat, if the pre-teen audience takes it off-topic.
You may duplicate this program (PowerPoints are included in the attachments) or be inspired to select other Black American artists and projects.
It helps to have a background in the arts or the passion and creativity for such.
About This Library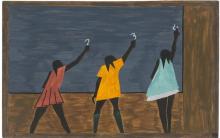 Library Name
Los Angeles Public Library (LAPL)
Library Description
The Los Angeles Public Library, with the Central Library and 72 branches, serves the largest population of any public library in America. The Will & Ariel Durant Branch (also known as the Durant Library on Instagram and Facebook) is in the Hollywood Area. Our libraries are clustered within six regional areas. Durant's patrons are diverse and eclectic.
Collaborations
: I worked with a local school teacher, whom I had maintained communication with during the pandemic closures.