November 23, 2021
ALA has announced the "Ask, Listen, Empower" Virtual Book Club [2], a series of three virtual, interactive conversations about community engagement to be held once per month in January, February and March 2022.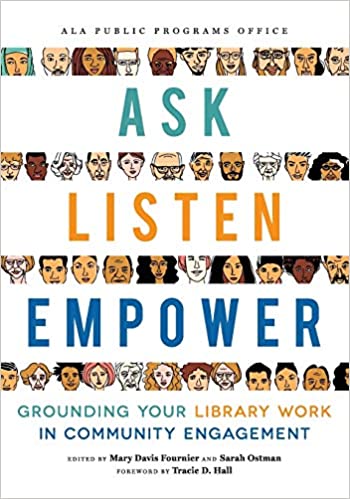 [3]Library workers who would like to be considered for one of the 100 available spots should apply online [2] by December 3, 2021.
Participation in this series is free, and participants will receive a free print copy of "Ask, Listen, Empower: Grounding Your Library Work in Community Engagement," [3] edited by Mary Davis Fournier and Sarah Ostman for the ALA Public Programs Office (ALA Editions, 2020).
Participants will be expected to attend each of the book club sessions listed below and to read the chapters in advance. Sessions will not be recorded.
Applicants will be notified of their registration status by December 10, 2021.
Community engagement isn't simply an important component of a successful library—it's the foundation upon which every service, offering, and initiative rests. Featuring contributions by leaders active in library-led community engagement, "Ask, Listen, Empower" offers practical ideas of how libraries can collaborate with others to address issues for the betterment of the community.
Each 90-minute virtual book club session will feature one chapter from "Ask, Listen, Empower," with a live conversation with the chapter's author, small-group breakout discussion and Q&A.
Sessions will include:
Wednesday, January 12, 2022, 1 – 2:30 p.m. CT: "Partnering for Greater Impact" (Author: Cindy Fesemyer, moderated by Flo Trujillo)
Wednesday, February 16, 2022, 1 – 2:30 p.m. CT: "Ethical and Inclusive Community Engagement" (Author: Ellen Knutson and Quanetta Batts, moderated by Miguel Ruiz)
Wednesday, March 16, 2022, 1 – 2:30 p.m. CT: "Community-Centered Programming: Tools and Techniques" (Author: Audrey Barbakoff, moderated by Veronica Casanova)
The "Ask, Listen, Empower" Virtual Book Club [4] is made possible through The STAR Net STEAM Equity Project. The project is offered by the Space Science Institute's National Center for Interactive Learning (NCIL/SSI), the American Library Association (ALA), Twin Cities PBS (TPT), Institute for Learning Innovation (ILI) and Education Development Center (EDC). It is generously funded through the National Science Foundation. This project builds on the STAR Library Network, or STAR Net (where "STAR" stands for Science-Technology Activities and Resources).