June 2, 2014
Each night kids around the world may listen to bedtime stories as they are tucked in. Bedtime addition problems? Bedtime fractions? Not so much. The Bedtime Math Foundation is out to change that.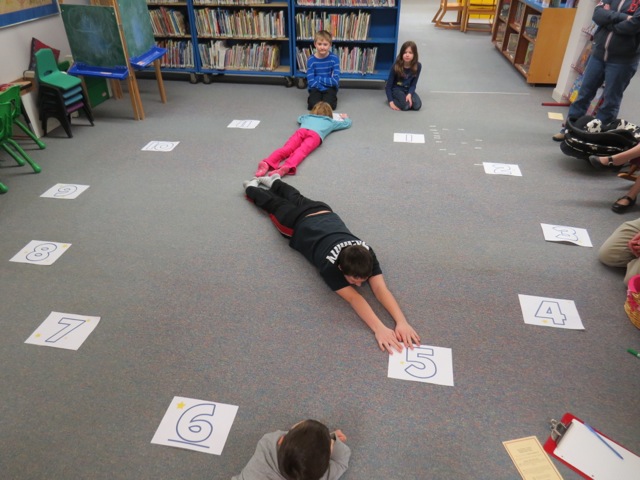 "We're all about helping parents engage around math the same way they do around reading," explains Diana Pecina, the foundation's director of partnerships.
The Bedtime Math Foundation [2] started two years ago when a New Jersey mom with a degree in astrophysics, Laura Bilodeau Overdeck, wanted a way to help her children understand that math can be fun.
The foundation started with programs for parents but has since grown to provide programs, books, and newsletters, to help libraries to engage young children.
The foundation's newest addition is the Crazy 8s Math Club [3]. The program is geared toward young children from pre-K through grade 5. It runs an eight week course where kids meet up to an hour a week with a coach to work on practical math projects. Instead of working off worksheets, the club offers an interactive way to get kids fired up about math.
Kids are challenged with activities anywhere from measuring their height with 4" pieces of toilet paper to using their bodies as hands on a clock to learn how to tell time.
The clubs can be run straight out of your library. It is very easy to start a club:
• Sign up on the web [4] and tell Bedtime Math a little about the public space or facility you would use to host the club.
• Provide coaches to run each session. Each coach works with a small group of kids in one of three age groups. The coaches do not need a background in math, though familiarity is encouraged.
• Provide a space for the club to meet.
• Recruit kids. Ten kids are needed to start a club in any of the three age groups.
• Provide common items, such as toilet paper, tape or rulers.
There are approximately 830 Crazy 8s clubs currently using the free materials provided by the Bedtime Math Foundation. The clubs are optimized for 10 to 20 kids in any of the three age groups: pre-K (shortened four-week course), grades K-2, and grades 3-5. The Crazy 8s club is not meant to supplement math class, but provide positive math experiences for kids.
Libraries can apply anytime to start a program in their area. For more information visit the Crazy 8s FAQ [5] page. Apply here. [4]