June 25, 2015
In observance of Women's History Month in March, I created an interactive display that featured quotes by notable women, accompanied by images of each. The user would read the quote and try to guess who said it. To check their answers, the user lifted the sheet of paper to see the name of the woman, her image and her birth and death dates (when applicable). 
Audience
Adult
Older Adults / Seniors
Young Adult
Program Execution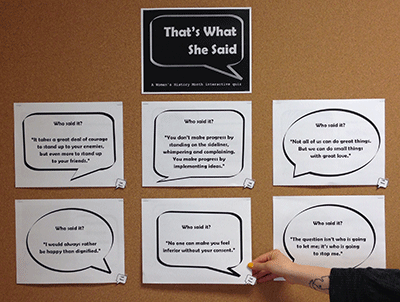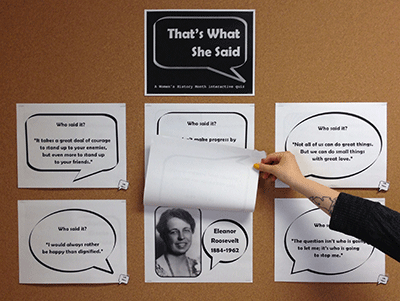 The pieces (located under "Attachments" at right)
Fact sheet: Key matching authors to quotes, used as a point of reference for the person creating the display 
Quotes: Print one per page
Author images/info: Print one per page
How to assemble
Using the Fact Sheet as your guide, match the corresponding quotes and images together (e.g., "No one can make you feel inferior without your consent" quote page with the Eleanor Roosevelt image page).
Fasten each pair of quotes and photo pages to your display. (Note: I would recommend first stapling the upper left and right corners of both sheets to the board, then stapling just the bottom corners of the bottom sheet to the board.)
Affix the "Lift Here" tabs, found on page 17 of the Quotes document, to the lower-right corner of the quote sheets. (Note: This is optional. I did this by cutting out each "Lift Here" icon and securing it to the top sheets with a little scotch tape. I found that the scotch tape provided an easy way to lift the top sheet.)
The "That's What She Said" title page can be found on page 1 of the Quotes document.
About This Library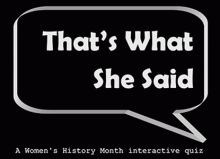 Library Name
Sacramento Public Library
Library Description
Sacramento Public Library (SPL) is the fourth largest library system in California, serving a population of over 1.3 million with an annual budget of $32 million. SPL has 28 locations, 280 staff members, a collection of 2 million volumes (with access to 9 million additional items through the Link+ Service) and circulation of over 7.5 million items each year. We serve 4.5 million visitors annually, with over 5,000 free programs for adults, teens, kids and families each year.