September 10, 2015
Presented in partnership with the Autism Society of Greater Akron, Sensory-Friendly Storytime engages participants through the use of story, music and movement. Programs offer educational, literacy and social opportunities for children of all ages with differing abilities, their siblings, parents/caregivers and their typically developing peers. Each program includes:
a safe and non-judgmental environment
a schedule board for following along
flannel board stories
interactive book-based experiences
gentle music
a half-hour of playtime and socialization for the entire family
Advance Planning
Because I have been researching and presenting this programming since 2008 at Charlotte Mecklenburg County Public Library, I already have eight program plans in place and know exactly what materials are needed. Even after seven years of experience with this type of storytime, the program needs to be adapted for the families attending. Therefore, it is important to be open and flexible as the program continues from month to month.
Marketing
We marketed the program through our branch newsletter, the system-wide quarterly newsletter, with help from our partners at the Autism Society of Greater Akron, and via word of mouth. This is an ongoing effort, and we are constantly trying to attract new families.
Budget Details
We purchased materials to create flannel board stories and take-home storyboards. Other purchased supplies have included a sensory balance beam, toys and an unbreakable mirror.
Day-of-event Activity
Our student assistants put everything in place the day prior to the event. It is important to hold the program in a quiet room without distractions, such as vertical blinds, books and clutter. We put a table at the front of the room with a simple toy box filled with program materials. The program can be led by one person, but two is preferable so we can stay aware of everything that is happening in the room.
Program Execution
We start the program by going over the schedule for the day, which is posted in activity cards on the wall. Activities might include singing simple songs while looking into an unbreakable mirror; passing a bean bag around a circle to encourage focus and interaction; reading books and putting the storylines onto flannel boards for participants to take home with them; walking on a sensory balance beam [2]; and playtime activities like blowing bubbles. (For more information about program execution, watch the video under Videos and Images at right.)
Play and social time is extremely important for this program, not just for kids, but also for their parents and caretakers, who have an opportunity to make connections with one another.
In terms of turnout, we consistently have at least two families or more at the program. This is not a "numbers" program, but an "experience" program. We consider it a success having families return month after month, and we ask participants for feedback continually.
Advice
Do your research. Observe an existing program. Don't give up if it is slow to get off the ground. Think outside the box as far as taking the program to a school with students with special needs. Stay adaptable and open to parent suggestions. This program will be different each and every time despite a schedule that is consistent.
About This Library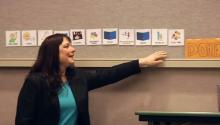 Library Name
Akron Summit County Public Library
Library Description
The Akron Summit County Public Library system consists of a main library in downtown Akron, two bookmobiles, a mobile services van and 17 branch locations throughout Summit County, serving a total of approximately 400,000 patrons.
Grant Funding
Grant awarded to Autism Society of Greater Akron from Millennium Fund
Collaborations
These programs are offered in partnership with the Autism Society of Greater Akron, Summit County Developmental Disabilities Board