November 19, 2015
Patrons write what they are thankful for on paper vegetables and fill the paper cornucopia — and the entire bulletin board — with gratitude. Everyone was invited to participate, but kids wrote the majority of the answers since I run the children's room. People were thankful for their family, friends and pets; for Paw Patrol and Batman; for chocolate bars and best friends and sunny days to ride their bikes.
Program Execution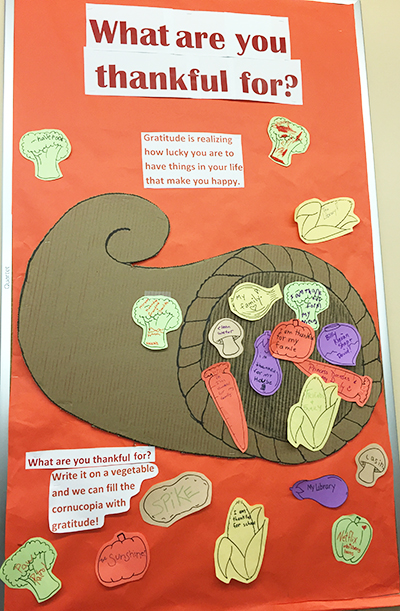 The pieces (located under Attachments at right)
Hand-drawn food: print each sheet on the color of paper that's written on the side of the page
How to assemble 
1. Draw a big cornucopia on a piece of brown butcher paper or corrugated cardboard. If you use butcher paper, laminate it so it doesn't become ragged. I free-handed the cornucopia, which I know isn't easy for a lot of people, but once you get the shape right, it's not too hard. Don't stress about this part, because it'll be covered up, anyway. 
2. Print out the PDF of hand-drawn food, and copy each page several times onto colored paper (suggested colors are written on the side of each page of the PDF). This works better than trying to load a rainbow into the printer. 
3. Once you have the colored pages of food, cut out the vegtables and put them into a little basket with a few markers. In our library, patrons brought their completed vegetables to the circulation desk and we taped them up. We did this so kids, who want to tape their food super high, wouldn't climb onto the furniture. (I may have had this happen a few times before.) The answers I liked the best were the ones you might not expect; yes, we are all thankful for family and friends, but this year, our patrons were also grateful for Spike [2] (the library's pet turtle), princess dresses, Netflix and the interlibrary loan (me, too!).
About This Library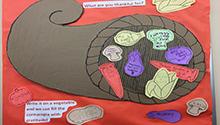 Library Name
Marlborough Public Library
Library Description
Founded in 1870, the Marlborough Public Library [3] was the first free public library in the city; we've been around for 145 years! We moved into our current building, which was built with a grant by Andrew Carnegie, in 1904. On the first day the new building was open, 3,500 people visted. The Marlborough Public Library has grown over the years, most notably with an expansion in 1970, and it is the only library in Marlborough, which has a population of almost 40,000. We are home to many immigrant families from all over the world and have books in Spanish and Portuguese for all ages, as well as conversation circles for English learners. We also have four distinct storytimes (babies, toddler, preschoolers and a nighttime storytime for working parents), classes and clubs for all ages, a teen room with couches and video games, book clubs, monthly parties in the children's room and a collection of about 75 toys and games that circulate.