July 7, 2009
In January 2007, KPBS, San Diego's local public broadcasting station, and the San Diego Public Library [2] (SDPL) launched "One Book, One San Diego," a community-wide reading initiative designed to educate and enlighten on topics and themes of concern to our community while promoting reading as a source of pleasure and enrichment. This campaign is similar to some found in other cities, but with the distinction of having a public television and radio station join forces with a public library. This joint effort expanded the campaign and created a stronger impact and connection with the community. It also resulted in recognition for both organizations; in 2009, the Corporation for Public Broadcasting honored KPBS with a National Community Impact Award for its participation, and SDPL received the California Association of English Teachers (CATE) 2009 Award of Merit, which recognizes outstanding and meritorious contributions by people and/or organizations outside the teaching profession toward the improvement of teaching English/language arts in California.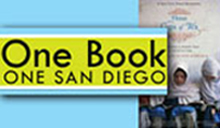 "One Book, One San Diego" encourages citizens to not only engage in the pleasure of reading, but also join in lively conversation, contemplation, and exchange of ideas as we bring our diverse city together around one good book. Whether it is reading great literature or provocative nonfiction, "One Book, One San Diego" stirs us to think about life, including our relationships and our community. Discussions add texture and vibrancy to the experience of reading, and ongoing dialogue has the vast potential to lead to a greater understanding among citizens.
The first book selected to begin the campaign was Enrique's Journey by Pulitzer Prize–winning reporter Sonia Nazario, a nonfiction story about the intense love that drives many Central American children on a quest and harrowing journey to reach their mothers who left them to work in the United States. Topics discussed in relation to this book included immigration, sacrifice, love and forgiveness. The kick-off event was held in January 2007 at the Museum of Photographic Art in Balboa Park. Don Bartletti, the Pulitzer Prize–winning photographer, exhibited his photographs, including those from the LA Times in-depth investigative series that is the basis for the book. An audience of 250 attended to hear Bartletti describe his experience riding the trains through Central America and Mexico with Nazario to research and capture the experience of these desperate children and those who hindered and helped them in their treacherous journey. Nazario interacted with our community by participating in events, lectures, and panel discussions, inlcuding a discussion in Spanish, at KPBS, the central library, and San Diego City College. The community dialogue continued through May with numerous book discussions, lectures, film series, and university and high school student projects and classes.
KPBS received an Emmy for Outstanding Public Service Announcement for the Enrique's Journey video that aired on KPBS television. This video was created in collaboration with the College Rolando Branch Library of the San Diego Public Library and Crawford High School Multimedia and Visual Arts School.
For 2008, a novel approach was taken to further engage the community. The book was selected by an online community vote at KPBS [3]. After an advisory committee researched, discussed, and narrowed down the possibility to three intriguing and very different books, San Diego voted for Three Cups of Tea by Greg Mortenson and David Oliver Relin. The book recounts the unlikely journey that led Mortenson from a failed attempt to climb Pakistan's K2, the world's second-highest mountain, to successfully building schools in some of the most remote regions of Afghanistan and Pakistan. Three Cups of Tea is at once an unforgettable adventure and the inspiring true story of how one man really is changing the world—one school at a time. This compelling book resonated with San Diegans in record numbers, inspiring many to participate.
The kick-off celebration was held in January at the Old Globe Theater, and began with a reading from the book. Acclaimed journalist Relin spoke to and answered questions to a full house (more than 600). In February, Greg Mortenson spoke to an enthralled crowd of almost two thousand at the Point Loma Nazarene University. Unfortunately hundreds, if not more, had to be turned away from the free event. Mortenson also spoke to more than six hundred guests the following night, and visited a local high school to discuss the book and his work with a class of ninth-grade students. Video from the high school visit was used for a KPBS television spot to promote the book.
With Three Cups of Tea, "One Book, One San Diego" developed a stronger partnership with San Diego State University (SDSU) and its 2008 Common Experience/Freshman Summer Read program. Incoming freshman and their families read Three Cups of Tea, and curriculum was developed by a rhetoric and writing professor to be used in many SDSU classes. The theater department created a beautiful 35-foot backdrop for Greg Mortenson's visit to the campus in September 2008 to talk to almost three thousand guests (students, faculty, and community members). Mortenson also met with small groups of students for intimate discussions, including local grade school students. SDSU honor students in turn worked with Olympian High School and their year-long senior project designed around reading Three Cups of Tea.
For 2009, San Diegans voted for The Zookeeper's Wife by naturalist and poet Diane Ackerman. Once again, our community selected a book with a unique story, but one of compassion, tolerance, and sacrifice—themes that are essential elements of each book selected for "One Book, One San Diego," and of utmost importance to the San Diego community. Lectures, discussions, activities, and exhibits began in January 2009.
Our media partner, KPBS TV, reaches 430,996 households, or 706,605 persons, each week, and KPBS Radio has 263,400 weekly listeners. KPBS TV spots for Enrique's Journey ran 1,000 times, and 2,172 times for Three Cups of Tea. Thirty-one different One Book radio spots have aired 2,025 times. We have not gathered the information for 2009.