February 12, 2013
Editor's note: Join us for another behind-the-scenes look at traveling exhibitions at the ALA Public Programs Office. Today, in honor of Abraham Lincoln's birthday, we talk to musician and folklorist Chris Vallillo about "Abraham Lincoln in Song [2]," a historically accurate show that weaves period folk songs, Lincoln's stories, and his own words together to shed light on the life and times of one of our nation's favorite sons. "Abraham Lincoln in Song" has been performed in association with the ALA traveling exhibits "Forever Free" and "Lincoln: The Constitution and the Civil War."
Previous interviews in this series include Q&A with Gordon Paul, Traveling Exhibition Shipper [3], Q&A with Dr. Steve Frank, Curator of "Lincoln: The Constitution and the Civil War," [4] Q&A with Pat Chester, Traveling Exhibition Designer [5], and Q&A with Beth Prindle, Curator of "John Adams Unbound." [6]
Programming Librarian: Tell us about your program, "Abraham Lincoln in Song." How do you use music to teach people about history?
Chris Vallillo: I believe that music is a wonderful "window" into the past. The combination of story, melody, and even the language used can put you in a time and place like nothing else, and resonates with an audience on multiple levels.
With "Abraham Lincoln in Song" I put that theory to the test. Since Lincoln loved music, I spent a year researching—reading as much as I could find to shed light on his life, and noting references to specific music tied to particular parts of his lifetime. Then I combined selections from this list of music with Lincoln's own words and stories to tell the story of Lincoln's life and times.
For instance, in 1828, Lincoln takes his first trip to New Orleans working as a deckhand on a flatboat. After describing the boat, I perform an old flatboat work song well known in Lincoln's time on the Ohio River, and get the audience to clap in rhythm much as the flat-boaters used the song to pole the boats more effectively as a team.
When Lincoln was a circuit-riding lawyer, his banjo-playing friend Ward Hill Lamon taught him and his fellow lawyers a song they all shared in the evenings at the roadhouses where they stayed. When discussing this period of Lincoln's life, I perform the song on the jaw harp as Lincoln did himself, and have the audience sing the repeating chorus just like he and his fellow lawyers. The music draws on an audience's imagination and reinforces the information you're sharing in a way you just can't do by merely reciting facts.
PL: What do you find most intriguing about Abraham Lincoln?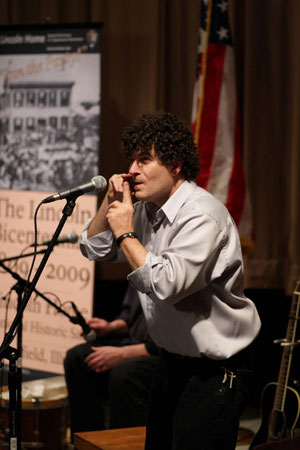 CV: Lincoln's story is both compelling and inspiring. As a young man, Lincoln's primary goal was to do work of substance for his fellow man. He comes up through the hardships of early pioneer 
life by sheer force of will, betters himself, transforms himself into a national figure, then leads the nation through our most terrible struggle—the Civil War. In the midst of all this chaos, he not only saves the nation from self-destruction, but frees it of the blight of slavery. 
The myth of Abraham Lincoln begins immediately after his death with almost saint-like stories told about him. But the reality of Lincoln's life is far more compelling than the myth. In many respects, he is the American ideal—a self-made man whose intellect, political skill, and sheer cunning was the best of his era. The difficult times in which he lived didn't corrupt or destroy him, but caused him to rise to greatness.
PL: You have performed at a number of libraries in connection with the "Lincoln: The Constitution and the Civil War" and "Forever Free" traveling exhibitions. What have you enjoyed most about working with libraries? Have audiences asked you any surprising questions about Lincoln?
CV: Libraries are excellent performance sites. Most have a dedicated space that works very well for programming, and a staff that is familiar with presenting it. Professional performers can work very effectively in this setting. But what I love most about performing at libraries, particularly with these exhibits, is that the setting allows one to delve deep into the heart of a subject and include significant content in a program.
Audience surprises? Let's just say you never want to get your facts wrong on anything about Abraham Lincoln! I actually had someone in the audience challenge a comment I made about Lincoln in the middle of the show! That being said, I'm often amazed at the discussions that follow a performance of this show. Audiences have proven to have a surprisingly deep understanding of the issues of Lincoln's time, many of which we still struggle with today.
PL: If granted the opportunity to have lunch with Abraham Lincoln, what would you ask him and why?
CV: I'd like to know about the early days—the hardships he went through in those early years forged him into the great man that he would later become. I'd love to know about his time in Kentucky and Indiana, especially the flatboat trips he took to New Orleans. Just imagine the world he would have seen floating down the Ohio and Mississippi Rivers all the way to New Orleans (and they say he walked back to save the return boat fare). 
I'd also love to talk about his vision of the era. In my mind, Lincoln was a "big picture" guy. He looked at a problem with a long-range point of view, much like a chess player who thinks many moves ahead and carefully considers the consequences of his actions. I'd be curious to know if that is correct, and I' like to get his impressions of the era.
PL: Do you have any favorite books or other resources to recommend focused on the music of Lincoln's era?
CV: Here are two of my favorites. For original versions of the music of Lincoln's era and the stories behind the songs, you can't beat Songs that Lincoln Loved by John Lair, Little and Brown, Library of Congress #54-6876. Although it is long out of print, you can find copies online for reasonable prices. There is a copy you can view at the Abraham Lincoln Presidential Library in Springfield, Illinois, and I imagine many libraries still have this book.
For a bigger overall view of music in that era and details about the music of the Lincoln Presidency (Lincoln went to the opera sixteen times), go to Music at the White House: A History of the American Spirit by Ellis K. Kirk, University of Illinois Press. While this is also likely out of print, used copies are available from Amazon.com as well as libraries.
Listen to some music samples from Chris Vallillo: Battle Cry of Freedom [7] and Shawneetown [8].