September 15, 2016
2017 marks the 20th anniversary of "Harry Potter and the Sorcerer's Stone," the first in the beloved fantasy series. Is your library ready?
With comfortable budgets and enthusiastic staff, the following three libraries have been able to pull off some truly lavish Harry Potter-themed events. Read on to learn more about these enchanting programs, and if you're inspired, click on the program titles for step-by-step programming instructions. (Are you planning your own Potter extravaganza to mark Harry's big 2-0? Tell us about it! [2])
"My goal was to create something that children and their caregivers could explore together, so I wanted the maze to be big enough for adults to walk through," writes Amy Forrester, children's librarian at the Denver (Colo.) Public Library.
Mission accomplished. The finished cardboard maze — measuring in at 75 feet long, 25 feet wide and 6 feet tall — was the centerpiece for a families-only after-hours party, where more than 300 attendees played games, made wands and chowed on Honeydukes snacks
The maze was left up for a week so all library-goers could explore, and those that didn't feel like venturing inside could gaze at it from the second- or third-story balconies above.
"I definitely achieved my goal of creating a memorable program that encouraged caregiver-child interactions," Forrester said. "Even the most impatient adult melted into a happy child after just a few steps into the maze."
Harry Potter Book Night

[4]

(Lewis J. Ort Library, Frostburg State University)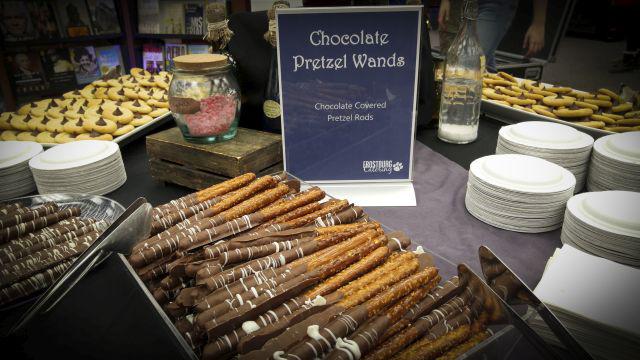 [4]
You don't need floo powder to be transported to Hogwarts. Middle schoolers in Frostburg, Md., were in for a magical treat when they received invitations [5] for an enchanted night of activities at the Lewis J. Ort Library at Frostburg State University.
To prepare for the event, the library partnered with the university's children's literature center and constructed program schedules [6] and floor plans [7].
After 200 children were randomly sorted into Houses, the young witches and wizards were led by the "head of house" to Hogwarts classes, a book reading or a quidditch tournament.
Pamela Williams, associate director for library user services, explained organizers went all out for the program. Librarians, staff members and volunteers wore House hats, scarves and gowns.
"One office in the library organizes commencement ceremonies and stores an assortment of academic gowns in various sizes that were available to organizers that evening," she said.
To fuel up for the activities, "butter beer," jelly slugs and Hogwarts house krispies were served.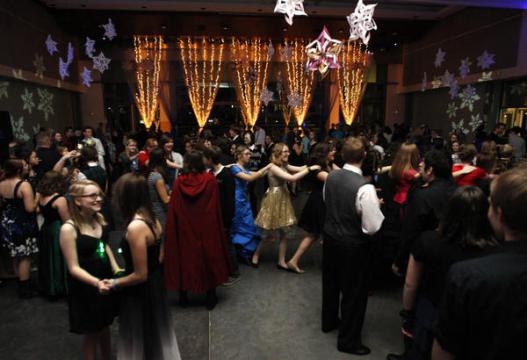 [8]
Salt Lake County teens didn't just attend their local library's Yule Ball to dance — they also came to win the House Cup.
Salt Lake County (Utah) Library Services welcomed 1,500 teens to its third annual Yule Ball. Along with music and activities, patrons earned House Points, which were inputted into a Google Sheet and projected onto the dance hall screen.
"The House who had the most points had a special dance at the end," said Carrie Rogers-Whitehead, teen services senior librarian. "The teens always get very competitive for points!"
The library divided attendees into Houses by handing out colored wristbands at the entrance. The wristbands had the hashtag #TeenYuleBall printed on them to promote social media activity.
During the three-hour event, teens took a break from dancing to create wands and visit fortune-tellers. Perhaps the most terrifying activity didn't have to do with Death Eaters; it was coming face-to-face with real owls and snakes.
"I freaking held the snake! (And she got tangled in my hair at one point)," tweeted one student, using the hashtag #GryffindorBrave and #TeenYuleBall.
With a $1,500 budget, the program depends on volunteers and partnerships, such as with The Harry Potter Alliance, the Rocky Mountain Muggles and FantasyCon.
The number of attendees has grown every year, and Rogers-Whitehead said adults are asking when their HP-themed party will be thrown.