November 21, 2016
Accountability. Creativity. Support. Coffee. Sometimes all of these elements need to come together to foster a writing environment.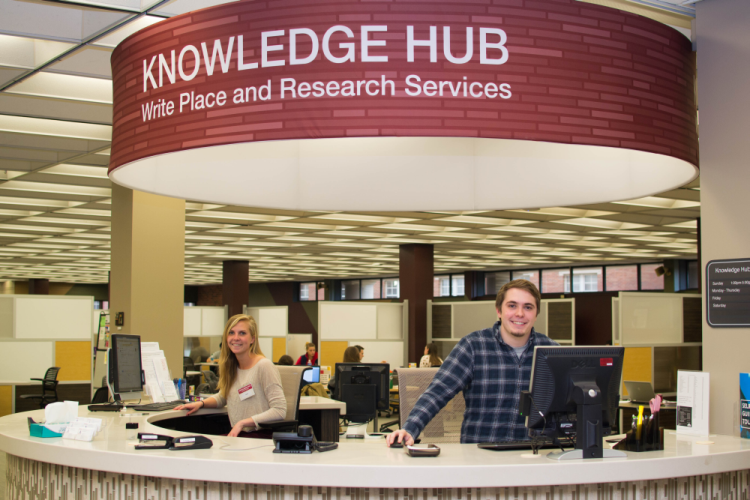 At University of Dayton, our writing and research services are combined in one service point, the Knowledge Hub. Writing services are offered by trained peer consultants who work with writers at any stage in the process, including brainstorming, outlining and final drafts. Research services are offered in the same space by librarians, allowing for collaboration and connection to resources.
The Knowledge Hub, now in its third year, has rich programming opportunities to support writing as well, including Swarthmore College's International Write-In [2], taking place Nov. 29 through Dec. 8, 2016. Its hashtag, #intlwritein [3], invites other schools to adapt the idea for their own communities and connect using social media.
The Write-In will give students a space to commit to a project and also provide opportunities to discuss projects and to give and gather feedback — not just for class projects, but for any type of writing (and all writers). Hosts could share literary journal calls for submissions or provide creative writing prompts.
When our writing center coordinator showed me this opportunity, we brainstormed ways to make this a special writing environment with students. Librarians are active writers, too, and could help connect other writers with resources like the aforementioned calls for submissions or resources to write. We also thought of ways the library furniture could help create a quiet or collaborative writing space (e.g., long tables vs. round tables).
The big message of a Write-In is, "You are not alone." During this time of post-election stress and rocketing full speed into final exams and the holiday season, this timing could not be better to create a communal environment for expression.
Interested in hosting? Check out Swarthmore College's helpful FAQ [4] or follow the hashtag [5] for ideas.