July 31, 2017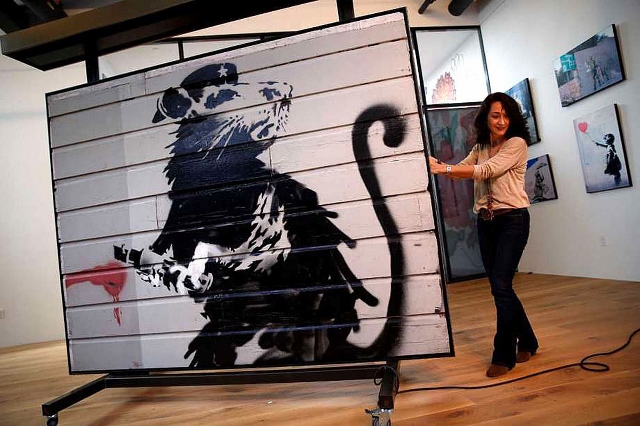 Update: Banksy's "Haight Street Rat" was unveiled at the library on Aug. 4; a line stretched from the artwork to the library's back door. Read about the unveiling on the Kokomo Tribune. [2]
The Kokomo-Howard County Public Library (IN) will become what is thought to be the first library in the world to host a piece of art by the street artist Banksy, the Kokomo Tribune reports [3].
The well-known, stealthy Banksy [4] has created coveted political and social commentary street art around the world. The KHCPL will display a piece Banksy created in San Francisco on the side of a bed and breakfast, titled "Haight Street Rat."
The piece features a rat sporting a cap reminiscent of Che Guevara, the late Argentine Marxist military leader. The rat is holding a marker next to a drawn red line, and the other end of the line reads "This is Where I Draw the Line." The piece that will be on display does not include the phrase.
Lisa Fipps, director of marketing and community engagement at the KHCPL, said as far as the library knows, they're the first in the world to host an actual piece by Banksy. Other libraries have hosted displays with posters or prints of his work, but Fipps said as far as she can tell, the KHCPL is the first to host the actual piece. ...
Continue reading on ALA's I Love Libraries website. [5]