September 6, 2017
PRISM is a monthly program aimed toward LGBTQ+ teens and straight allies in our county with the goals of providing a safe place for all. Our young adults are given the opportunity to create their own supportive, inclusive community in an area which often denies such.
PRISM allows teens, no matter their sexual orientation or gender identity, to connect and discuss issues that are relevant to their lives in a relaxing, social setting; the program empowers teens to advocate for LGBTQ+ equality and justice.
Advance Planning
"We aren't allowed to have LGBTQ+ groups in our schools."
PRISM was created as a response to this statement made by teens in our rural Georgia city. The PRISM social justice alliance aims to provide a safe space for all young adults in grades 6 through 12. It is a confidential, comfortable environment for teens to be open about diverse LGBTQ+ issues. PRISM also strives to teach teens strategies of self-advocacy, encouraging them to shape the alliance to their specific needs.
We began planning in fall 2015 with help from LGBTQ+ teens and allies on our Teen Advisory Board and teens who regularly attend other programs, like our Anime Club. Through working with the teens we discovered that they wanted no mention of "LGBTQ+" language in the group's name and description, which was reinforced by our branch manager. Many of our teens are not out to their parents and wanted the club to be ambiguous for safety and anonymity. We chose the name "PRISM" because when light is shown through it, a prism makes a rainbow; it reflects the diversity of our teen patrons!
Marketing
Outreach and marketing for an LGBTQ+ group in a largely conservative area is a challenge. Teens may not wish to out themselves by taking LGBTQ+ materials. The local public schools did not allow LGBTQ+ groups. Plus, library patrons and staff may be sensitive or oppositional to LGBTQ+ displays. Ambiguous marketing is crucial. 
We chose to forgo the familiar LGBTQ+ "rainbow" branding in marketing the alliance. Using the free online design software Canva [2], we created a visual brand for PRISM: pink and blue triangles fading to purple. Our slogan is "PRISM is a positive safe space without judgement for all individuals who share a common vision of equality." This branding is on all PRISM promotional materials.
While we use social media and print media to promote the group, our greatest marketing asset is word of mouth. Young adults are excited to spread the word of an LGBTQ+ group to their friends. And as our materials are kept "safe" from mentioning LGBTQ+ language, teens are able to gain permission from their parents to attend. As a result of these promotional efforts, the program even draws teens from surrounding rural and suburban counties in addition to Oconee. 
Budget Details
The expenses for PRISM are usually very low. The most common expense is for snacks. Food is the best fuel for open and lively discussion. Our craft materials often come from what's available in the library such as paper, colored pencils, etc. Guest speakers volunteer their time, so there is no cost. Our largest expense yearly is for our Anti-Prom, for which we pay a DJ.
Day-of-event Activity
PRISM meets monthly in our largest auditorium. The two teen library specialists run the program. We set up tables and chairs in a triangle shape so everyone can see one another. We hand out name tags with name and pronoun preference to all the teens. Many teens, especially those that are transgender, genderqueer, agender, etc. may have different names and pronouns than those they use at school. PRISM honors and acknowledges their chosen names and pronouns and encourages other club members to use them as well. We also hand out fliers for the next month's meeting so that our attendees may take them to their friends and peers.
One of the challenges of this program is finding age-appropriate materials. We find LGBTQ+ films with PG-13 (or less) ratings difficult to come by, so film viewings are rare at PRISM. Television and YouTube offer far more LGBTQ+ friendly choices for our teens.
Program Execution
PRISM is a monthly program. Each meeting has a theme such as body acceptance or queer art. We watch videos and have discussions. We have also invited former library teens who have aged out of the program to come talk on their experiences growing up queer in the South.
There is always a visual and tactile component to PRISM. We've made stress-relief jars, compliment chains, timelines of relationship expectations, self-portraits and more. We also highlight LGBTQ+ selections from our young-adult fiction and nonfiction collections. 
There is a one-hour after-program directly after meetings for teens who may not feel comfortable attending meetings. These have included Anti-Proms, open mic nights, fan fiction events, and even a partnership with the Humane Society to bring in puppies. 
A key component is self-advocacy. The teens wanted LGBTQ+ services in their schools, so we helped empower them with information. Our teens, backed by information provided by the Human Rights Campaign, made their pleas heard at school. As a result, both public high schools in our county now have LGBTQ+ groups. PRISM is the first ongoing LGBTQ+ program in our county, and we are proud that it won't be the last.
Advice
Create buy-in with library staff. They need to know what the club is and how to facilitate a safe space in the library. They also need to know how to react if there is push-back or opposition from the community.
Try to establish partnerships if you can. We were not able to make connections with local organizations because none existed. Instead we found online resources and expertise.
And lastly, listen to what the teens want. Our program began with an open line of communication between LGBTQ+ young adults and ourselves. This is the key to empowering teens in their world.
About This Library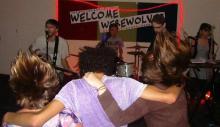 Library Description
Oconee County Library is a branch of the Athens Regional Library System located in Watkinsville, Ga. The library serves the residents of Oconee County through programming for children, teens and adults. The population of Watkinsville is 2,832 (as of 2010). Oconee County Library's mission is to offer effective and professional service by providing library materials, resources, information and lifelong learning opportunities for all people of Oconee County.