November 30, 2017
Update 1/9/18: This workshop is now open to library professionals from all library types! Space is limited; please register early. The workshop will include breakout sessions for academic and non-academic libraries. Questions? Contact ALA's Public Programs Office at publicprograms@ala.org [2].
ALA, the Association of College & Research Librarians (ACRL) and the National Coalition for Dialogue & Deliberation (NCDD) will offer a free one-day workshop to teach academic librarians how to convene and facilitate community conversations on issues of importance to their communities and the nation.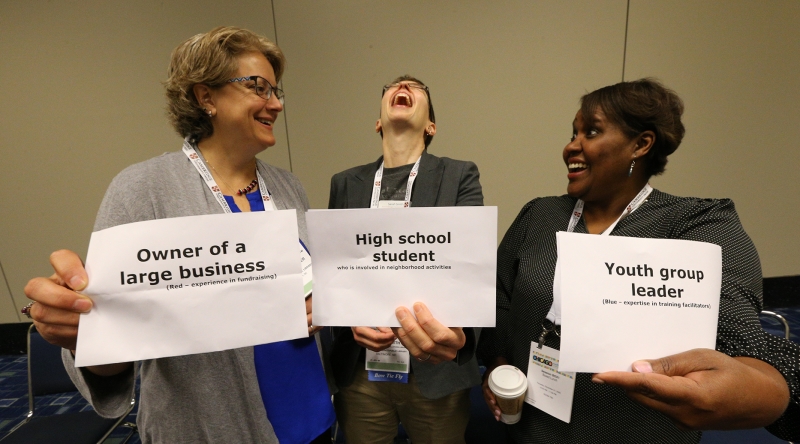 The workshop, "Libraries Transforming Communities: National Issues Forums Workshop for Academic Libraries," [3] will be held from 9 a.m. to 4 p.m. Friday, Feb. 9, 2018, during the 2018 ALA Midwinter Meeting in Denver.
Participation is free for those registered for the Midwinter Meeting; academic library practitioners and students are welcome. Space in the workshop is limited, and advance registration and some pre-work is required. Learn more and register online. [4]
The workshop will be led by experts affiliated with the National Issues Forums Institute (NIFI), a nonpartisan network of organizations and individuals that promote public deliberation in the United States. National Issues Forums are neutral, moderated forums where people come together with the goal of finding a shared direction to take based on our values.
Participants in this session will experience a National Issues Forum, learn the principles of deliberative dialogue and receive training in the NIFI approach of how to convene a forum and build skills as a forum moderator.
The event is offered as part of Libraries Transforming Communities (LTC): Models for Change [5], an initiative of ALA and NCDD that seeks to strengthen libraries' role as core community leaders and agents of change. This workshop is the culminating session of a learning series for academic libraries. Workshop participants must view three pre-recorded, 90-minute webinars [6] before the Feb. 9 in-person gathering.
LTC: Models for Change is made possible in part by the Institute of Museum and Library Services (IMLS) grant number RE-40-16-0137-16.