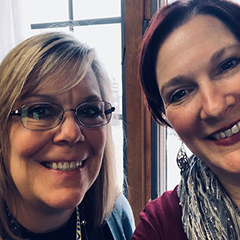 Calvert County Public Schools, Prince Frederick, Md.
Bio
Donna Mignardi, High School Teacher Librarian, Calvert High School, Prince Frederick, Md.
Donna has her MLS from the University of Maryland and has been enjoying life as a high school teacher librarian in Prince Frederick Maryland for almost 20 years. Donna is known for her insight as she works with teachers and students to plan programs that meet the curricula, teacher, student and school needs. She has previously shared her programs through local state and national conferences.She is a makerspace innovator, digital citizenship advocate and a creative marketer of her library's programs.
Jennifer Sturge, Teacher Specialist for School Libraries and Instructional Technology, Calvert County Public Schools, Md.
Jennifer is a 2017-18 Lilead Fellow and holds a Master's in School Librarianship and Instructional Technology from Mansfield University. She has worked in Calvert County Public Schools her entire career. One of her biggest job responsibilities is guiding programming to all school libraries across the district, including a makerspace initiative and a public library card for every student. She continues to look for new and creative programming ideas to integrate library into every facet of the school culture and is always happy to share. Jennifer also serves as an adjunct professor of school library for the next generation of librarians.