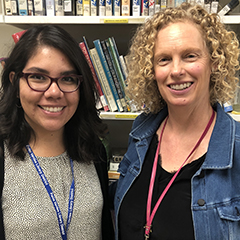 Palos Verdes Library District, Rolling Hills Estates, Calif.
Bio
Laura Ishizaka, Adult Services Librarian
Laura enjoys working with the adult community and working to find out what makes the community tick. She enjoys working on large-scale initiatives to improve services offered to the community by the library and on making community connections, as well as working on graphics and social media for the library. Laura has been working in Adult Services for five years. She graduated with a B.A. in English Literature from UC Berkeley and an MLIS from San Jose State University.
Deb Ripley, Adult Services Librarian
Deb spends quite a bit of time with the older folks at her library, and she loves it. Much of the programming she does centers around the most senior members of the library's community. She enjoys sharing that experience with her collegues and hearing about all the great stuff other library works are up to. She has been working as a part-time librarian at PVLD for almost a decade after earning her MLIS from University of Alabama (Roll Tide!).