New for February at EDSITEment
EDSITEment offers a collection of Black History Month resources and takes a look at the events of February 1968.
This February, EDSITEment offers a collection of Black History Month resources, takes a look at the history-changing events of February 1968, goes on a Flight to Freedom, builds a fire with Jack London, introduces the members of Thoreau's Circle, and celebrates Presidents' Day.
Black History Month
February's Black History Month is the perfect time to investigate the tremendous contributions that African Americans have made to the history and cultural development of the United States. In this special feature, teachers, parents, and students will find a collection of NEH-supported websites and EDSITEment-developed lessons that tell the four-hundred-year story of African Americans. They will also encounter some of the most influential voices and the most memorable images in American history and culture.
The 1968 Exhibit
The 1968 Exhibit is an ambitious, state-of-the-art, multimedia exhibit that looks at how the experiences of the year fueled a persistent, if often contradictory, sense of identity for the people who were there. It is the unsettled nature of the debate about damage done or victories won that makes an exhibit on this subject so compelling and urgent. In February, Vietnam rages, Peggy Fleming takes gold at the Olympics to become America's sweetheart, and student protests turn deadly.
Mission US 2: Flight to Freedom
Mission US is a multimedia project that immerses players in U.S. history content through free interactive games. In Mission 2, "Flight to Freedom," players take on the role of Lucy, a fourteen-year-old slave in Kentucky.  As they navigate her escape and journey  to Ohio, they discover that life in the "free" North is dangerous and difficult. In 1850, the Fugitive Slave Act brings disaster. Will Lucy ever truly be free?
Jack London's "To Build a Fire"
Jack London, like the unnamed man in "To Build a Fire," lived on the edge. Born in 1876, he died a short forty years later. As a young man, he was a full-fledged participant in the Yukon Gold Rush of 1897. The only gold he brought back, however, was an experience that he would mine for gems of literature for much of his writing life, as evidenced in his well-known novels like Call of the Wild and White Fang, as well as in "To Build a Fire" (1908), all of which draw on the places he saw and the people he met during those hope-filled and brutal times in the Northwestern Yukon Territories.
Thoreau's Circle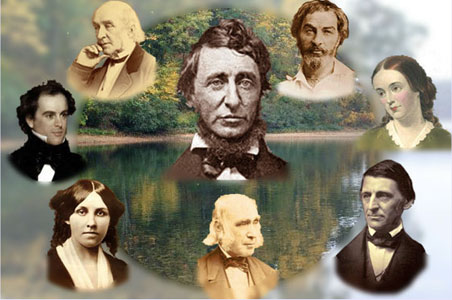 Meet the literati of 19th-century Concord who were Thoreau's contemporaries and neighbors in Thoreau's Circle: Who's Who in Transcendentalism, a new interactive that proves Henry was no hermit.
Presidents' Day 2012
Invite your students to celebrate this holiday by active investigation. Using "The Presidents," EDSITEment's roundup of related lesson plans and websites, reconstruct how George Washington came to embody the ideals of the nation in this lesson plan and explore Lincoln's hard political choices in this educational game from National Constitution Center.
Date / Time
Thursday, February 9, 2012 - 14:30
Library Type
Academic / College
Public
School (K-12)
Special
Job Functions
Resources and Program Starters
Audience
Adult
Children / Family
Older Adults / Seniors
Young Adult