5 Things to Know: State Humanities Councils
What do you know about your state humanities council? These 5 things will help you with programs or grants.
Does your library have a relationship with your state humanities council? If you are involved in planning programming for your library, it's worth your time to get to know these knowledgeable humanities experts.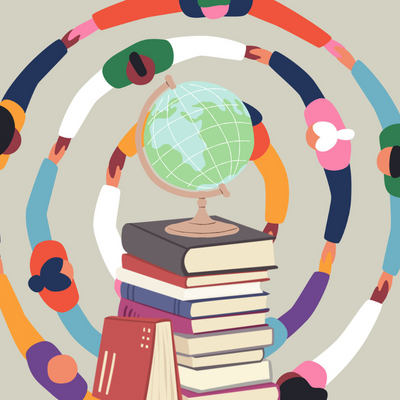 State humanities councils are private, nonprofit partners of the federal National Endowment for the Humanities (NEH). These 56 councils — located in all 50 states, plus Washington D.C. and five territories — work to support local public humanities programs and to extend the NEH's national programming to communities around the country.
If this is news to you, here are five things you should know about your state or jurisdictional humanities council.
They have a long history of working with libraries
Many humanities councils celebrated their 50th-anniversary last year, having been created by an act of Congress in 1971. All but four councils were founded in the 1970s, and the last, the American Samoa Humanities Council, was founded in 1994. Since then, they have sponsored book festivals, literacy campaigns, teacher development programs, films, exhibitions and much more — all with the goal of enriching lives through the humanities, with an emphasis on the specific needs of the communities they represent.
Since libraries share many of these same goals, the organizations are frequent collaborators. "Humanities councils are steady, longtime, trusted partners with libraries," says Phoebe Stein, president of the Federation of State Humanities Councils. "They understand the value that libraries provide as spaces for exchange and comfort, and they recognize the growing value that libraries have in people's lives as community centers."
They can connect you with potential speakers
Humanities councils have extensive connections with local humanists — scholars and others who can speak authentically on topics of local importance. Many councils have formal speakers' bureaus established, but even if they don't, their staff can often help by introducing you to people in your state who are working in a certain field. To make contact, go to your humanities council's staff list and reach out to a staff member with "community" or "outreach" in their job title, or email the general mailbox with "speaker inquiry" in the subject line.
They offer grants
The next time you're looking for funding for a humanities event or project at your library, check with your humanities council. Grant guidelines vary; some councils offer grants under specific funding goals or guidelines, while others are more open-ended. Recently, humanities councils distributed more than $80 million in federal CARES Act and American Rescue Plan Act funding to help organizations rebound from the pandemic. Some councils have also started making operational support grants — general funding that can be used in support of an organization's mission — rather than their typical programming grants.
It's worth reaching out to them, even at the last minute
While federal organizations, such as the National Endowment for the Humanities, tend to move slowly because of their reliance on congressional approval, state and jurisdictional humanities councils can often move more quickly. "Like libraries, humanities councils are nimble. They respond to community needs, and often that can be a quick pivot," Stein says. For example, while obtaining an NEH grant might take a year or more, that timeline is typically much shorter for state humanities councils. So even if you are looking for resources or funding for a last-minute program, your humanities council may be able to help.
The library-humanities council relationship is a two-way street
For all the reasons listed above, humanities councils can be an excellent resource for libraries — but libraries can help humanities councils, too. "Libraries have their finger on the pulse of their community, and they understand the community's needs," Stein says. "Humanities council staffs are small and mighty, so they can benefit from libraries and other organizations' deep knowledge of the public."
How can you help? Stein recommends building a relationship with the staff at your humanities council. Start by sending them an email. "Reach out to them directly and say, 'I'm hearing about this need in my community. What can we do together?'"
Funding for this article has been provided by the National Endowment for the Humanities (NEH) as part of the American Rescue Plan: Humanities Organization Grant.
Date / Time
Wednesday, November 16, 2022 - 10:30
Library Type
Academic / College
Public
School (K-12)
Popular Topics
Grants and Fundraising
Humanities
Job Functions
Grants and Awards
Resources and Program Starters
Collaborations