7 Steps to Community Engagement
A new report highlights the crucial steps libraries take to effective community engagement. 
From 2020 through 2022, ALA's Libraries Transforming Communities (LTC): Focus on Small and Rural Libraries project awarded approximately $2 million in funding to 567 small and rural libraries to help them address issues of concern in their communities.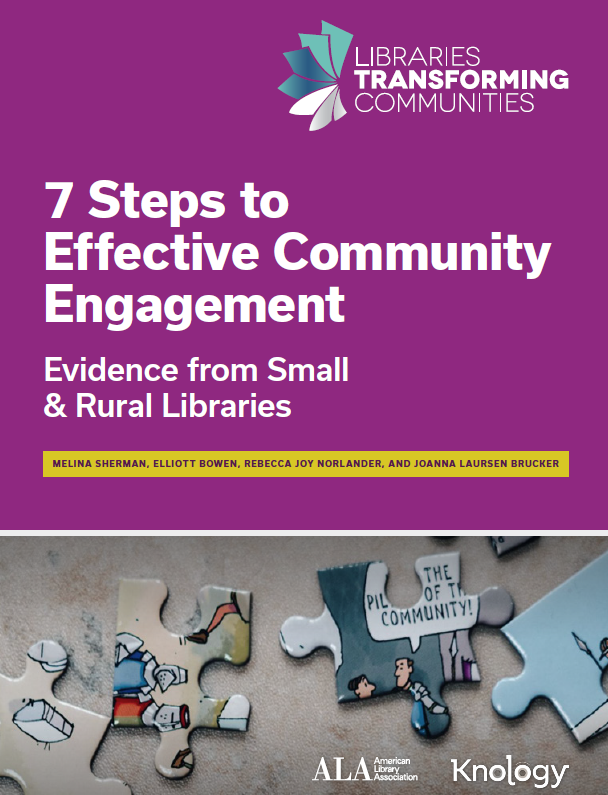 Grantees included public, academic, school and tribal libraries representing 48 U.S. states. Using the resources and training provided by the grant, the libraries tackled a range of community issues including media literacy, COVID-19 safety, unemployment, food insecurity and more.
A new report, written by Knology, showcases the incredible efforts of these libraries to highlight their accomplishments and show how their work acts as a model for effective community engagement for the library field. Download the report.
The report covers seven critical steps to community engagement: 
Identifying Community Needs
 Raising Awareness
Promoting Inclusion
Mediating Dialogue
Building Community Partnerships
Ensuring Accessibility
Seeking External Support
The seven steps are covered individually, providing examples of each from Knology's research among the 528 LTC libraries that gave permission to review their final reports.
The 29-page report is free and available on the ALA website. 
These materials were produced for the American Library Association's Libraries Transforming Communities initiative, which is funded by a private donor and offered in partnership with the Association for Rural & Small Libraries (ARSL) and the National Coalition for Dialogue & Deliberation (NCDD). The authors are solely responsible for the content on this page.
To be notified about future resources, grants and opportunities from ALA's Public Programs Office, sign up for ALA's Programming Librarian newsletter.
Date / Time
Monday, May 1, 2023 - 09:00
Job Functions
Grants and Awards
Resources and Program Starters