Fighting for Accessibility
A small town library has begun incorporating accessibility into all programs. 
Sulphur, Oklahoma, is a small town of approximately 5,000 people. Its library, Parker Memorial Library, is one out of eight branches in the Southern Oklahoma library system.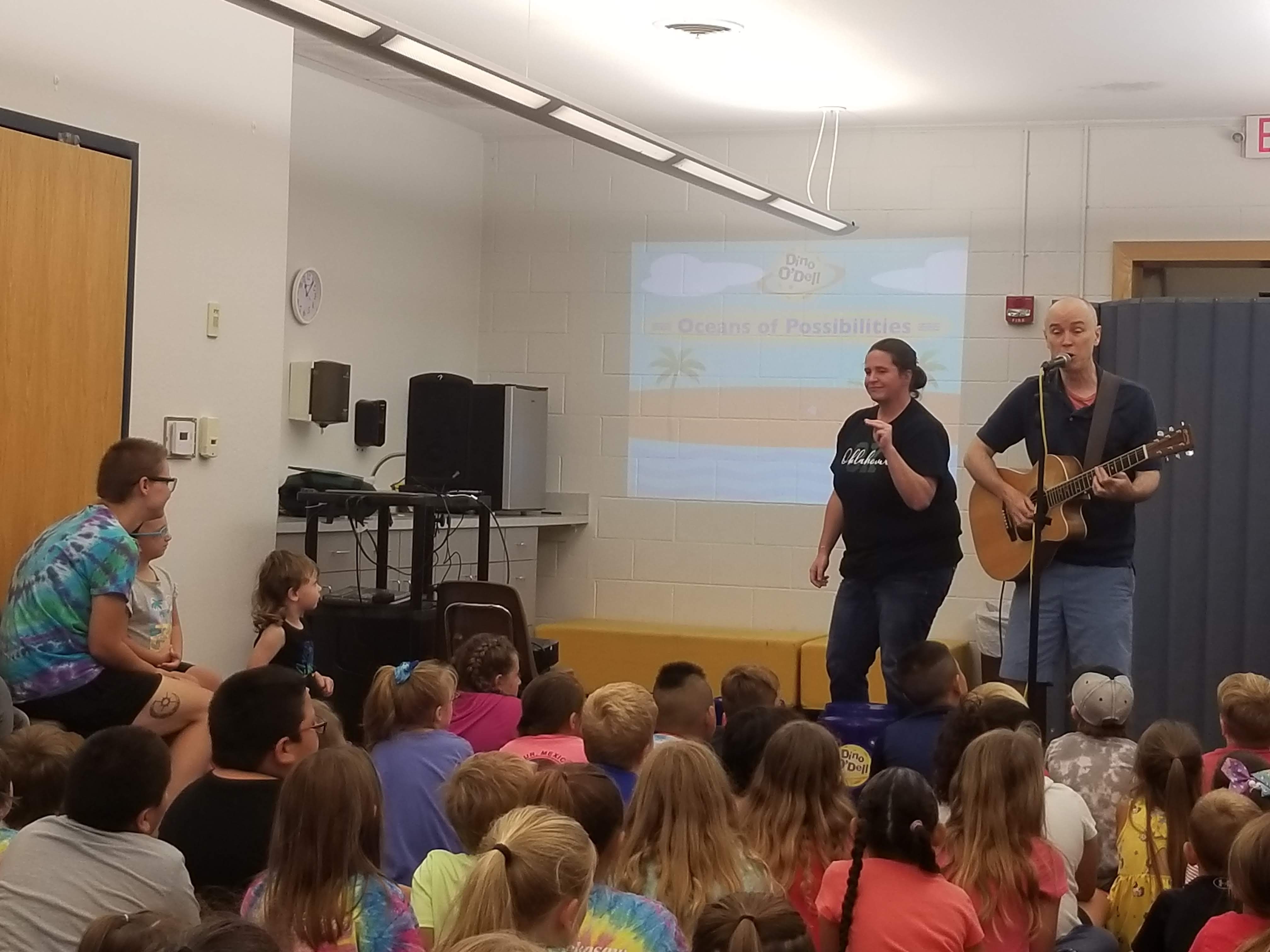 Jennifer Lindsey is the branch manager there, and has been for around three years. Until recently, she was the library's only full-time staff, though she now has one assistant who helps her with the day-to-day functioning of the library. The town of Sulphur has a large Deaf community, which has, in the past, been somewhat excluded from many of the town's events, resources, and organizations. Even the library, which aims to serve the entire community, had a lack of ASL resources to provide for Deaf students, parents, and staff in the nearby Oklahoma School for the Deaf (OSD). Although Lindsey had never applied for a grant before, she decided to give it a shot and seek funding from ALA's Libraries Transforming Communities (LTC): Focus on Small and Rural Libraries initiative. To her surprise, she got not one, but two rounds of LTC grant funding. That's when things at Parker Memorial Library started to change.
Incorporating accessibility into programming and events
When COVID hit, Lindsey took some time to reflect on the community her library serves and the needs it has. The first thought that jumped out at her was the Deaf community. Why was it that they had not been more deliberate with including this community in library functions and other town events? What could she and Parker Memorial do to change that? Lindsey immediately got to work to address these issues.
For the first round of grant funding, Lindsey started thinking about accessibility and how to reverse the exclusion of the Deaf community in Sulphur. One thing she knew: If the library was to be successful and get buy-in from the town's Deaf folks, it would have to start incorporating accessibility into its programming and events "from the get-go."
To do that, Lindsey reached out to staff at the OSD and asked them to bring their students to the library. The school agreed and OSD students began to have weekly or monthly visits to Parker Memorial after their classes had ended. Because so many teenagers, both Deaf and hearing, were coming into the library, Lindsey formed a teen advisory group and invited the Deaf students to join as well. When it came time for the event, she was pleased to see that her afterschool teen attendees came together and connected well with the Deaf and hard of hearing teens. She found them working, crafting, and socializing together.
Still unsatisfied with the extent of the Deaf community's inclusion in Sulphur, Lindsey used the second round of LTC funding to create and distribute resources for people with disabilities and people in need.
She made pamphlets that listed all the resources and services in town that are available for people who are struggling, in one way or another, to survive. The pamphlets listed services ranging from food pantries to public assistance and were well-received by the residents of Sulphur. Lindsey also obtained video equipment to make films in ASL to share the resources with the Deaf community in an accessible way.
Lindsey also used some of the LTC funds to enroll herself in ASL courses. Because of her new skills in ASL, she found herself making and deepening connections with Deaf folks who come into the library, especially the OSD students and staff.
Changing the community's perception of the library
Lindsey did what she set out to do. She now incorporates accessibility requirements into all of her programs and services. Doing so has been extremely successful and rewarding. The younger Deaf population is especially excited about the teen advisory group she started for them. And while some of the Deaf adults are still somewhat hesitant to come into the library themselves, Jennifer is gradually convincing them by using her own knowledge of ASL. Those adults who started coming to craft classes have bestowed Lindsey with a sign name, which can only be done by members of the Deaf community.
Lindsey says that the work she has done following her receipt of the two rounds of LTC funding is changing the entire Sulphur community's perception of the library. Parker Memorial Library is now seen as a space for everyone, a "central hub" where residents of all shapes and sizes and abilities can come together and enjoy the programs and services the library has to offer.
Lindsey is not alone in this work. Across the three rounds of LTC grant funding, we have seen many libraries work to make their spaces and resources more accessible, and make everyone feel that they are a priority at their local library. These efforts include researching and implementing accommodations for patrons with learning disabilities and ADHD, developing community read events with accessible books (including large print offerings), pairing in-person events with Zoom sessions to ensure the participation of patrons with disabilities and those who are homebound, and installing an automatic library door.
Expanding accessibility across the library field
ALA hopes to continue to enable Lindsey and her colleagues at libraries across the country through a new grant opportunity focused on issues of accessibility in libraries. The next phase of the Libraries Transforming Communities initiative will allow libraries in small and rural communities to increase the accessibility of facilities, services, and programs to better serve people with disabilities.
Opening in November 2022, Libraries Transforming Communities: Accessible Small and Rural Communities will accept applications for grants to be distributed over the next three years ranging from $10,000 to $20,000. To learn more, visit the LTC: Accessible Small and Rural Communities webpage.
Knology is a nonprofit research organization that produces practical social science for a better world. The organization pursues this goal to help professionals in a variety of sectors build inclusive, informed, and cooperative societies that can thrive together with the natural systems on which we all depend. As a transdisciplinary collective of over 30 social scientists, writers and educators, the organization's work process is built on equity, transparency and deliberation.
Date / Time
Tuesday, August 30, 2022 - 10:15
Job Functions
Resources and Program Starters