7 Ways to Celebrate Nature while Social Distancing
COVID-19 has thrown a wrench into springtime plans, but you can still help your patrons commemorate Earth Day safely.
If you're missing nature or feeling a little claustrophobic these days, you're not alone. Across the world, COVID-19 has thrown a wrench into springtime plans, from spring break camping trips to strolls through urban parks. 
With the 50th anniversary of Earth Day this Wednesday, April 22, libraries can still offer ways for their patrons to celebrate nature safely. Below are some of low-risk, easy ways you can encourage your community to remember the planet this week.
Backyard scavenger hunt
For people who can safely get outside, encourage kids to take a closer look at their own backyards. There are endless variations: they can use an online guide to seek out different leaf shapes;  seek out plants of a specific color; or find as many things as you can that crawl or fly. If you have very limited space, you can use a piece of string or rope to circle an 18-inch area of the earth and explore that small spot. It's amazing what we can find when we stop to look closely at things. For teens and adults, you could suggest a John Muir-inspired observation of nature.
Share photos
The Sierra Club invites people to upload photos from a favorite outdoor experience. Libraries could invite their communities to do the same, posting them with a specific hashtag to Instagram or another social media platform.
Birdwatch
One of the great things about birdwatching is you can do it nearly anywhere — from your yard, balcony or out your window. Identifying your local species is easy with eBird from the Cornell Lab of Ornithology and its Merlin bird app. You might invite a local birdwatching expert to record sightings from their own home and post them to social media. Another fun twist: exploring tips to make your backyard or patio more bird-friendly.
Build animal homes and feeders
If you're handy, consider making a video or even hosting a competition for your patrons to build structures to feed and shelter wildlife in your region, such as a home for bats, hummingbird feeder from upcycled materials or pollinator drinking fountains.
Grow food from kitchen scraps
There are so many easy ways to garden using things that you already have around the house. In "Dig In: 12 Easy Gardening Projects Using Kitchen Scraps," author Kari Cornell shares kid-friendly methods for turning the end bit of lettuce or a single lemon seed into all new, productive plants. If you don't have access to the book or e-book, you can find plenty of tutorials online. To turn this into a library-led, family-friendly event, grab some food scraps and record a Facebook Live or Zoom session from your kitchen (or ask a local gardener to do the honors).
Connect through nature websites and apps
Citizen science apps not only teach people about the nature online; they also connect people to an online community of nature enthusiasts, which can make all the difference when you're socially isolating. As an added benefit, some of these websites collect information that help build on scientific research. More information + more data points = better science. Some of our favorite include Nature 365, iNaturalist and Globe Observer.
Meet a tree
Sharing Nature Worldwide offers a wide range of free outdoor activities based on the teachings of its founder, Joseph Bharat Cornell. If you're lucky enough to have access to several trees, check out one of my favorites: Meet a Tree, a pair activity that teaches forest appreciation, sensory awareness and empathy to people ages 4 and up. One player leads their blindfolded partner to a tree. After exploring the tree with their hands, the blindfolded partner is taken away, and then has to find "their" tree with open eyes.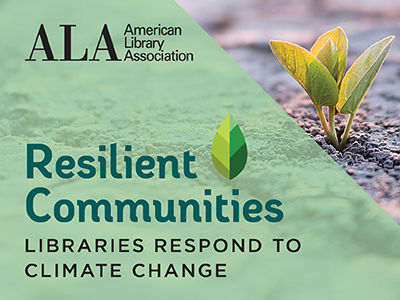 About Resilient Communities: Libraries Respond to Climate Change
Madeleine Charney, Beth Filar Williams, April Griffith and Juan Rubio are advisors for Resilient Communities, Libraries Respond to Climate Change, an initiative of the American Library Association. Future blog posts will cover specific program ideas that you can offer virtually over the coming weeks, including Earth Day activities and story times for all ages. 
Resilient Communities will empower libraries to engage their communities in programs and conversations that address the climate change crisis. Participating libraries will receive grant funding, materials and support. All types of libraries are invited to apply beginning in July 2020; programming will begin in fall 2020.
Read the project guidelines or for more information, email publicprograms@ala.org.
Date / Time
Tuesday, April 21, 2020 - 09:00
Library Type
Academic / College
Public
Rural
School (K-12)
Popular Topics
Social-distancing programs
Virtual
Environmental Sustainability
Audience
Adult
Children / Family
Older Adults / Seniors
Urban