Why 2020 Is Not the Year to Skip Earth Day
The question has become: What kind of world do we want to build on the other side of this crisis?
Over the past few weeks, the world has been engaged in what cultural anthropologists call "world making," an experimentation and reimagining of systems, relationships and activities often birthed from extreme circumstances. Catalyzed by social distancing, libraries are transitioning activities online/indoors/away from groups. Flexibility and creativity are the order of the day.

Libraries can practice "world making" by honoring Earth Day on April 22, addressing the urgency of the climate change emergency with a newfound, perhaps painfully poignant reverence. Library workers are already adept at being agents of change, leaders and out-of-the-box thinkers; we now have the added momentum of a world in transition and ripe for change.
The question now becomes: What kind of world do we want to build on the other side of this crisis? Let's begin today. Together.
There are many ways to celebrate Earth Day — with little planning — from your couch, on your library's Facebook page, or safely distanced outdoor activities. We will explore some of them in future blog posts over the next two weeks. But first, let's look at a few simple principles that can help guide our 2020 Earth Day work.
The book "Emergent Strategy: Shaping Change, Changing Worlds" by adrienne maree brown offers seemingly simple yet profound lessons that can nourish and inspire us. Here are a few of brown's principles and how we can apply them to the social distancing reality most of us are living in.
Small is good, small is all
It may seem like small actions can't make a dent in a problem as overwhelming as the climate crisis, but as brown states, "the large is the reflection of the small." Experiment with micro-local, right-sized, home-based activities that can be scaled up later. Beth Filar Williams, head of the library experience and access department at Oregon State University Libraries, has seen small-but-heroic examples of local libraries offering curbside pick-ups of locally grown food and sharing how-tos and Facebook Live lessons to help residents start or build home gardens.
"Over the last half century, a real disconnect has emerged for most people buying food at the store with little understanding of how its grown, Williams said. "Now that we are in a time of staying at home, we have the opportunity to grow our own. Not only is this sustainable and brings a sense of resiliency, being able to grow your own healthy food to eat - and its a time of year to be gardening most anywhere - but it also demonstrates how connected we are to the earth and how reliant we are on her to sustain us."
Less prep, more presence
You may feel underprepared to bring Earth Day programming to your community this year. That is understandable. But brown argues that it is enough to be fully available in the moment, to watch for opportunities to empower, connect and engage participants. I recently saw an example of this in my UMass Amherst Library System. As she prepared to leave the campus after its closure for COVID-19, my colleague Paulina Borrego used her last day in the building to package seeds from the Mass Aggie Seed Library and mail them to the 50 library patrons who had requested them. Was she prepared to do so? Probably not. But in the moment, she identified a way to enable her seed library project to move forward in the face of social isolation.
Focus on critical connections more than critical mass
As brown says, "Build the resilience by building the relationships." April Griffith, director of the Carnegie Public Library in Eureka Springs, Arkansas, says answering phones, providing contact information for the unemployment office or simply serving as a calm and friendly voice on the other end of the line has been a way for her library to be an integral part of a support system in times of crisis. Public libraries are often the heart of their communities, and in times of crisis, that role is more important than ever.
"I've had people calling me these past few weeks telling me, 'You know what I like, please just choose some books for me,' and we check them out and leave them on the table that is serving as our curbside pick up right now. Some people are calling just to see if we will answer and to thank us for being here. It brings people a great deal of comfort to know that we're still here, thinking about them and trying to find ways to help them get through this."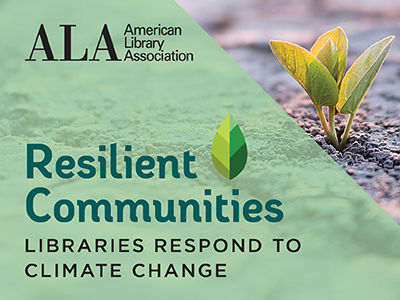 About Resilient Communities: Libraries Respond to Climate Change
Madeleine Charney, Beth Filar Williams, April Griffith and Juan Rubio are advisors for Resilient Communities, Libraries Respond to Climate Change, an initiative of the American Library Association. Future blog posts will cover specific program ideas that you can offer virtually over the coming weeks, including Earth Day activities and story times for all ages. 
Resilient Communities will empower libraries to engage their communities in programs and conversations that address the climate change crisis. Participating libraries will receive grant funding, materials and support. All types of libraries are invited to apply beginning in July 2020; programming will begin in fall 2020.
Read the project guidelines or for more information, email publicprograms@ala.org.
Date / Time
Wednesday, April 8, 2020 - 14:45
Library Type
Academic / College
Public
Rural
Popular Topics
Virtual
Environmental Sustainability
STEM
Audience
Adult
Children / Family
Tweens and Teens
Young Adult